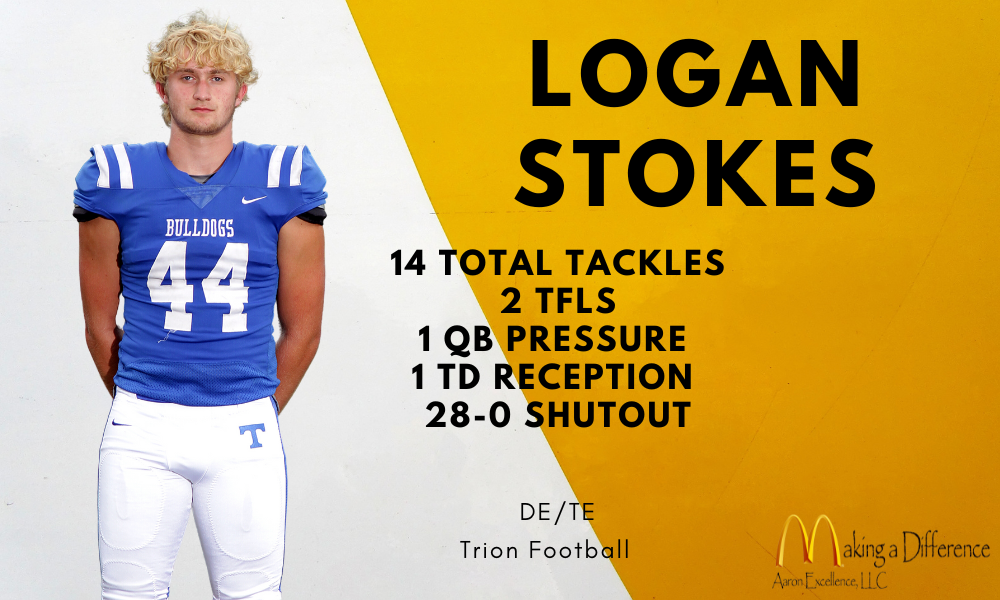 This week's AllOnGeorgia Player of the Week honors brought to you by Jim Aaron's Summerville McDonalds go to Trion Football's TE/DE Logan Stokes. 
Stokes had 14 total tackles, 2 tackles for loss, 1 quarterback pressure and one touchdown reception in the 28-0 shutout over Lafayette (AAA).

"Logan is a really good player," Bulldog Head Coach Sean Patrick said. "He has the ability to change the game on both sides of the ball."
"For being a junior, Logan has played a ton of snaps. He's been in about every situation possible. It's been fun to watch him grow and develop into the player he is today. He's such a great kid and hard worker," Patrick said.
As a sophomore, Stokes led the region in sacks and he has a goal this season of having the school record for sacks in a single season.
When asked what made the shutout over Lafayette special, Stokes said, "It's a pride thing, especially at the end when they have 4 downs from the 7 yard line, no better feeling."
Stokes said his favorite play of the game was, "when we stopped them on the goal line at the end of the game."
Stokes has a 3.5 GPA, his favorite class is Economics and his favorite teacher is Coach Sanders.
AOG: What makes a good leader in football?
Stokes: Someone that holds themselves and their teammates accountable.
AOG: What qualities make a good football coach?
Stokes: Being relentless and driven to get better.
AOG: What's the best part of being a Trion football player?
Stokes: The community support is second to none, wouldn't want to be anywhere else.
AOG: In ten years where do you see yourself?
Stokes: Not so sure yet. Wherever God wants me to be.
AOG: Who is your role model and why?
Stokes: My Dad, I admire his passion. He always wants the best for the people he loves.