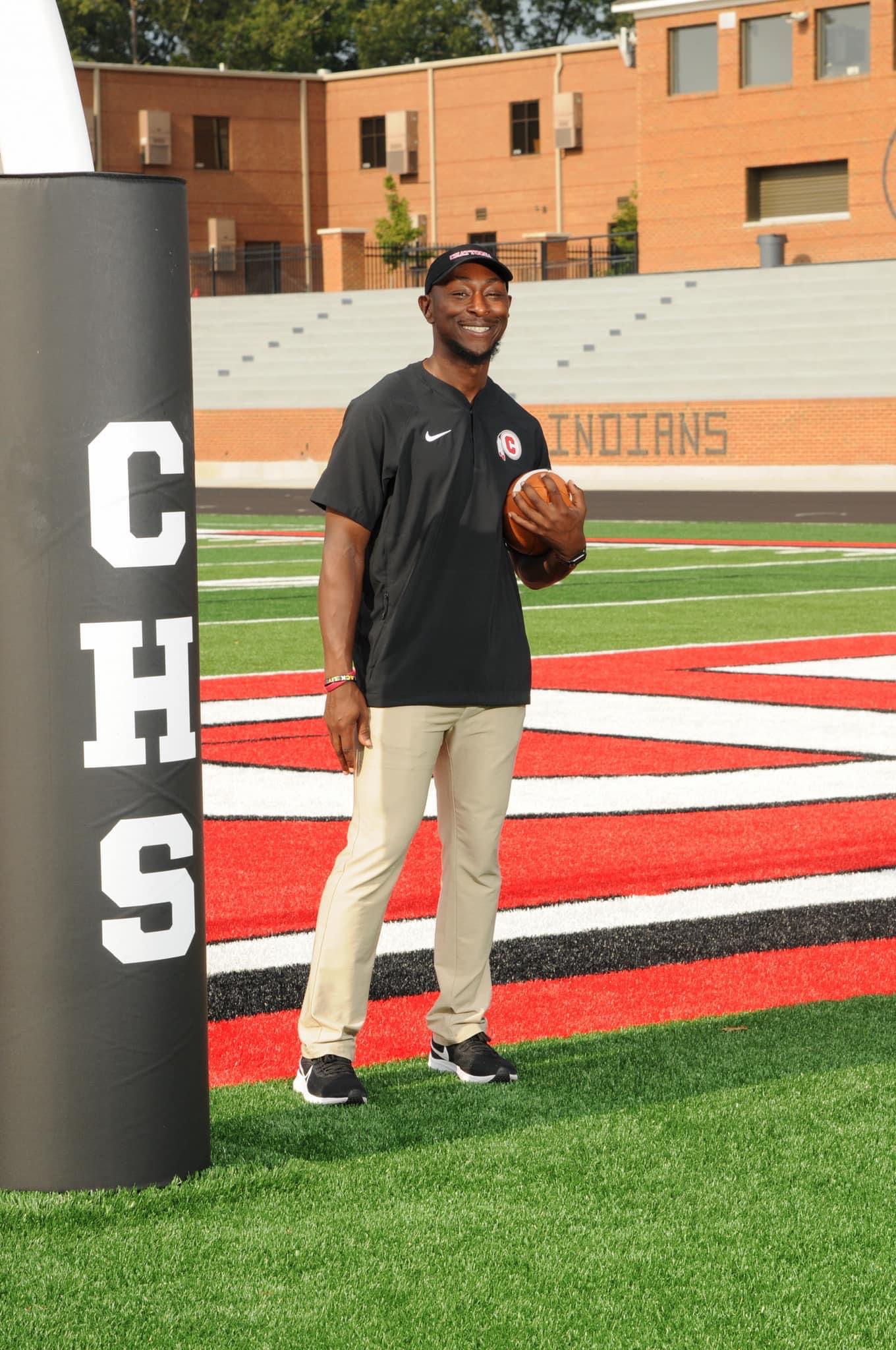 As football season has official began, AllOnGeorgia would like to highlight Chattooga's new Offensive Coordinator, Coach Roshmel Young. This is Coach Young's first year at Chattooga High School. 

Tell us your background, where did you play high school ball, college ball, how many years coaching and where did you come to Chattooga from? 
I attended Rockmart High School where I played football, basketball, and ran track. I then graduated and went on to play at Valdosta State University (Go Blazers!). This will start my 6th year of coaching. I come to Chattooga High School from Eastern Kentucky University and I am currently teaching health and physical fitness.
What is your favorite football memory?
My favorite football memory has to be winning the National Championship at Valdosta State. It was a great season overall filled with great people and great memories and it ultimately ended with us holding that #1 at the end of the season.
Is this the first time you've coached high school football, is there a difference from college football?
No, this is not my first time coaching high school football. My first high school job out of college was at Statesboro High School in Statesboro, Ga. In my opinion, the biggest difference is there are a lot more hands involved in college. Hands that help things run a little more smoothly, but we have student managers now that are helping things flow a little smoother and keep us on track.
What is your coaching philosophy?
My coaching philosophy is very simple. Hard work, which can be defined as a great deal of effort or endurance. Discipline, to do what is asked of you regardless of the circumstances. Lastly, to be intentional. Intentional meaning being clear and up front about what you want to achieve. I feel like these same principles can be applied to everyday life and will ultimately help our young men be successful outside of the game of football.
How do you feel about the team's performance during off-season training and preparations for the upcoming season?
I feel like we have taken steps in the right direction, but as far as a team we still have a ways to go. We are still learning how to prepare and what needs to be done to become a successful football team and that's all over.
Are there any key players we should keep an eye on this year?
I think our most consistent player since I've been has been Dan Myers. He has done well throughout spring, summer, and fall. He has been a consistent playmaker in practice and in a game setting and probably doesn't get the recognition he deserves all the time. Quarry Gibson is probably the most physically gifted football player we have on the team and I expect him to do well and also Zayden Cook seems to get better and better as the weeks progress.

What are your expectations for the team this season, in terms of performance and goals?
My expectations for this team is to be the best it can be and accept nothing less. We would ultimately like to win a championship of some sort and that should be everyone's goal. However, my main focus is to make sure we are intentional in our day to day efforts in what it takes to become a successful team and accepting whatever that looks like, knowing we did everything in our power to become successful and living with the results.
As OC what type of offense can we expect to see?
I am the coordinator, however Coach Gable is the primary play caller. We game plan together and try to put our guys in the best positions to succeed. The offense has a mix of pro-style and spread principles. You will see a good bit of inside and outside zone and also a few RPO's to get our guys on the perimeter involved. Ultimately we would like to be balanced and get all all of our playmakers involved.

Can you identify any specific challenges or tough opponents that the team will face this season?
I believe every opponent is a tough opponent. We're coming off a 2-8 season, so we need to be willing to prepare week in and week out to put ourselves in a position to be successful regardless of who we play. There are some respected teams in the region, but no one is being put on a pedestal. We have to learn to focus on ourselves and what we need to do to be successful. Yes we play opponents on fridays, but the real battle is how do we eliminate self inflicted wounds and put ourselves in a position to win.

This team has been through a lot with the loss of three teammates last October.
How do you plan on maintaining the team's morale and motivation throughout the season?
First off let me say, although I was not here I send my condolences to the families of Xavier Gray, TyDraevius "Drae" Dozier and Zantavian "Duke" Brown. I believe we have to use the tragic event as fuel to keep going and inspire the next generation. The three young men have to continue to live through us all. Although they are not physically with us, we all are responsible for giving them, this team, and this community a product that they can be proud of. We will do that by honoring them with our continuous efforts to strive for greatness every single day.

What kind of leadership qualities are you looking for in team captains and senior players?
Our leaders and seniors have to be hardworking first and foremost. If you are not willing to work hard then we can't expect much from the season or in life and that's the first step. The guys have to be willing to hold each other accountable. Accountability breeds success because it makes sure we are all doing what we said we were going to do, when we said we were going to do it. Lastly, we have to play for each other. We have to be willing to put the team before ourselves and ultimately good things happen when you do these three things.

What message would you like to send to the fans and supporters of the team as we head into the new season?
Psalm 30:5 "For His anger is but for a moment, His favor is for a lifetime. Weeping may endure for a night, But a shout of joy comes in the morning."
Hold on Indian Nation, joy will come in the morning! #OneTribe