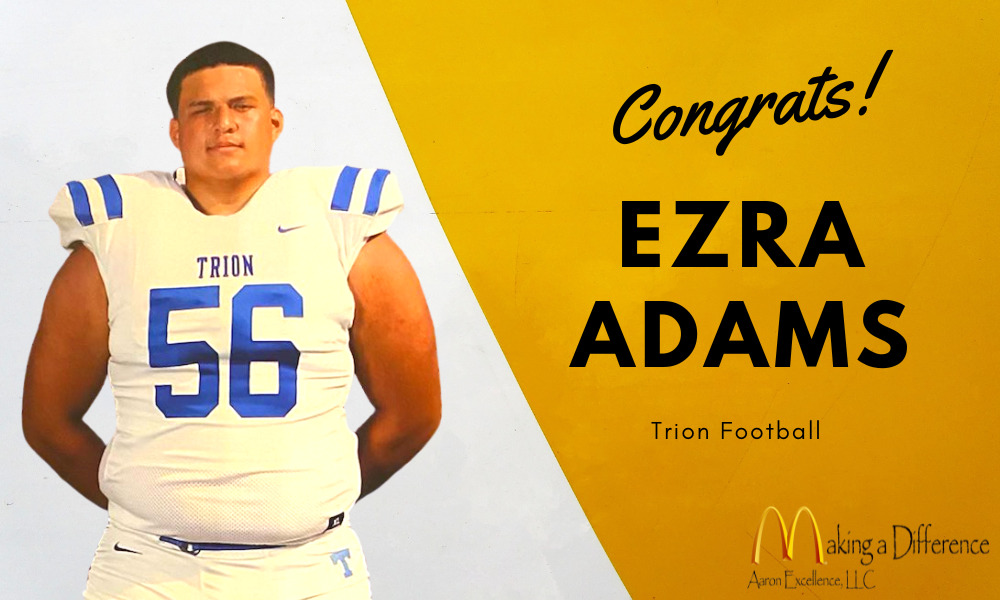 This week's AllOnGeorgia Player of the Week honors brought to you by Jim Aaron's Summerville McDonalds go to Trion Football's Ezra Adams. 
Trion broke the 'Commerce Curse' in the first round of GHSA playoffs. Trion was 0-8 against the Tigers from Commerce until Friday night at Sam R. McCain stadium when the Bulldogs put up over 500 yards of total offense defeating Commerce 45-21 in the opening round of the GHSA Class A (Division I) playoffs.

In the offense performance Logan Eller rushed for over 100 yards and had one touchdown, Toby Maddux rushed for over 100 yards, had 93 yards receiving, and scored four touchdowns and quarterback Kade Smith had 233 yards passing and one touchdown.
Making all of that possible was Trion's offensive line.  With the o-line, the rule is if you don't hear anything about them, then they are doing their job.
"I'm super proud of our OL in general by how they have overcome adversity this year as a young group," Coach Jake Sanders said. "Once they have been doubted, they have risen to the occasion and performed well as a unit. Those guys are like a family and I'm proud of how they look after each other and work together."
AllOnGeorgia selected Ezra Adams as this week's Player of the Week.
Adams, 6'2″ 285lbs, plays left tackle for the Bulldogs. A left tackle in football is a player on the left side of the offensive line that blocks for the quarterback and running back. The left tackle is on the far left end of the offensive line. They are one of the most important positions on the offensive line, as they protect the quarterback's blind side.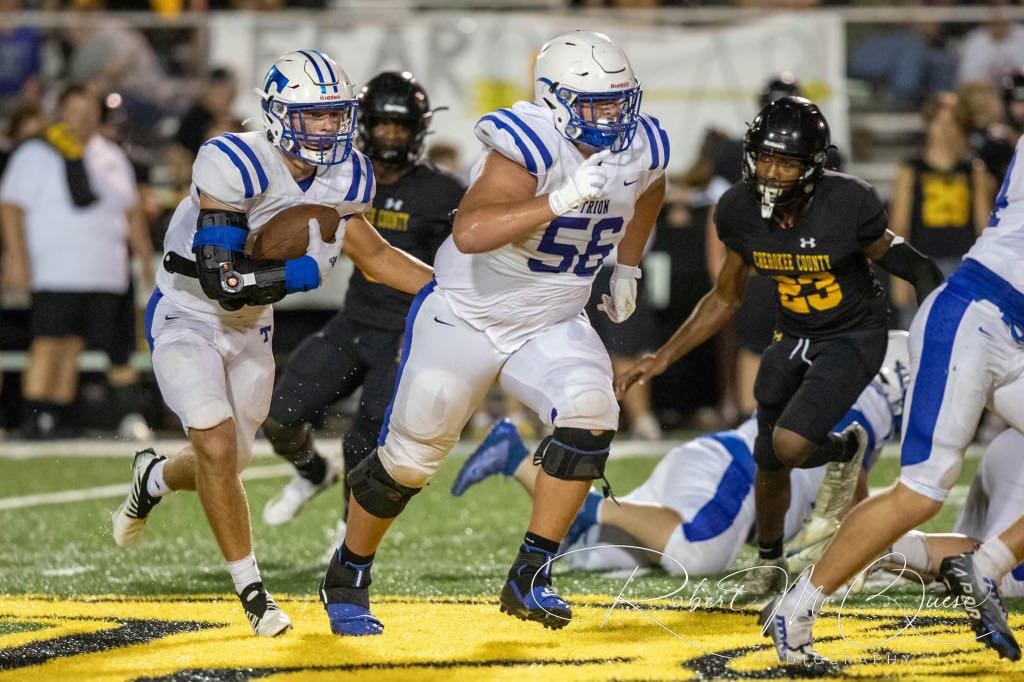 "Ezra has graded out consistently as one of the top lineman this year as his leadership has been making a difference for our group this year. He has 15 pancakes on the year and has graded out consistently in the high 80s," Coach Sanders said.
In addition to left tackle, Adams also plays defensive tackle.
Adams has been playing football for 10 years and in addition to football he plays baseball and basketball.
When asked who his role model is he had this to say: "My Role model is my grand dad, because he has been through a bunch very recently and he stays strong for our family, so I really admire that about him."
After high school he plans to attend college and plans to coach football.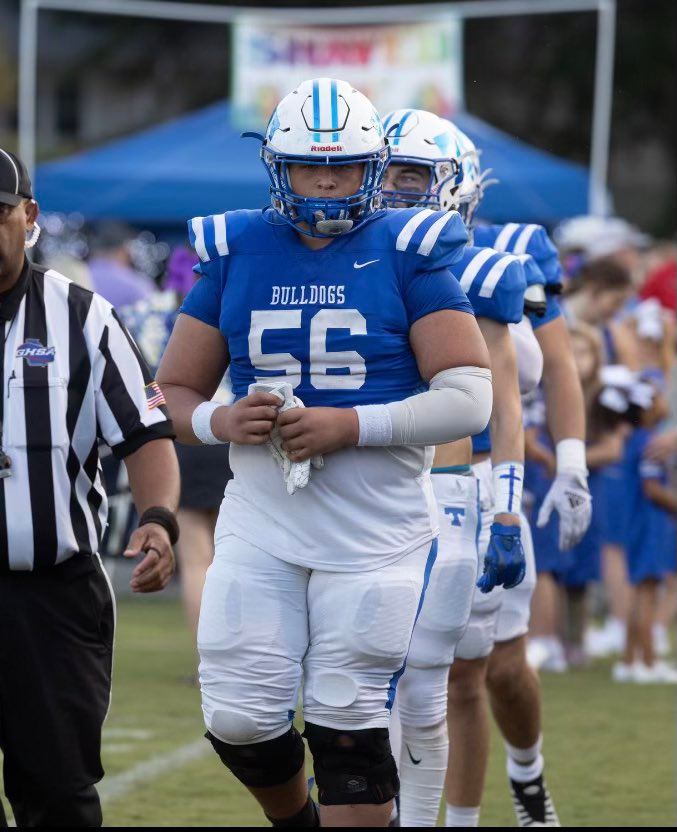 More about Ezra:
My favorite athlete is Jordan Davis
In 10 years I will be coaching football.
My hobbies are following college football and other sports.
The most important thing that I've learned from my coach, would be our team motto. F.A.M.I.L.Y. Forget about me I love you. This applies toward everything in life.
My most memorable moment in football was the Trion vs Chattooga game. This game was fun for me because I could look over at the Chattooga sideline and see my little brother Zayne.
My team goal consists of winning a state championship this year. My personal goal would be to make All-Region first team.
To prep for the game I like to listen to music all day. My Mom will always make a post on Facebook and text me that she loves me and wishes me good luck.
The best thing about my teammates is we are all like brothers. Through good times and bad we all have each others back.
My favorite class right now is algebra 2.
My favorite teachers are Mrs. Parris, Mrs. Stamey, and Mrs. Wells.
3.4 GPA
My parents are Jordan and Amanda Adams.
Favorite quote: "Good luck is a residue of preparation" – Jack Youngblood
My favorite food is my Dads ribs
If I could put anything on a billboard it would be a picture of Coach Sanders yelling, "Take your steps!"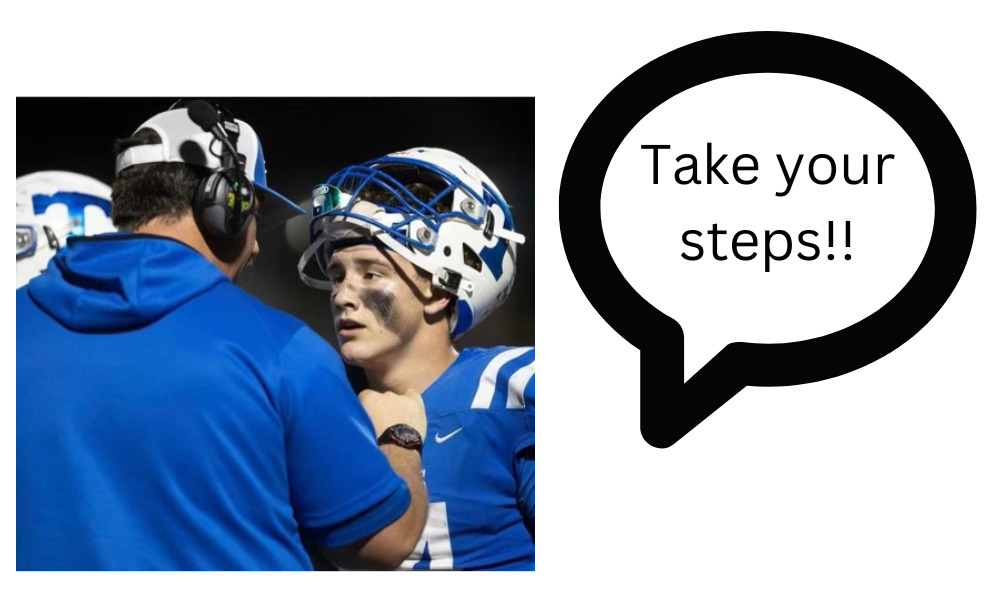 Up next for the Bulldogs: the second round, the Bulldogs will travel to take on St. Francis this Friday night.