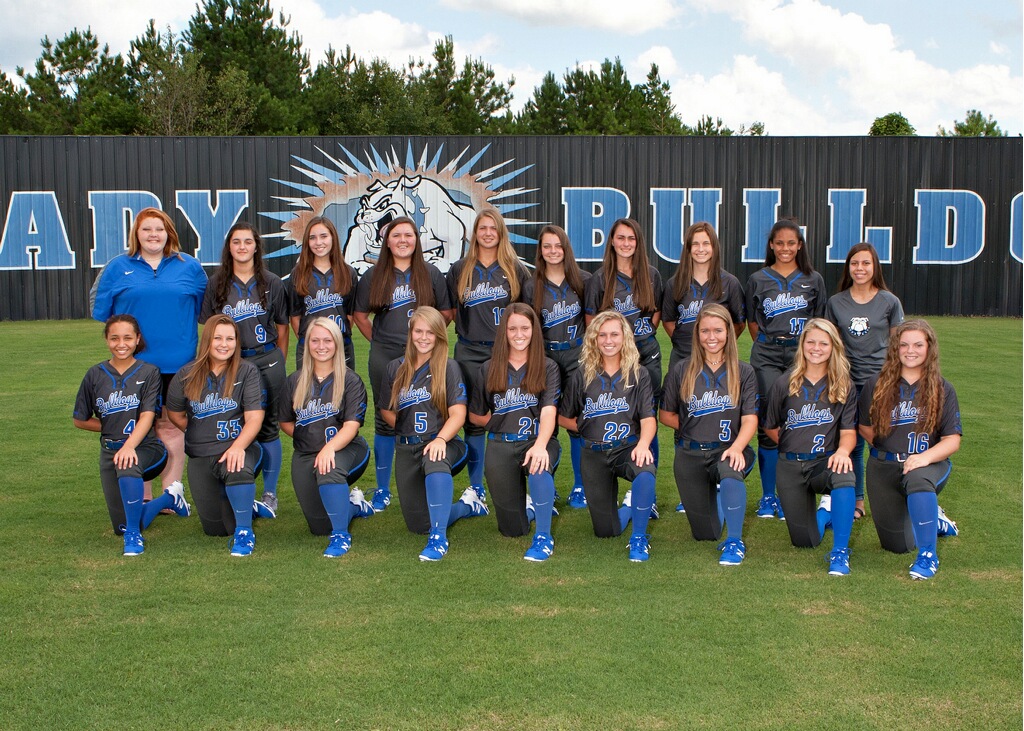 Saturday the Lady Bulldogs took to the diamond for the first time of the season in a doubleheader against Campbell. The Dogs swept Campbell 9-1 and 10-0. The Lady Dogs bats were hot, as they racked up 36 hits.

The 2018 Lady Dogs softball team is looking to better last year's season results, which found the Dogs as the Class A GHSA State runner-up team."Expectations are high," Coach Lanham said. The Lady Dogs will return eight of their ten everyday players from last years team.
The team will be led by several Class All-State selections. The dynamic duo of Whitney Shepherd in the circle and Shelby Carlock behind the plate will be hard for any opponent to face. Shepherd and Carlock both are both juniors who are coming off of remarkable sophomore campaigns. "These two have worked very hard to better their game in the off-season, and we are looking forward to great things from both," Lanham said.
Other returning Bulldog starters include seniors: Darrian Jones 1B and Janie Emery 2B, Shelby Steele is the other senior and this group will be relied to provide some leadership as the Ladies try to build on last years success.
Also returning as starters are juniors Jodie Henderson OF, Bailey Coker OF, Gracie Burns 3rd, and Sophomore Chloe Murdock DP/RF. "Each of these players had very strong seasons last year," Lanham said.
Along with the above groups the Bulldog nation is looking for big things from freshman Jenna Mosley SS/P, a true stand out player on the travel ball circuit and young gun for the Lady Bulldogs. Gretchen Clark will also provide the Dogs depth in the pitchers circle. Tianna Youngblood, Kaylee Driver, Lauren Delay, Kylee Park, Jada Martin, and Lauren Woods will round the Lady Dogs roster and compete for playing time while adding depth to this talented club.
"Expectations are high and I firmly believe this group of young ladies are hungry for more, they have worked extremely hard and appear ready for the challenges that await," Lanham said.
Bulldog Roster 
2018 Lady Bulldogs Softball Schedule
At Campbell: 11:30 and 1:00
Doubleheader
At Kings Ridge:  4:00
Vs. Mt Pisgah:  5:00
Vs. Dade County:  5:30
At Mt Pisgah:  5:00
At Christian Heritage:  5:30
Vs. Bowdon:  5:30
At Mt Zion:  5:30
At Darlington:  5:00
Vs. Mt Zion:  5:30
Vs. Gordon Lee:  5:30
At Armuchee: 5:00
At North Cobb: 4:30
Vs. Christian Heritage:  5:30
At Dade County:  5:30
At Bowdon:  5:30
Vs. Kings Ridge:  5:30
At Mt Paran: 3:00 and 5:00
Doubleheader
Vs. Darlington:  5:30
At Gordon Lee:  5:00
Vs. Fellowship:  5:30
Senior Night
Region Tournament