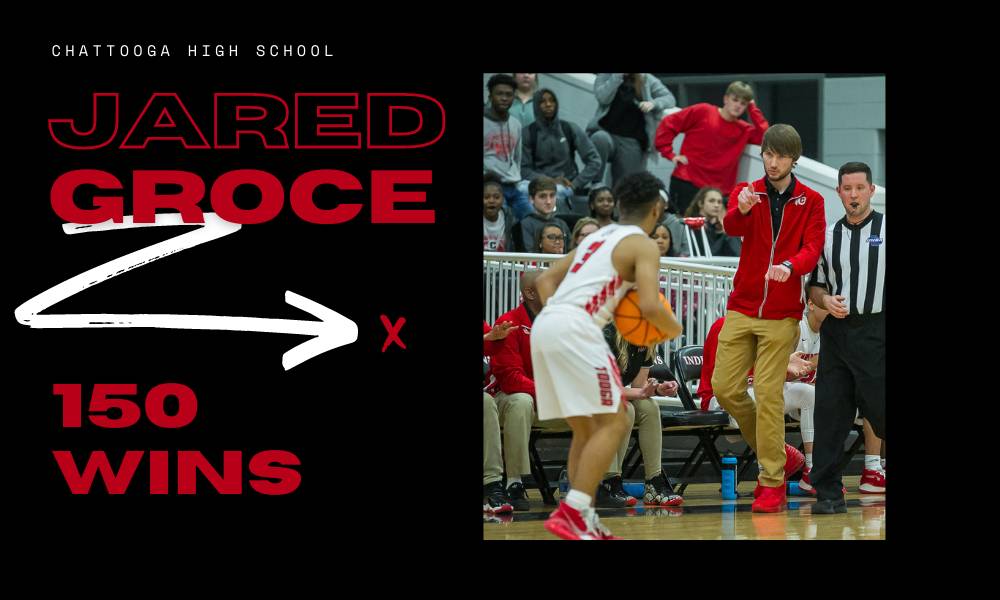 Jared Groce is the all-time winningest boys' basketball coach in Chattooga High School history as he has reached his 150th win. Coach Groce's overall record of 150-39 passed the previously held record of 149-62, which was held by Lamar Turner. Jack Mayo holds the third highest record with a 109-62 record.

Groce broke the record on Wednesday, February 17th, when the Chattooga Indians defeated the visiting Coosa Eagles for the fourth time during the 2020-2021 season.
In his short seven years as Head Coach of the Indians, Groce has led his team to three Region Championship Titles, three Region Runner-Up placements, and six State Playoff appearances, including three trips to the Sweet 16, two trips to the Elite Eight, and one trip to the Final Four. The Final Four appearance in 2020 was Chattooga High School's Boys' Basketball Team's first trip to the Final Four in school history. The Indians have also claimed numerous holiday tournament titles under Groce's leadership.
"I just hope that this means that God has us where He wants us. All I wanted when I started coaching was for the members of the boys' basketball team to have as enjoyable of an experience as possible. We started by just trying to create a positive, family-like atmosphere with the team. We went to as many college team camps as we could afford to go to each summer, and we spent as much time and energy with the team as we could to try to prepare them for winning games. We had no idea what the road ahead was going to look like and that these outstanding groups of young men would accomplish all that they have accomplished over the past seven years. I remember challenging my first team to lay a strong foundation for the future of our program, and they did just that," Groce told AllOnGeorgia.
When asked how the program has transformed into a winning culture so fast, Groce had this to say: "It's been a huge group effort to get the program to where it is now. I've had outstanding assistant coaches, a great amount of support from school administrators and from our entire community along this journey. I hope that the acknowledgement of this record doesn't make anyone think that we are prideful in any way. All credit for these 150 wins certainly doesn't belong to one very imperfect man; all glory goes to God for blessing us with these victories, and we are very grateful to Him. I hope that all of our players and former players feel blessed to be a part of the Chattooga Boys' Basketball Program."
Although the  2020-2021 Chattooga Indians did not have the opportunity to have their regular summer prep, the team went undefeated in regular season region play, won the Rome Christmas Tournament for the first time since 1986 and ended with an overall record of 17-4.
Coach Groce has previously been named Coach of the Year by the Rome News-Tribune and the Northwest Georgia Tip-Off Club. He has also had the honor of being asked to coach the Northwest Georgia All-Star team three times.
"I have served as President of the Northwest Georgia Tip-Off Club for 35 years, and of all of the coaches that I have worked with and continue to work with, Jared Groce has impressed me with his dedication and passion for the game of basketball and his commitment to the kids that he coaches. I think of Jared Groce as one of those among an elite list of coaches. Jared Groce, Ray Tucker, Lamar Turner and Tony Ingle all come to mind when I think of this elite list of coaches that have impressed me and touched my heart. Not only has Jared been blessed with wins, but he gives his all to the kids for them to be successful," Ron Roach, President of the Northwest Georgia Tip-Off Club
"Coach Groce has consistently put an emphasis on building a culture of winning on and off the court while not sacrificing his core values. He has helped transform Chattooga into one of Northwest Georgia's preeminent programs that has gained respect across the entire state for their consistency and toughness, getting the maximum out of his players on a yearly basis," Kyle Sandy said. Sandy is the Georgia prep content producer and owner of sandysspiel.com, which is a website focused solely on the coverage of Georgia high school basketball.
If you know Coach Groce at all, you know he is very humble, wants to do his job, and lets his kids talent speak for itself. He does not seek attention, and tries his best to redirect any attention that comes his way back to his players. It was only two short years ago Coach Groce reached his 100th win milestone. Check out what his players had to say about him
**Chattooga High School opened in 1964 when the district combined all high schools Gore, Lyerly, Menlo, AC Carter and Summerville, into one newly-constructed building. Summerville High School and AC Carter High School both won basketball State Championships in 1950, but that was BEFORE Chattooga High School opened.**