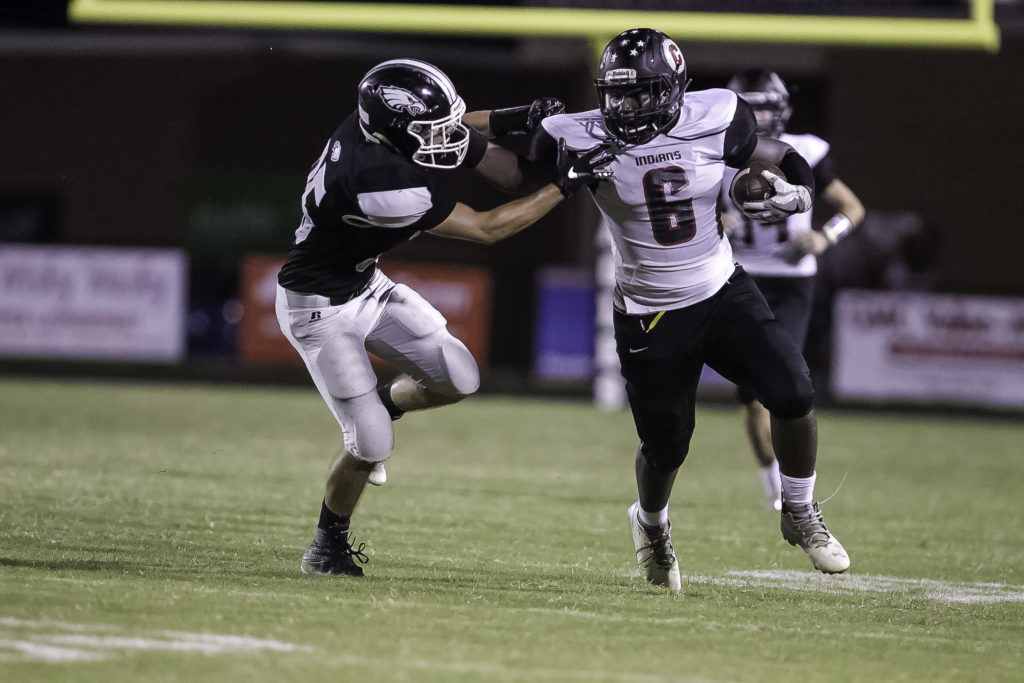 Offense Rules the Night
Operating behind a veteran offensive line that continues to improve, the Chattooga run game has been unstoppable and this night would be no different. While Devin Price and Clayton Johnson would both find the end zone on the ground, the night would ultimately belong to freshman sensation Lashaun Lester.
The 5′ 10″ running back is elusive and quick for a freshman weighing in at a powerful 215 lbs and the Eagles defense simply could not stop #6 as he carried the Indians into the win column with 285 yards rushing and three touchdowns on 27 carries. Lester and the offensive line led the Indians to a 34-32 victory in an offensive shootout against the Coosa Eagles. Lester's longest run was a 50-yard touchdown sprint early in the second half.
Senior Devin Price had 81 rushing yards and a touchdown on two carries, and quarterback Clayton Johnson scored a touchdown on a 1-yard run. Fullback Izzy Dammond added another crucial 26 yards on 6 carries as the Indians were able to control the clock. The Indians put up 383 yards on the ground against Coosa and Lester's 285 yards was just 20 yards short of Jimmy Lenderman's Single Game Rushing record of 305 yards.
Defense Wins the Game
Ultimately it was the Chattooga defense led by juniors Luis Medina and Jakoby Cottrell who made a final stand and snuffed out the Eagle's hopes for a 4th quarter comeback.
Cottrell and Medina came up with big plays throughout the night and sophomore Ty Veatch added a clutch interception that kept the Eagles high flying offense from finding the end zone late in the second half.
"We are very proud of this team… overcoming penalties, sickness, injuries, and the ball not always bouncing our way, and STILL finding a way to win a regional game… by simply loving the game, each other and by playing hard," said Chattooga Head Coach Charles Hammon.
Chattooga will continue region play next Friday at home against the Gordon Central Warriors.