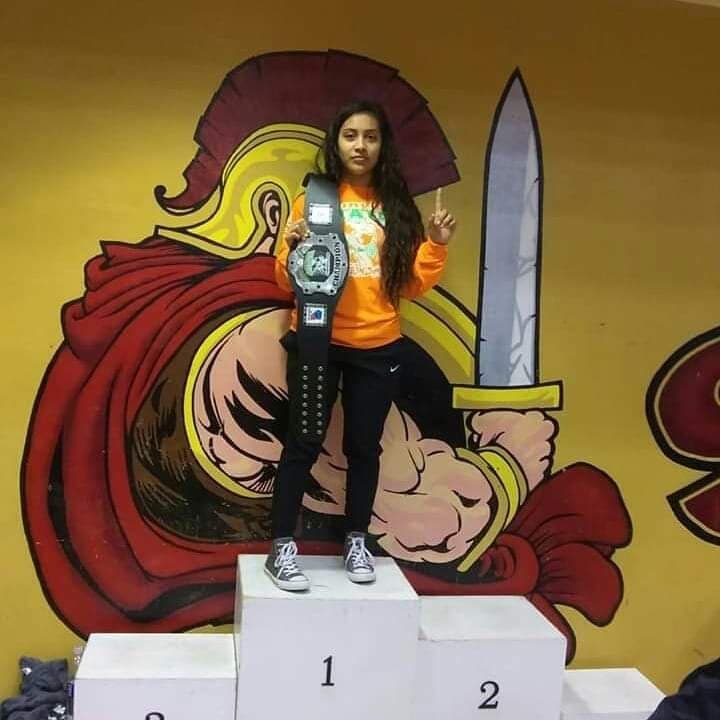 The Team Georgia sponsored Girl's State Wrestling Championships were held at South Paulding High School in Douglasville, Ga. on Sunday, February 24. With over 100 of the best female wrestlers from age 5 to 18, the competition was fierce. This year, the GHSA Traditional State Championship saw the first ever Girl's only state championship tournament, as girls wrestling continues to grow by leaps and bounds.
In the Middle School Division, 7th grader Kendra Heroch came in knowing that she would be competing against several older wrestlers in the 145 lb. division, but, with FOUR state titles already on her shelf, Heroch showed no fear. Heroch rolled through the competition, easily, on way to her 5th State Championship.
"Each time I compete at state I push myself harder because I know there is someone out there that is hungry and wants to win and ready to accomplish their goal," Heroch said.
Heroch spent her middle school season wrestling boys… and winning. She says she felt prepared when the Team Georgia Girls State tournament began: "wrestling boys all year gives me more experience and makes me stronger." And strong she was, no opponent throughout the entire tournament made it past the first period with Heroch.
Kendra, or as her friends call her 'Lula', is 13-years old and the daughter of Kesly Heroch and David Arnold. Kendra said that winning her fifth state championship, just makes her want to work harder to accomplish the goals she has set. "It makes me want to train harder for more in the years to come, because I know hard work beats talent when talent doesn't work hard," Heroch said.
Heroch who also plays softball and football and runs track said, "wrestling to me is different than other sports because it is all about the mindset; it teaches me that only the person who WANTS it MORE, who is willing to put the most work will reach the top."
Heroch is thrilled to see GHSA has dedicated a girls title for high school and plans to win five more state titles by her senior season, making her one of the most decorated female wrestlers in the nation. "It gives girls more confidence to start wrestling," Heroch said.
"I like wrestling because of the hard work, I am one of those willing to sweat and bleed to get what I train for… wrestling is fun and more competitive than the other sports I play."
Britlee Rutledge
In the 45 lb. division Britlee Rutledge finished second for the Indians. Rutledge is a second year wrestler and won the 40 lb, championship last year. Britlee is a first grader at Lyerly Elementary and the daughter of Kimmie Barnes and Zach Rutledge.