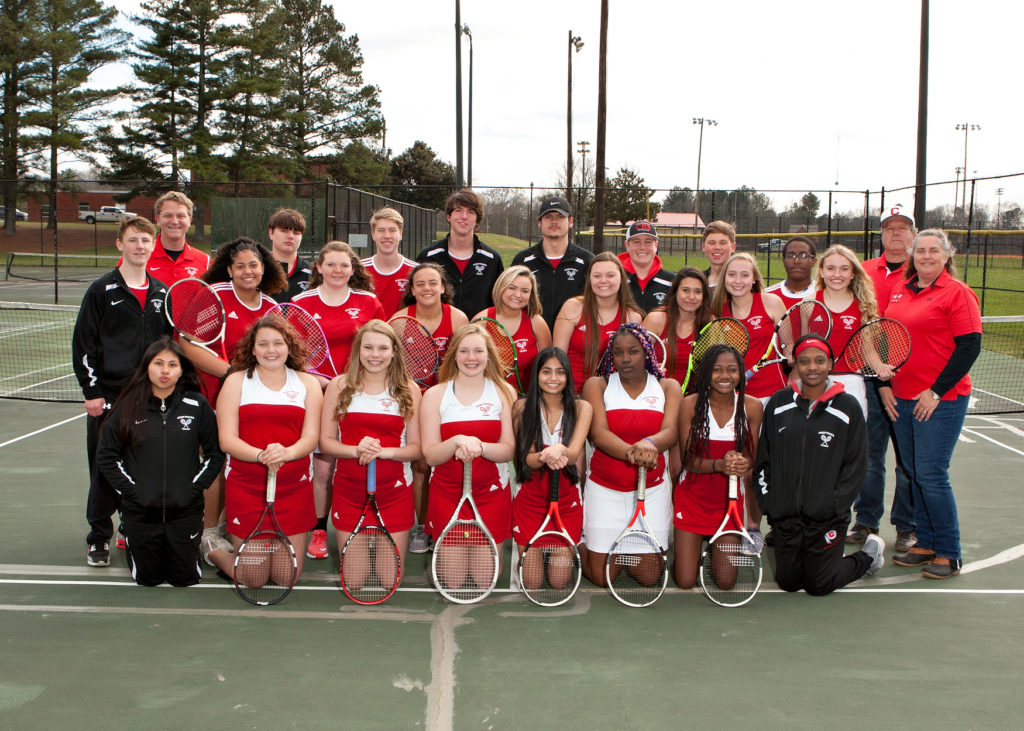 Chattooga Tennis is off to a great start with five wins very early into the season, "it's the most wins since I've been coaching," coach Stephanie Ratliff said.

After playing five matches last week, Chattooga tennis hosted Pepperell Monday, March 4 the girls won 3-2, while the boys fell just short 2-3. The Indians season record is girls 5-2 and boys 1-6.
Chasity Evans is undefeated for the season, she's 3-0 in singles and 1-0 in doubles.
Boys 1st singles Hamilton Ratliff and first doubles Cole Cavin and Dakota Finster are 4-3.
Ratliff is said by her colleagues, players, and player's parents to be the hardest working tennis coaching around. It is clear to see tennis is her passion and she expects her team to be all in.
Ratliff started coaching at Chattooga in January 2016 will a bunch of kids that had either never picked up a racket or had not touched it since the tournament in April of 2015.  "I worked them…they almost revolted… I did lose a few.  The girls were 1-13 and the boy were 3-11 for the season," recalled Ratliff.
Four of the girls on the team now were freshmen that first year and finished 7th in the region, there were only seven teams back then.  They finished 1-13 and lost 12 of those 0-5.
"I told them then if they would stick with me we would make state before they graduated. This should be our year.  Last year six of the girl's losses were 2-3 and lots of 3rd sets and tiebreakers.  We were much better than our record shows. It's gonna make for a great story come April," said Ratliff. The top four placers in the region tournament advance to state.
Progress in the Process: 
2016: Girls 1-13 (12 were 0-5), Boys 3-11
2017: Girls 3-14 (8 were 0-5), Boys 4-13
2018: Girls 4-11 (2 were 0-5), Boys 0-15
The 2019 tennis season is in full swing and delivering some much anticipated success for Coach Ratliff, the girls beat Gordon Central 5-0 and boys beat Dade 5-0. "These are the first 5-0 wins since I have been coaching," said Ratliff.