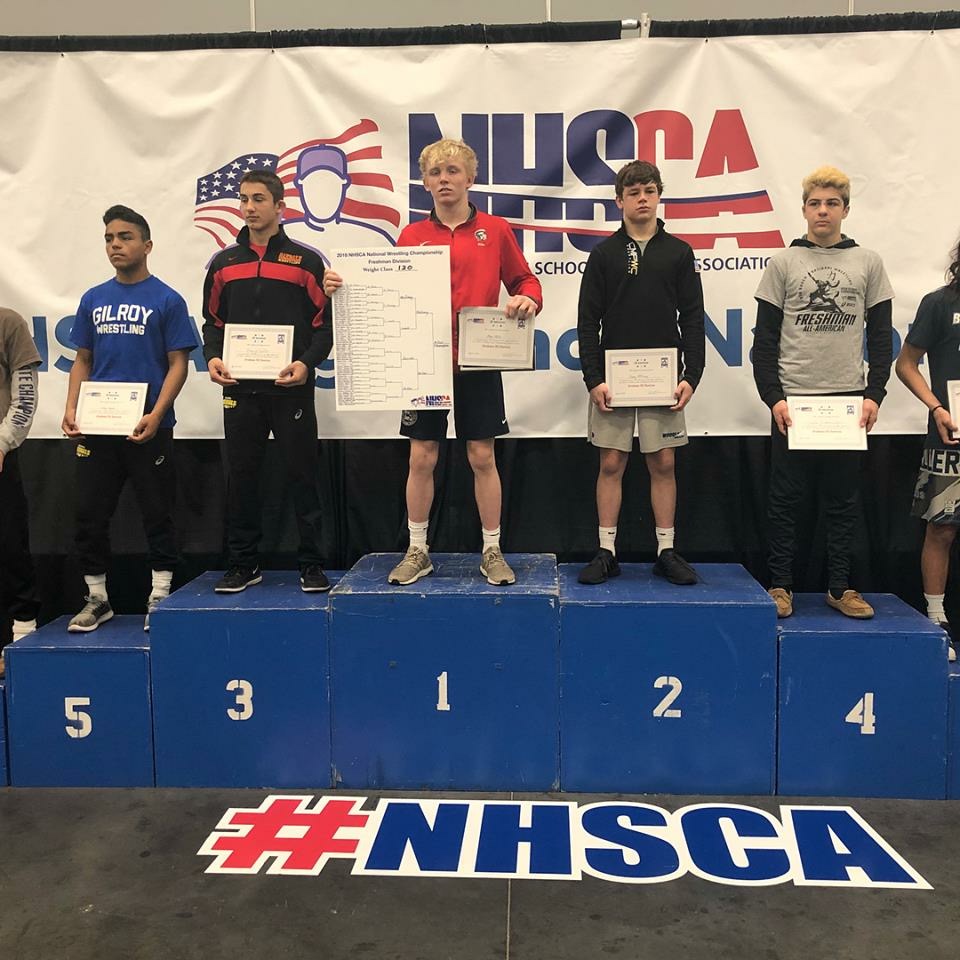 In Virginia Beach, VA, the National High School Coaches Association held the 29th annual NHSCA High School Nationals to find the very best wrestlers in the nation. Nearly 4,000 athletes from all 50 states competed in the grade-based tournament to identify true national champions based on grade and weight.


From Georgia, several dozen wrestlers made the trip to compete for national rankings, including 31 middle school athletes.
Freshman (Class of 2021)
In the Freshman Division, Georgia had four national placers including Dylan Farichild (285) who was crowned the National Champion. Fairchild picked up four pins on his way to the title, including a pin in the Finals. Only one match for Fairchild went beyond the 1st period.
Caden McCrary (120) already has some serious accolades under his belt and he just added a National Runner Up to the list. McCrary went on a 6-0 run, with two Majors and a pin, to make it to the Finals where he lost a very close 3-6 match.
Kamdyn Munro (145) picked up six pins on his way to a 5th place finish and Kaleb Walley (195) finished 8th.
The freshmen wrestlers combined to earn Georgia the #6 ranking in the nation.
Sophomore (Class of 2020)
The sophomore division was by far the deepest among the high school categories for Georgia and the crew did not disappoint. With eight National Placers, the sophomore wrestlers didn't have a 1st place finisher but seven of the eight finished in the Top 5.
At 145lbs, Georgia's Lucas DeSilva and Charlie Darracott met up in the consolation finals after incredible performances by both wrestlers. DeSilva won the match up 4-2 to earn the 3rd Place finish after going 7-1 for the tournament. With two tech falls, two pins and a major, DeSilva's lone loss on the day was a 1-2 match against tournament champion, Cole Handlovic. Darracott went 5-2 with a tech fall and a major and, other than the loss to DeSilva, Darracott suffered an agonizing 6-8 loss in the semi-finals, just missing out on having the same two wrestlers face off in the championship match.
DJ Lundy (220) went 4-1 but finished strong with an 11-1 major victory to earn a 3rd Place finish. Rodriguez Nunnally (285) finished 5th, and Nick Masters (120) finished 8th in possibly the most stacked weight class in the tournament with a gutsy 7-3 performance. Jackson Filipowicz (195) went 5-1 with four pins to finish as a National Runner Up while Gavin Kane (152) rolled up seven wins, including three pins, a tech fall and a major. Kane finished 3rd in the nation with his sole defeat coming in a 0-1 loss at the hands of Tournament Champion Clayton Ulrey. Francis Morrisey (138) finished an impressive 5th Place in another stacked weight class, going 6-2 with a tech fall and a pin.
The sophomore wrecking crew led Georgia to a 4th Place standing in the country.
Junior (Class of 2019)
The junior class held a lot of promise with 41 of the state's best athletes competing. But this was by far the deepest division of the tournament.
Freshmen – 779
Sophomore- 1,018
Juniors- 1,301
Seniors- 841
Middle School – 499
The junior division had SEVEN weight classes with over 100 wrestlers in them, including the 146 competing at the 126 lbs class. With 26 State Champions, 10 of which were 3X Champs, this weight class earned the honors of being Hammer Central.
Georgia still managed to bring home three National Placers with Deejay Mcneal (113) finishing 8th, Kyle Golhoffer (132) finishing 6th and Logan Ashton (113) finishing 5th. Several of Georgia's top wrestlers picked up winning records at the national event but fell just short of placing as the state earned a 17th national ranking.
Senior (Class of 2018)
The Georgia senior class picked up another three National Placers including Brandon Drum (120) who went 6-1 with two pins and finished 3rd in the country.
Christian Trimble (152) went 7-2 with a tech fall to claim a 7th Place finish while Jefferson's Dawson Bates (132) lost his opening round match only to rattle off a shocking 8 consecutive wins for a place in the consolation finals. The comeback was bittersweet for Bates but still good enough for a 4th Place finish on his 8-2 record and the most wins of any Georgia wrestler at Nationals.
#1 National Ranking
The 18 Nationally Ranked wrestlers from Georgia represents a continued rise in quality and depth of talent for the state. The Middle School division demonstrated more potential for success in the near future as the Georgia contingent of wrestlers finished at the top of the pack, earning Georgia it's first Middle School #1 National Ranking since the inception of the tournament with 10 wrestlers earning National Placers and three National Champions.
Middle School National Placers
8th Place – Tyler Nguyen (75)
6th Place – Sam Harris (127)
5th Place – Tyler Lillard (142)
5th Place – Collin Crosby (230)
5th Place – Bentley Wheeler (135)
4th Place – Nathan Payton (75)
2nd Place – Cole Hunt (90)    2x National Middle School Runner Up
NATIONAL CHAMP – David Panone (105)
NATIONAL CHAMP – Porter Faulk (165)     2017 7th Place
NATIONAL CHAMP – David Harper (180)   2x National Middle School Champion
The NHSCA National Championship was created in 1989 to fill the need for high school level competition on a level that would better prepare and display college level talent. The event has succeeded in providing a look at 
tomorrow's
 collegiate athletes for coaches and fans to enjoy.