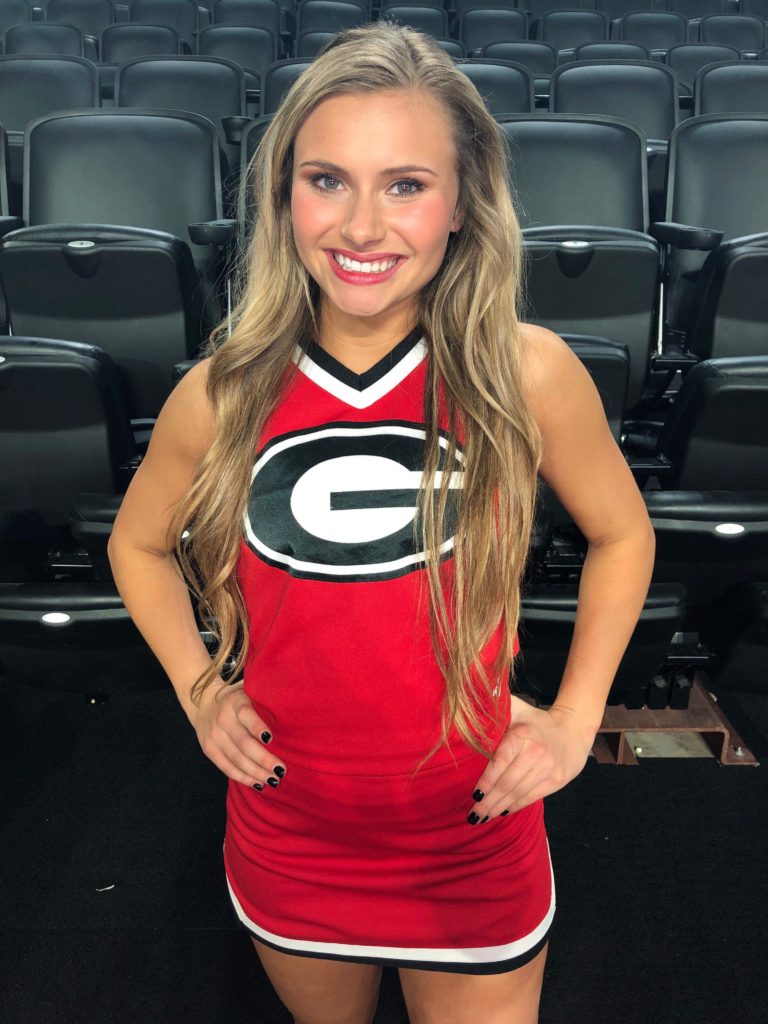 Trion High School Senior Gabbi Carroll has been selected to the University of Georgia cheerleading squad.
Gabbi says the tryouts were grueling, "it was a very rigorous tryout process full of the most talented cheerleaders I have ever been around." The tryouts lasted two days and a total of 70 girls tried out. "First we had to do a standing tuck evaluation, three tucks on mat, three tucks on Mat with Pom poms, and three tucks on basketball floor. After that, we learned two chants and a new fight song, then we stunted the rest of the time on Friday. On Saturday at 8am we were assigned our stunt group and we were told the stunt sequence we had to do and were told the jump sequence to tuck we had to do at tryouts. We had a break from 10-1 and at one the actual tryout started. When your group was up, you had to do whichever chant they called and then the other one. Then you did the jump sequence and jump to tuck one at a time. Next you did your running tumbling 2 times. Then you did your standing tumbling individually as well, and after that, you did your stunt sequence with your group. Finally, you did the fight song and the judges finished up."
Becoming a Georgia cheerleader has always been a goal for Gabbi, "I have always been a Georgia fan since I was little and dreamed of cheering for them. This is still so surreal!"
Gabbi has been taking gymnastics since she was two years old, "and I have done allstars through most of my years cheering. I did Middle school and High school cheerleading and took numerous tumbling classes outside of high school cheerleading and all-star cheerleading."
The gymnastics paid off as tumbling counted as 25% of the tryout. Gabbi was evaluated both Friday and Saturday for her running and standing tumbling skills.
"I'm looking forward to cheering at the games and being able to have my family and friends attend the games as well! I'm excited to have my support system with me while I am living out my life long dream."
Gabbi says she will have a few mandatory dates to attend for cheer before school actually starts in the Fall and then practice and other appearances begin after that.
Gabbi will be on the all girl team, and there are 20 girls on the squad. She will cheer at all home games any bowl games or championships, "I will get to travel with them and I also get to cheer for basketball, volleyball, and gymnastics!"
Gabbi is 17-years old and a 2019 honor graduate from Trion High School where she has been a competition and sideline cheerleader for all four years. She was recently named Miss THS, and was second runner up at homecoming. She is the reigning Miss Chattooga County Fair and 2018 Miss Trion scholarship pageant winner.
Her future plans include attending the University of Georgia in the Fall, majoring in accounting. She is a Zell Miller scholarship recipient, Rotary club scholar, and Miss Trion scholarship pageant winner. She is a member of Beta club, Spanish club, and Mu Alpha Theta.
Her parents are Lynda Carroll and the late Tony Carroll, and she has one sister Taylor Carroll.