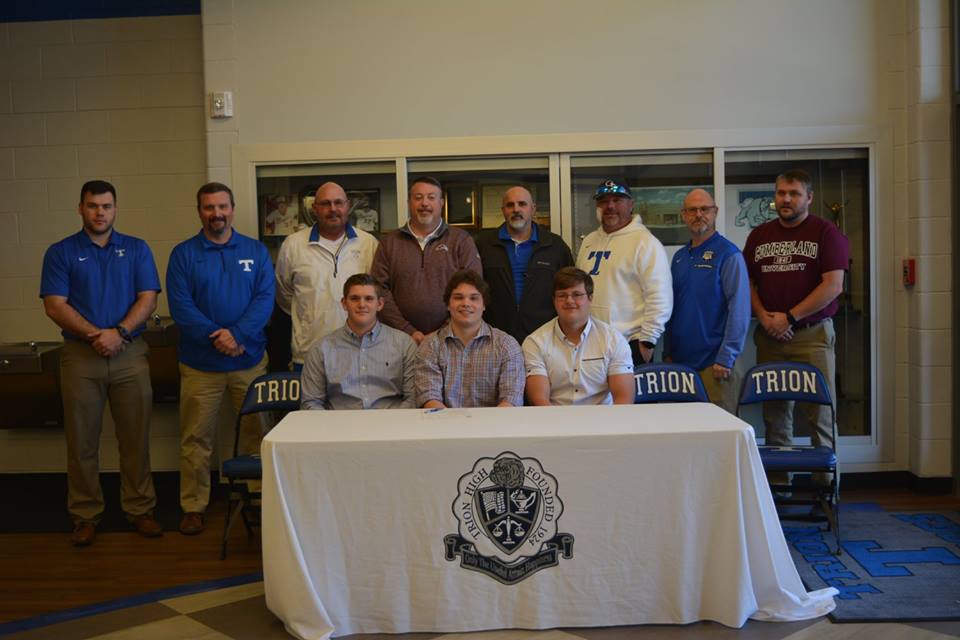 Three Trion High School Seniors will be trading in their signature "Bulldog Blue" for maroon as they strap on pads and helmets for the Cumberland Phoenix in the fall. Logan Blevins, Aidan Brock and Braxden Peace all inked with Cumberland University at a signing ceremony held at Trion High School where the players were surrounded by their friends, family, coaches, administration and Board of Education members.


All three players were multi-year starters and grew to become impact players for the Bulldogs.
Blevins finished his career at Trion with 1120 rushing yards, 21 TDS, and was spent four years as one of Trion's most prolific linebackers with 255 tackles, 20 tackles for a loss, six quarterback sacks, one fumble recovery and one interception. 
Brock, a nationally ranked long-snapper, also made his presence felt on the offensive line with 63 big blocks, 34 prowler masters and graded out at a 78% over the course of his senior campaign. As a long snapper, he went 70/70 long snapping, 105/105 PAT, and is ranked 69th in the nation, 3rd in Georgia.
Peace gave up only one sack over his entire career at Trion. His senior season capped a dominating career as he posted 62 big blocks, 75 prowler masters, while grading out at an impressive 82%, all with a solid performance on the defensive side of the ball adding 25 tackles.
The Blue Roots Run Deep in Cumberland
Cumberland Head Coach Tim Mathis was on hand for the signing ceremony. Mathis is familiar with the culture, pride and tradition that is Trion, "I just love this place," Mathis said. Mathis actually began his coaching career at Trion in 1997 when Mr. Clarence Blevins hired him. "I am just thrilled to be able to recruit kids from Trion," continue Mathis.
Mathis worked four years at Trion City Schools, coaching the offensive line all four seasons as well as serving as defensive coordinator for two years. He was also the wrestling coach for two years and golf coach for two seasons. "Trion is a special place with special people," Mathis said.
Mathis moved on to become an assistant coach for 10 seasons at Shorter University when the Hawks started their football program in the NAIA in 2005. He was the team's offensive coordinator his last five years at Shorter, including during its transition to NCAA Division II.
Recruiting Bulldogs is familiar to the coach, "…they have a long history of tough kids that can play. I have always recruited kids from Trion. We had some good ones at Shorter from Trion," Mathis said.
Regarding his three new players, Mathis says Blevins will most likely be a linebacker and Brock and Peace will be offensive lineman. As far as red-shirting this season, "…we give everyone the opportunity to compete for starting spots," Mathis said.
With most of the Patriots returning, Mathis expects to compete for the conference title and make the playoffs.
Trion Head Coach Justin Brown was beaming with pride for his players and their families at the signing, many of whom were already donning Cumberland shirts. "They are going to have a great opportunity to further their football careers and get a college degree. I know they will represent us well," Brown said.
The players themselves are excited about playing college football with the friends they have shared the field with since before they could tie their own cleats.
About Cumberland University:
Cumberland University is a private university in Lebanon, Tennessee, 170 miles north of Trion. It was founded in 1842.
Cumberland University teams, nicknamed athletically as the Phoenix, are part of the National Association of Intercollegiate Athletics (NAIA), primarily competing in the Mid-South Conference.