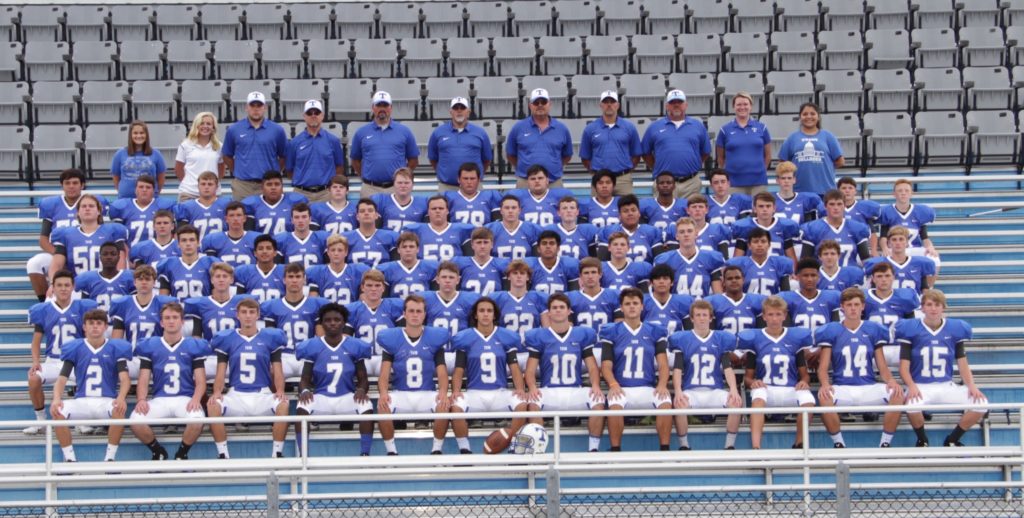 The Trion defense led the Bulldogs to a 21-0 victory over Dade County. The stifling defense held the Wolverines to only 74 yards of total offense in four quarters of play.  "Our defense played great and got the shutout," Coach Justin Brown said.
Will Wyatt lead the team in tackles with 9. On the defensive line, it was Clay Baker, Alex Stewart, and Tucker McCoy who filled the gaps and controlled the line of scrimmage.  "They all played very well," Brown said speaking of the defense.
Old-Fashioned Ground and Pound
The Trion offense established the run game early and the Wolverines never found a solution to stop Hagen Willingham and Braden Johnson. "Offensively, we pretty much moved it up and down the field," Brown continued.
Willingham had 149 yards rushing on 17 attempts, averaging 8.8 yards a carry, and scored twice. Johnson had another nice game for the Dogs, rushing for 83 yards on 16 attempts, averaging 5.2 yards per carry and one touchdown.
Bulldog kicker, Ramirez was perfect on the PATs going 3/3.
Struggles with Passing Game
Trion struggled to find their timing through the air, completing just 3 of 8 passes for only 11 yards, and one interception. The passing game will continue to be a focus for growth for the Bulldogs and Coach Brown said, "we made some sloppy errors at some critical times and left a lot of points out there."
The Bulldogs are 2-0 on the season and are looking to add Armuchee to their list of defeated 2A teams before heading into Single-A region play.  The Bulldogs will travel to Armuchee Friday, kickoff is at 7:30 p.m.
Scouting Report
"Armuchee (1-1) has a new coach, a good QB, they do a good job of spreading it out and spreading the ball around. Defensively they are aggressive and fly to the football. They've got some physical guys and they are heading in the right direction. We've got to do a better job of taking care of the ball, eliminate the mistakes and get points on the board when we have a chance. Looking for our kids to keep playing hard and physical Friday night," Coach Brown said.