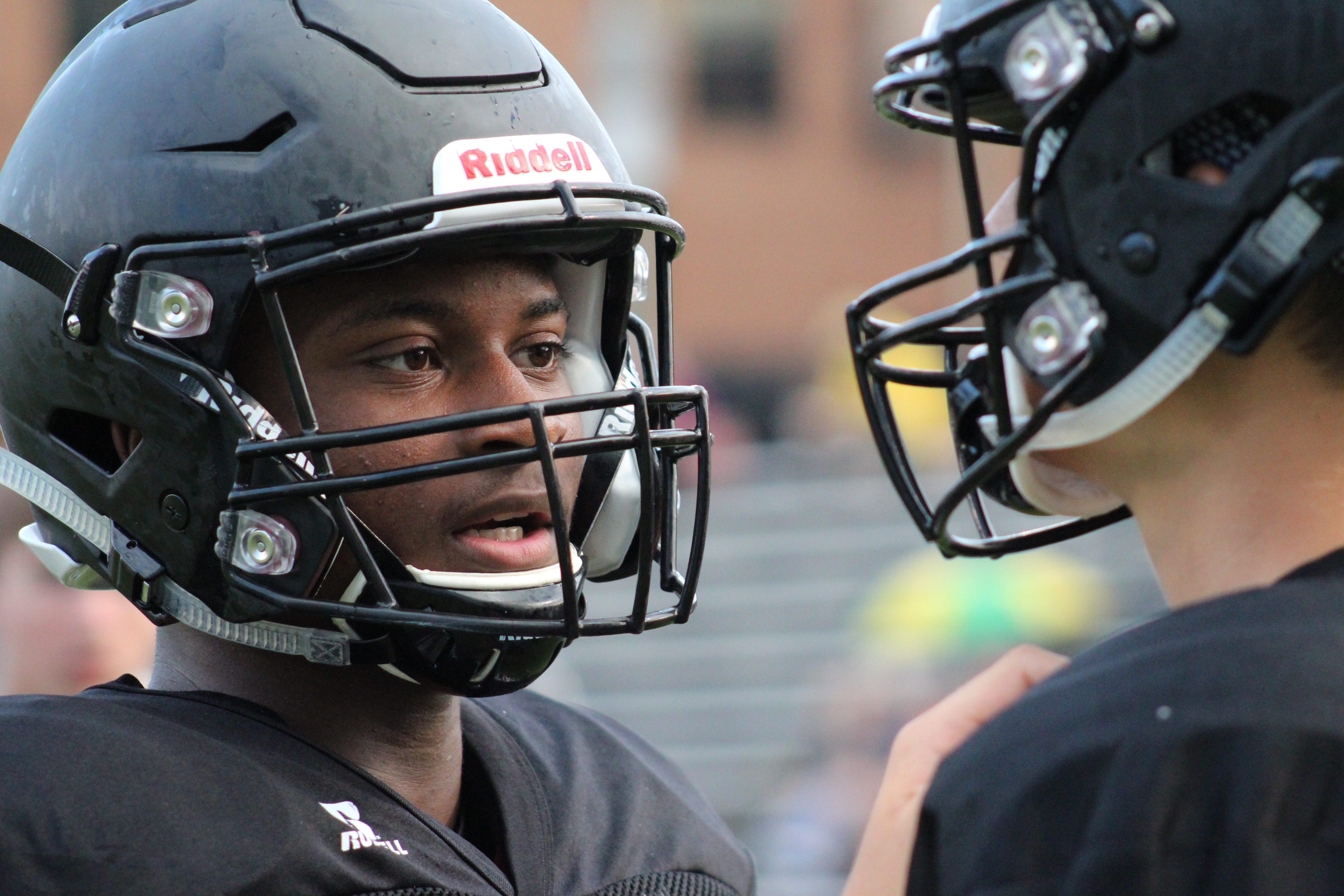 Another Spring Training Session is in the books for Coach Charles Hammon and staff at Chattooga High School. While the Indians are once again looking to replace some key components on both sides of the ball, TJ Adams, Dustin Pope, and CJ Martin were all integral parts of a Chattooga team that made its fourth consecutive playoff appearance and, now must be replaced in order to make a return trip to the post season.

After two weeks of practice, the Indians were a little banged up going into the Spring 2018 Scrimmage game against the gun-slinging Fort Payne Wildcats. In the Red & Black intra-squad scrimmage last week, starting quarterback, Clayton Johnson, went down hard, suffering a shoulder and ACL sprain that will limit his action for 4-12 weeks. While Johnson will have the entire summer to heal, the Indians were left without a seasoned back-up in the scrimmage game and turned to rising sophomore Cash Allen to step under center. Allen handled some light mop-up duty last season with the varsity squad and flashed some high potential with the JV squad, but has yet to start a game.
The Good
The Indians will be relying heavily on some veteran players on the defensive line to stop the run and put pressure on opposing quarterbacks. Rising Junior Luis Medina demonstrated why he is possibly the best defensive end in Region 7-AA as he completed dominated the left side of the field. With consistent penetration, Medina shut down the run game and put pressure on quarterback, Jordan Bain. The 6′ 2″ converted receiver was flushed from the pocket on nearly every pass play and Medina was a prime factor.
In addition, middle linebacker, Jackson Lowenberg was effective at filling the gaps and Malachi Mack was blitzing from all angles. The defense was successful at limiting any chunk plays on the ground and forcing the QB to stay on the move.
For the Indian offense, Sophomore EJ Lackey ran hard and played with a physicality beyond his years. Good signs for a backfield with more potential than results. Lackey will be pushed by upcoming freshman phenom, Leshawn Lester, who demonstrated during the JV portion of the scrimmage that he knows how to use his 205 lbs for both power and speed. Lester was never tackled by fewer than three Wildcats and always finished his runs with added yardage. Lester had 13 carries for 149 yards Ty Veatch at fullback was another bright spot on the young roster.
The Chattooga history of breakaway speed remains intact with
Devin Price
and
Jamarious Mosteller
. Price broke away early in the game for a 69 yard touchdown and was pulling away from defenders the entire way. While the run was called back on an illegal shift penalty, the play was significant for an offense that will need the threat of big plays on the outside to set up more offensive strategy.
The Bad
The defensive secondary was a serious problem last year. It hasn't improved. Coaches were already talking about personnel changes by half time. Fort Payne used a first-year quarterback to pick apart the Indian secondary, extend drives, and stretch the field. Bain was flushed from the pocket and scrambling on almost every play but still managed time and time again to find open receivers. Corners and safeties for the Indians were out of position or simply beat on plays that were clear passing downs. With Tre Flowers and Danny Bare at the corners, the Indians weren't lacking in experience but still seemed confused or caught off guard multiple times. The safety position will need to be a focal point to prevent basic receptions from turning into touchdowns and the pressure up front will need to turn into actual sacks if Chattooga doesn't want to give up major passing yardage this year.
The offensive line without Dustin Pope will need to find its identity sooner rather than later. The Indian backfield will be young and the line will need to become a factor early in the schedule. The Fort Payne defense was largely able to control the line of scrimmage and limit Lackey's running lanes in between tackles. Once they realized their defense could clog the interior lanes, the Wildcat linebackers were free to slide with the runners and make tackles for limited gains on the outside.
The Ugly
While every team dreads losing their starting quarterback, a complete absence of depth is a major problem. With Clayton Johnson out of the lineup, the passing game became non-existent. Allen shows a high ceiling for growth but, with no middle school experience on the field, his game speed awareness showed major deficiencies. Allen will be working hard in the off season to add mass to his 6′ 5″ frame and plenty of reps at 7-on-7 camps to improve his movement and field vision, but the Indians will need a healthy Clayton Johnson to have a serious shot at the post season.
Chattooga was spoiled by CJ Martin. The all-purpose athlete floated the field and filled needs wherever Hammon saw a hole. But his kicking game was unmatched in school history and that is painfully apparent now. Luis Medina may use his 280 lb frame for kickoffs but field goals and PAT's have just become a dangerous adventure for a team that will need EVERY PAT and field goal it can get.
After watching many Indians slipping around in the wet conditions, it was apparent most were wearing older worn down cleats, there were lots of footing problems with them. "I also had a full understanding of the importance of buying cleats for our guys," Hammon said.
Also the team got down after Price's touchdown was called back and they never recovered the energy, "I did not like how we responded when something went bad for us," Hammon said.
The Near Future
Chattooga High School has positioned itself at the top of the middle in Region 7-AA. With Pepperell and Rockmart fighting for the title, Coosa and Chattooga have spent the last few years battling for third. That isn't a safe place to be as Dade County, Model and even Gordon Central and Armuchee look to snatch an invitation to the post season dance. The Indians will need significant growth in the off season if they look to hold their playoff berth reservation.
Once again, Chattooga will open up with a rough three-game schedule; traveling to 3A Adairsville, before hosting Single A #8 Wesleyan, 8-3, (whose only loses were to #1 and #7 along with a loss to Hapeville Charter).  Rounding out the opening three games will be the #9 team from 4-A, Heritage Generals making the trip to the Little Big Horn.
Hammon will have his work cut out for him as his squad moves into region play in September, hosting Coosa, traveling to Gordon Central and then hosting Rockmart. It is this three-game stretch that will set the tone for the Indian's post season hunt. Look for Lester to have added some time in the lineup and the connection of Johnson to Price to become a factor. If Price can find some breathing room, and Lackey/Lester can bring life to the run game, then Chattooga may put up some points and find a lead that Medina and Lowenberg can hold onto.
The offensive numbers: 
*Varsity 17 Total plays for 63 yards (2 penalties) (3.7 per play)
* 11 runs 49 yards (4.5 yards per rush)
​​EJ Lackey 4 for 26 yards (6.5 per carry)
Timyus Lawerence 1 for 8 yards (8.0 per carry)
Devin Price 3 for 7 yards (2.3 per carry)  (*69 yard TD called back on penalty)
Izzy Damond 1 for 2 yards
Jamerious Mosteller 2 for 6 yards (3 per carry)
Cash Allen 1 for -1 yard (-1 per carry)
* 6 pass attempts (2 for 6 for 14 yards) 7 yards per completion (2 were with no time left)
JV Team (2nd half)
* 21 total plays for 166 total yards (7.9 yards per play)
* 17 rushes for 166 yards (7.9 per rush)
       Shawn Lester 13 carries for 149 yards (long 54)) (11.6 yards per rush)
       Ty Veatch 2 carries for 7 yards (long 6) (3.5 per rush)
       Devin Heroch FB 2 carries for 10 yards (long 6) (5 yards per rush)
* 4 passes for 0 yards