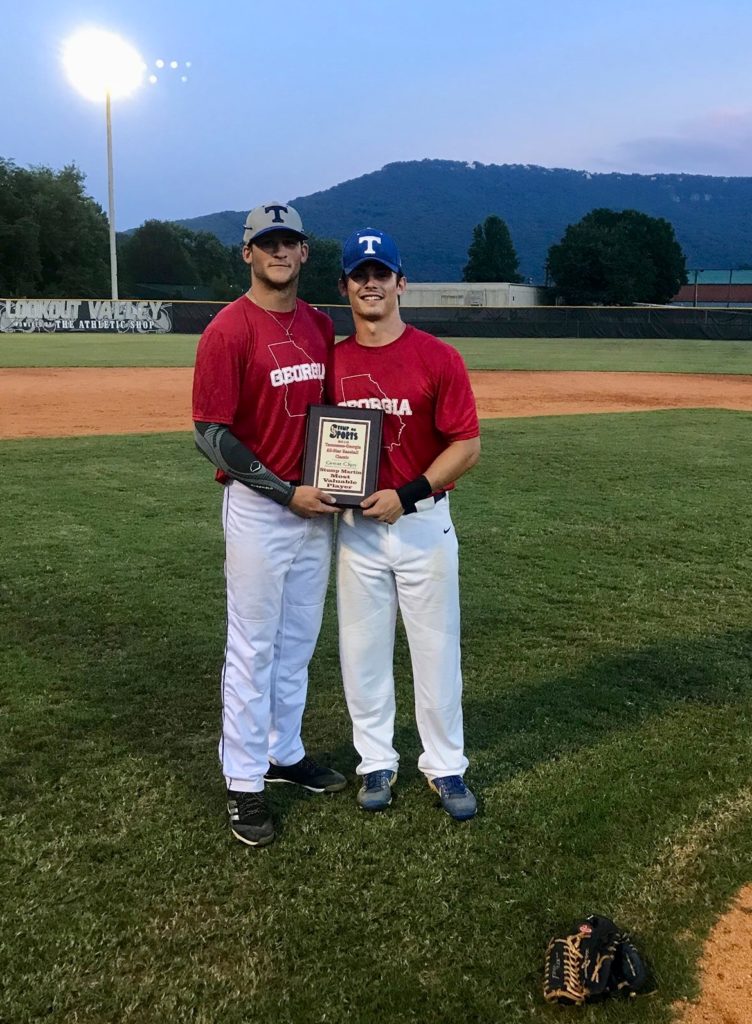 Georgia dominated the annual Georgia-Tennessee All-Star baseball game, 19-1. The game featured the best high school baseball talent from northwest Georgia as they took on their counterparts from the southeast Tennessee area. The 17th Annual Stump on Sports Tennessee-Georgia All-Star Baseball Classic was played at Lookout Valley High School in Chattanooga.

Trion High School had two players on the Peach State team, Cole Phillips and Tanner Railey.
Phillips (Gordon College), went 3/5 with a double, a home run, and a Grand Slam, while setting a new game record of 8 RBIs and was named overall MVP for the game.
Railey added a double and two RBIs for the Georgia boys as they swept Tennessee. Trion's two players batted in 10 of the 19 runs.
"I am extremely proud of how both Bulldogs performed in the game," Trion Baseball Coach Jason Lanham said.
Also on the roster for Team Georgia was Dylan Minghini (Lafayette College), Caleb Hopkins (Hiwassee) Austin Thompson (Chattanooga State), Blake Bryan (Carson-Newman), Bryce Bird (Young Harris), Justin Morris (West Georgia), Lance Dockery (Cleveland State) and Cole Wilcox (Georgia), Nathan Camp (Louisiana-Lafayette) and Ty Jones (Lipscomb).
Allen Coley, assistant coach at Southeast Whitfield coached the Georgia squad.
Among the standouts for Tennessee was Soddy-Daisy pitcher Dylan Perry (MTSU), Ooltewah infielder Andrew Manning (Chattanooga, football) and Baylor first baseman Teddy Lepcio (Army).
Tennessee holds a 14-3 lead in the all-time series.