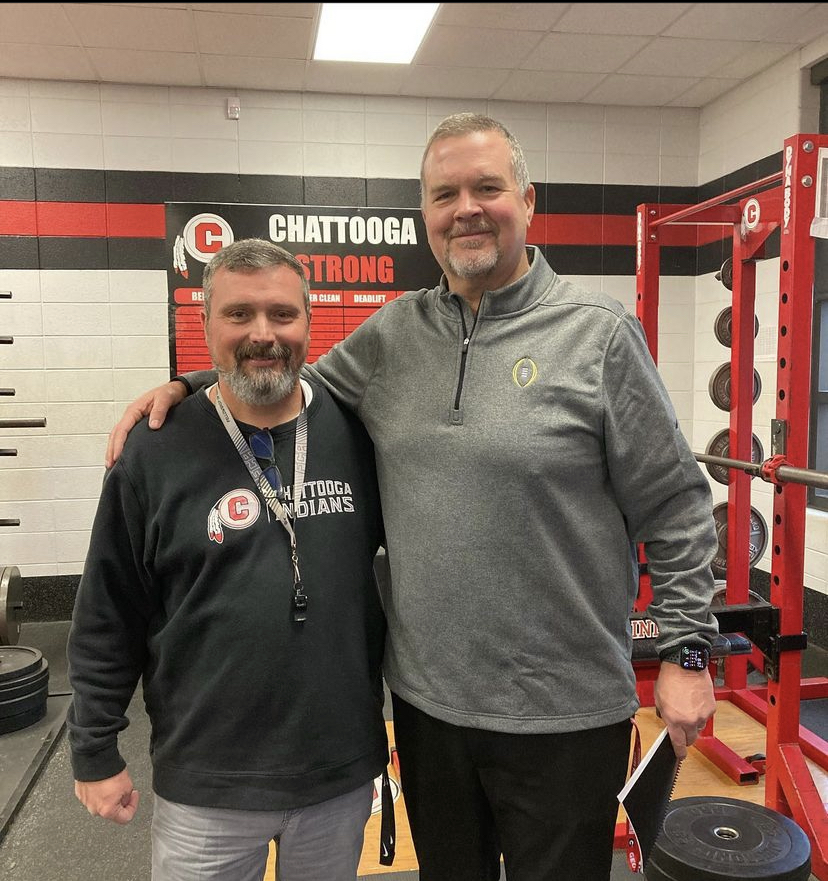 Red "Roone" Rising 
(Roone rhymes with moon, we have been asked how to pronounce the new coach's name)

A new era is beginning for the Chattooga Indians football program and a local name will be shaping this era. Head Coach Roone Gable was selected from a deep and talented pool of prospective candidates and his ties to the county run deep.  This blue-blooded Chattooga resident now leads the Big Red Machine and could shape a resurgence of Indian pride.
AllOnGeorgia recently caught up with Coach Gable to find out more…
How have your first few weeks at Chattooga been?
It has been great!!!! The kids have been very receptive and excited and worked hard in the weight room for me. I have been very proud of them. We had our first team meeting this past Friday and had between 65-70 attend the meeting and that doesn't include current 8th graders who will be up-coming freshman next year.
The administration and staff have been very supportive. I have enjoyed meeting everyone and getting to know everyone. Everyone has been so welcoming and supportive to me and my family. We are truly appreciative. I could not have asked for a better first couple of weeks.
Do you have your staff in place?
The staff is coming together. That has been my biggest priority so far. Hopefully I will be able to make some official announcements in the coming weeks. We are still interviewing candidates for a few spots.
What are your goals for Chattooga Football? 
The goals for our team are simple. We want to be a playoff team and compete for region championships. That has to be our goals every year. Are we there right now? That is to be determined as the spring progresses. I am stressing our players right now that we have to compete to get better every day. Whether it's on the basketball court, wrestling mat, classroom, weight room, or anywhere, we have to learn to compete and push ourselves in everything we do. Right are our immediate goals are to work as hard as possible in the weight room and get bigger and stronger. And we want to get more kids involved. It is a fresh start for everyone involved and we are building our program together.
What will spring football be like at Chattooga?
We plan to have a full spring practice. Spring is a time to teach fundamentals and also will be a time to install our new offensive and defensive systems. We hope to start in early May and will conclude the spring with a scrimmage versus Gordon Lee.
What is your role at the high school, do you teach weights? 
I will finish the year in the weight room. The plan going forward is not yet finalized but most likely I will hire a strength and conditioning coach who will run the weight room. I anticipate that I will return to the classroom as a special education teacher. Like I said nothing has been finalized but I can see that scenario playing out.
Have you met with the football team?
We had a first team "meeting" on Friday. I have been able to meet the players throughout the day in the weight room, but Friday was the first time we all got to meet together as a whole group. Like I said earlier, we had great interest and turnout. At the conclusion of our meeting, the players got to see and hear from Coach Stacy Searels from the University of Georgia. He was able to address our players for a few minutes. I think they really enjoyed getting to hear from a National Championship coach!!!!
Will your school age children attend Chattooga County Schools?
My two youngest children, Grayson (8) and Peyton (7) will attend Chattooga County Schools in the fall. They are finishing the year out at Trion Elementary School.
What can fans expect to see on the field this fall– from an offensive and defensive position?
Our offensive and defensive philosophies are to take advantage of the personnel we have and to put our players in the best positions to be successful. It's no secret that we have good speed in our skill positions, so it's our responsibility to get these players the ball in space and to let them do their thing. Quarterback development will be huge for us. In today's game, I feel it is imperative to have a quarterback who can attack the defense with both his legs and his arm, so I am excited to get to work our quarterbacks and see them develop. But anyone who knows me knows I want us to be a physical football team as well. I still feel like you must be able to run the ball and be physical. So, our offensive line development will be huge for us as well. Defensively we will take the same philosophy, we try to identify the returning players and put them in the best situation as possible.
How has the community and personal support for your move from Trion to Chattooga been?
The support we have received from the community has been very overwhelming. I cannot stress that enough!!! Everyone has welcomed us and made the transition such a positive experience. We cannot say thank you enough to everyone. We are truly appreciative.
What is it going to take to turn Chattooga Football around? 
Commitment. It is going to take commitment from everyone involved from the coaches to players to administration to the community. We must get behind these players and let them know we love them and are here to support them in everything they do. And that's just not football. That is everything that is Chattooga. We truly are OneTribe. I love that saying!!!!! Everything we are trying to teach and instill is wrapped up in OneTribe. Chattooga football has a great history. Like any program, it has had its ups and downs, but Chattooga is a proud community with great support. We are asking our players to buy in to hard work, dedication, and put the TEAM above everything else. If we do these things, then the process will begin to turn around and show improvement.
What do you think about the schedule? 
We are in the second year of our scheduling cycle so the home / away games will just swap locations. I will attach the updated schedule. Like I mentioned earlier, we will scrimmage Gordon Lee in the spring and will Ridgeland in the fall prior to opening the season at LaFayette. We also will have a full JV schedule of 7 games this fall to help our young players develop.
Chattooga County Stadium

Chattooga football will take the field this fall on a new turf football field. As part of the overall update to the stadium Chattooga will be converting their track from a six lane non-official size track to a Georgia High School Association approved eight lane track. The new track, built to 2023 standards, will allow Chattooga High School to hold, for the first time, a home track and field event.
2023 Chattooga High School Indians Football Schedule 
May 19, 2023 (Spring Game) Gordon Lee Away 7:00 
August 11, 2023 (Scrimmage) Ridgeland Away 7:00 
August 18, 2023 LaFayette Away 7:30 
August 25, 2023 OPEN  
September 1, 2023 Temple Away 7:30 
September 8, 2023 Coahulla Creek Home 7:30 
September 15, 2023 Murray County Home         7:30 
September 22, 2023 Pepperell * Away           7:30 
September 29, 2023 Armuchee * Home         7:30 
October 6, 2023 Darlington * Away          7:30 
October 13, 2023 Trion *           Home        7:30 
October 20, 2023                        Dade County *             Away          7:30 
October 27, 2023                         Coosa * Home         7:30 
November 3, 2023 OPEN 
November 10 or 11, 2023 1st Round Play-Offs 
November 17, 2023 2nd Round Play-Offs 
November 24, 2023 3rd Round Play-offs  
December 1, 2023           Semi-Finals Play-Offs 
December 8, 2023 State Championships  
*Region Games 
2023 Chattooga Indians JV Schedule 
Thursday Sept. 7, 2023 Woodland Home 5:30 
Thursday Sept. 14, 2023 Armuchee Away 5:30 
Thursday Sept. 28, 2023 Coosa Home 5:30 
Thursday Oct. 5, 2023 Pepperell Away 5:30 
Thursday Oct. 12, 2023 Trion Away 5:00 
Thursday Oct. 19, 2023 LaFayette Away 5:30 
Thursday Oct. 26, 2023 Ridgeland Home 5:30