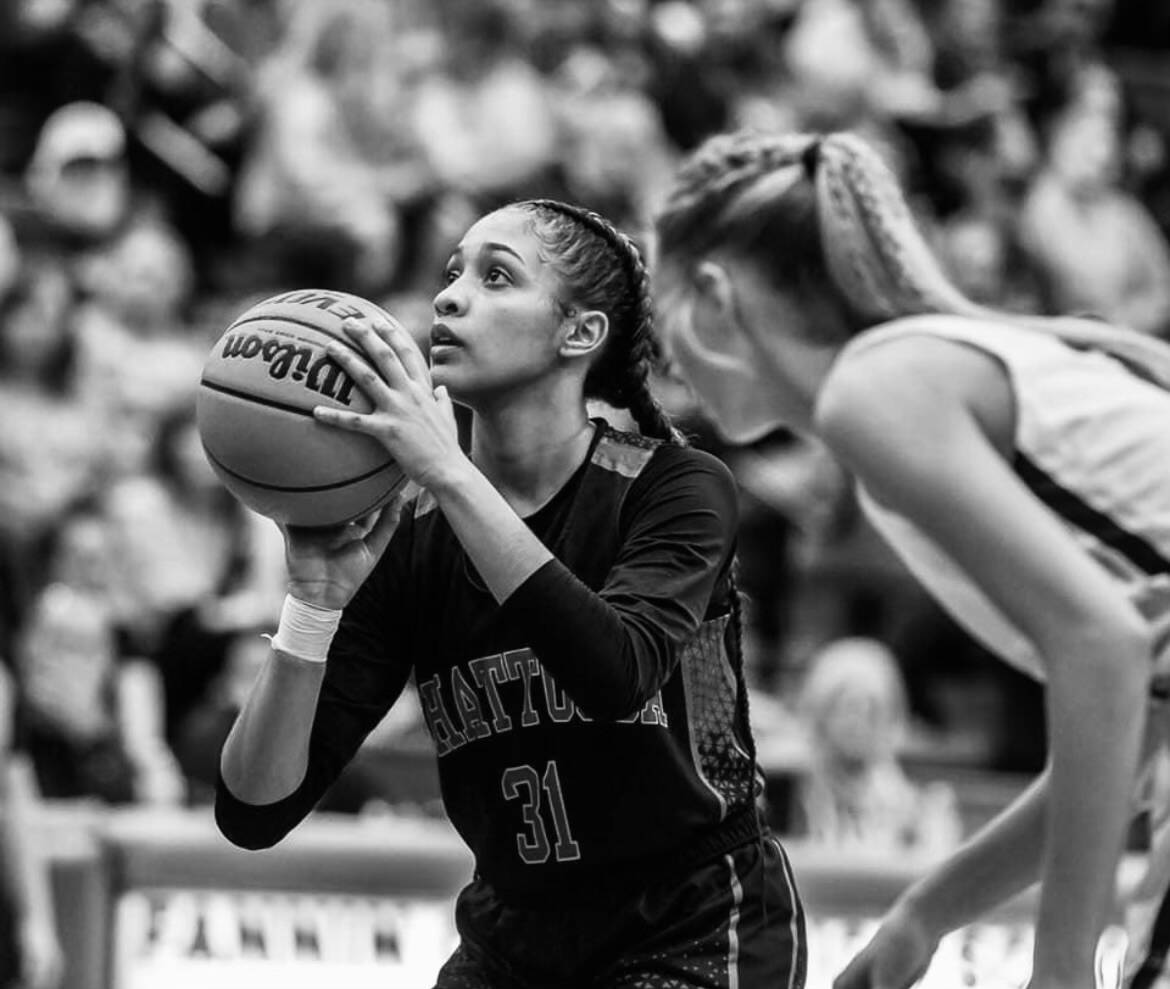 This week's AllOnGeorgia player of the week honors go to Chattooga senior, Makiya Parrish. Parrish is the shooting guard/combo for the Lady Indians basketball team.
Parrish earned the recognition for her outstanding performance against Trion, where she scored a career high 33 points, had 6 steals and 4 rebounds. "I'm happy she performed as well as she did," Indian Head Coach Alvah Beasley said about Parrish's performance in the Trion game. "But, I'm most proud of how well she handled herself after she fouled out midway through the 4th quarter. She was visibly frustrated but stayed mentally and verbally locked in."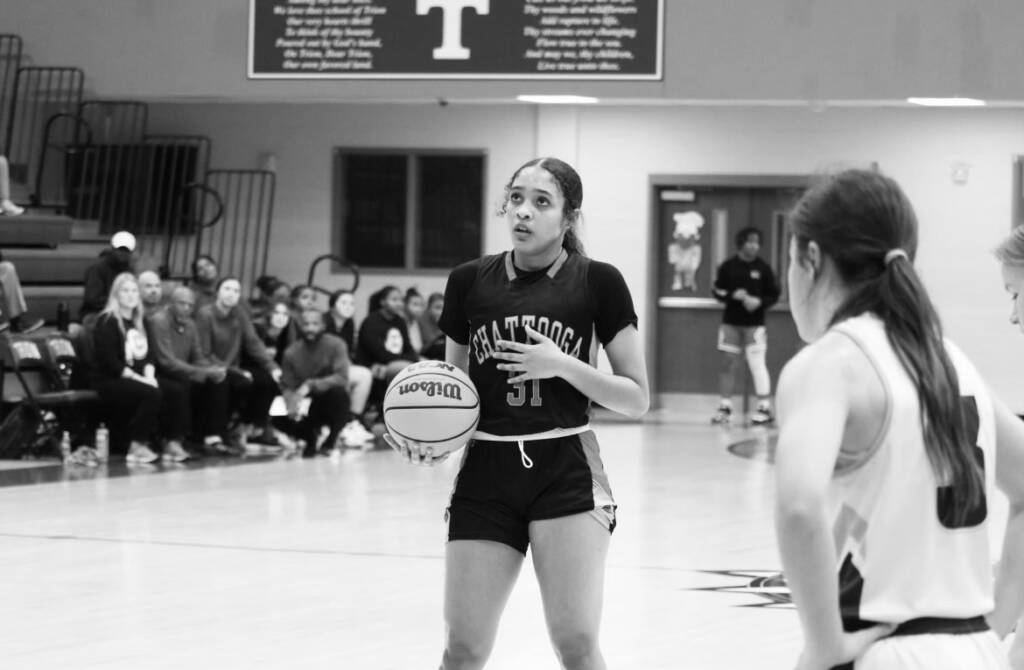 "I've had the opportunity to watch Makiya use her supernatural abilities on many nights on many nights, but that night was special! The stage was set for her to perform and perform she did. To score her career high versus a first place region rival is what dreams are made of," Beasley said.
She followed that showing up with another recording setting game Friday night against Dade where she finished the game with 38 points (new career high), 10 rebounds and 7 steals.
Parrish also hit the 1,500 point mark in the Dade game, making her what is believed to be the all-time scoring leader in Chattooga basketball with 1,526 points. Coach Beasley said the record books are being looked at, but 'surely' this will be the all-time career high.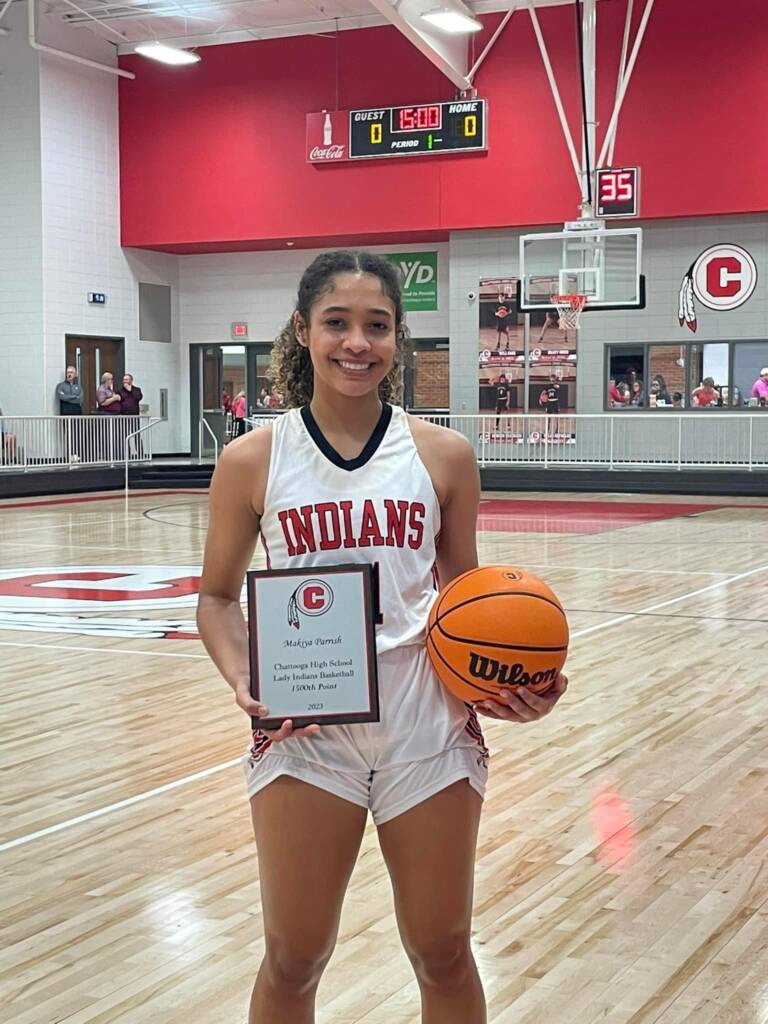 "Makiya finds herself in another unique role this year," Beasley explains. "Her first two years here she played shooting guard primarily. Last year she played some at point guard and eventually became part of our 3 guard offense. This year she finds herself at point-forward. This is who she is, she's a player who has accepted multiple roles and been successful in them all."
Parrish also finds success in the classroom maintaining a 4.0 GPA as a student athlete.
Here's a little more about Makiya Parrish.
How many years have you been playing basketball?
Since I was 6 years old.
Do you have a favorite team/athlete?
Golden State Warriors.
Stephen Curry.
Who is your role model and why?
My mom because she had me at a very young age. She has put all of her time and money into giving me the life she never had. She has provided me with everything I needed to be successful. She has shaped me into the person I am today. Also, my stepdad Ryan AKA my personal, at home, basketball trainer. Most of my game has came from him.
What are your plans after high school?
I plan to attend college, study Animal Science, and continue playing basketball.
Finish this sentence "In ten years I will be….."
a veterinarian.
Do you have any special talents or hobbies? What is something most people do not know about you?
Talents/Hobbies: I love art. Drawing and painting gives me peace.
Something most people don't know about me: I love to watch crime/murder documentaries.
What is the most important thing you've learned from your coach?
To trust in my teammates.
What's your most memorable moment in basketball?
Making it to the Elite 8 last year.
What's been your best game?
Probably my highest scoring game of 35 points against Rockmart my Sophomore year and 35 against Trion, this year, my senior year.
What are your goals this season, as a team and personal?
Personal: To be a leader on and off the court to my teammates. I hope to leave a good impression on them when I leave.
Team: Win the region championship.
How do you mentally prep for a game?
Listen to music and go over the game plan with coach for reassurance.
What's the best thing about your teammates?
They all have great personalities. They are encouraging. They lift you up when you're feeling down.
Favorite class/favorite teacher?
Spanish.
Mrs. Reyes.
GPA?
4.0
Parents names:
Kylie Anthony
Ryan Anthony
What is the best advice you've ever received?
Anything my mom has ever told me. She never leads me in the wrong direction and always wants what's best for me. She builds my confidence daily.
Favorite food?
Japanese.
If you were given a billboard that everyone could see, what would you put on it?
I would put a picture of Maya Angelou with this quote: If you are always trying to be normal, you will never know how amazing you can be.