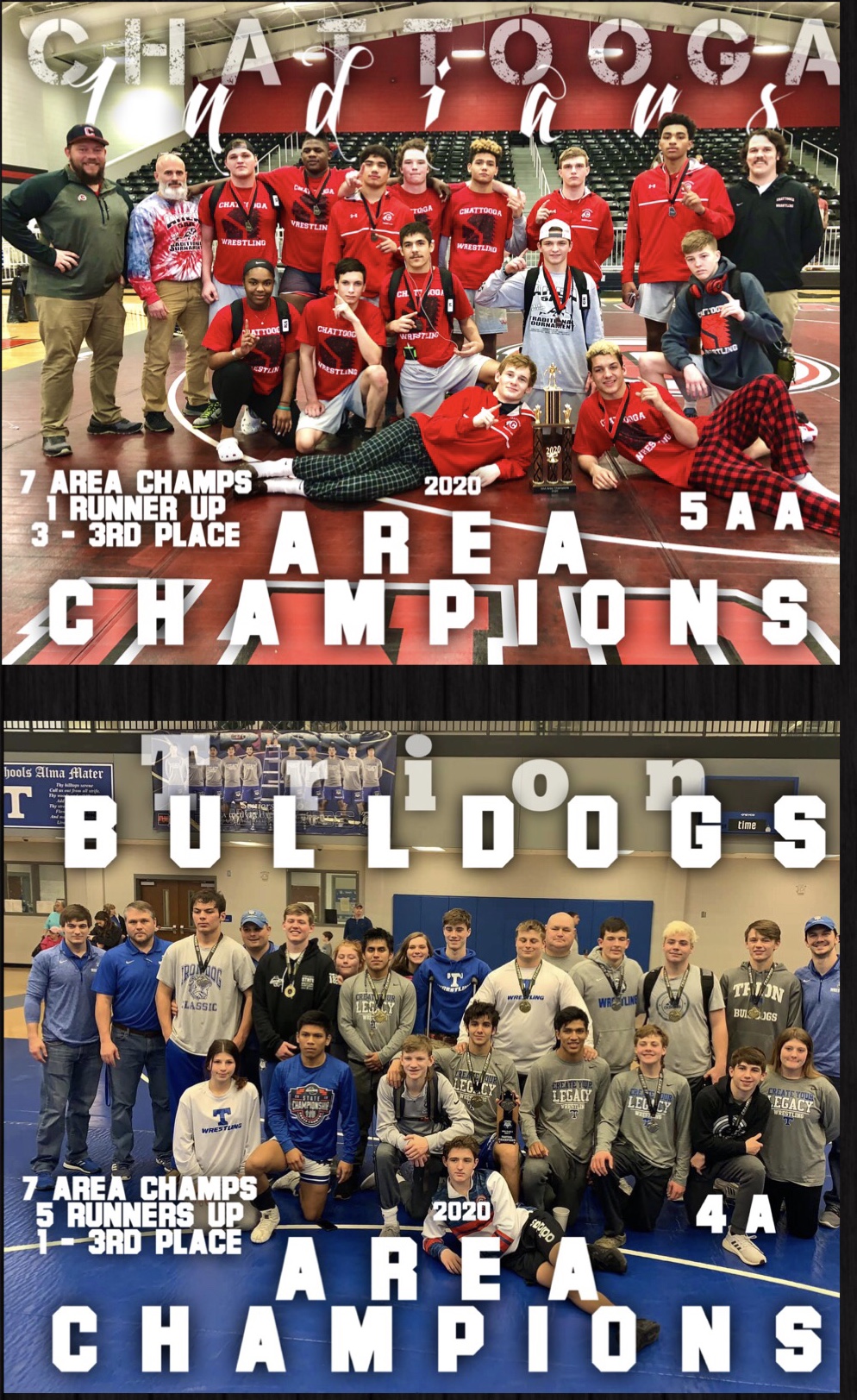 Saturday was a big day for the sport of Wrestling across the county. Trion hosted the 4A AREA CHAMPIONSHIP on Saturday February 1st  at the Bulldog Gym in Trion, while Chattooga hosted the 5AA AREA CHAMPIONSHIP in Summerville at Tribe Pride Arena. Both programs were looking to place as many wrestlers as possible into the Top 4 as only the TOP FOUR wrestlers from each weight class will advance to Sectionals next weekend.
Both programs had record setting days on the mat.
Bulldogs
Trion won their 4th consecutive Traditional Area Tournament and will be sending 13 wrestlers to Sectionals next week in Bremen. The Bulldogs had seven wrestlers place first, five placed 2nd and one placed 3rd.
Freshman Logan Eller won the Most Outstanding Wrestler award in the lower weight division and Brantley Willbanks won the Most Outstanding Wrestler award in the upper weight division.
113- Daegen Vaughn 2nd
120-Andrew Jones 2nd
126-Bryce James 1st
132-Versain Vasquez 2nd
138-Bowden Brock 3rd
145-Logan Eller 1st
152-Lincoln Maddux 1st
160-Eddie Jimenez 1st
170-Bladyn Bowman 2nd
182-Bo Jones 1st
195-Brantley Willbanks 1st
220-Alex Stewart 2nd
285-Clay Baker 1st
Indians
Chattooga set the school records for Most Area Finalsts (8), Most Area Champs (7), and Most Area Placers (11).
Chattooga swept to a massive victory at the 5AA Area Tournament with Champions Griffin Jarrett (113), Wes Conley (120), Mason Sterner (145), Rowan Burdick (152), Ty Veatch (195), Alex Mears (220), and Luis Medina (285).
Other Top 4 Placers advancing to next week's Sectionals are Runner Up Jakoby Cottrell (170), and a trio of 3rd Place Finishers; Gene Keith (132), Jason Malone (138), and Devon Heroch (182).
The Indians had 13 wrestlers competing (Hector Velez (126) placed 5th as an alternate) and outscored Rockmart with 219 total points to the Yellowjackets' 143.5. Dade County finished 3rd with 141.
Next up: Sectionals
SECTIONALS (Feb 7-8)
There are only TWO Sectional tournaments for each of the GHSA's seven classifications. This year, for BOTH Trion AND Chattooga, Sectionals will be hosted at Bremen High School. The schools will be competing against two other areas FROM THEIR OWN CLASSIFICATIONS.
Trion's 4A Area will be competing against Areas 2A and 5A, while Chattooga's Area 5AA will be competing against 2AA and 5AA. The Indians and Bulldogs will be battling with their own rivals in an attempt to place as many wrestlers as possible into the TOP SIX. ONLY the TOP SIX wrestlers in each weight class will advance to the State Championship. This tournament will feature 16-man brackets with 12 wrestlers in each bracket.
Sectionals:
Location: Bremen High School (for BOTH Trion AND Chattooga)
Date: February 7-8
Time: Wrestling begins at 1:30 PM on Friday and wraps up at 9 PM, THEN CONTINUES on Saturday from 8 AM – 10:45 AM.
FINALS: Saturday at 8:45 AM