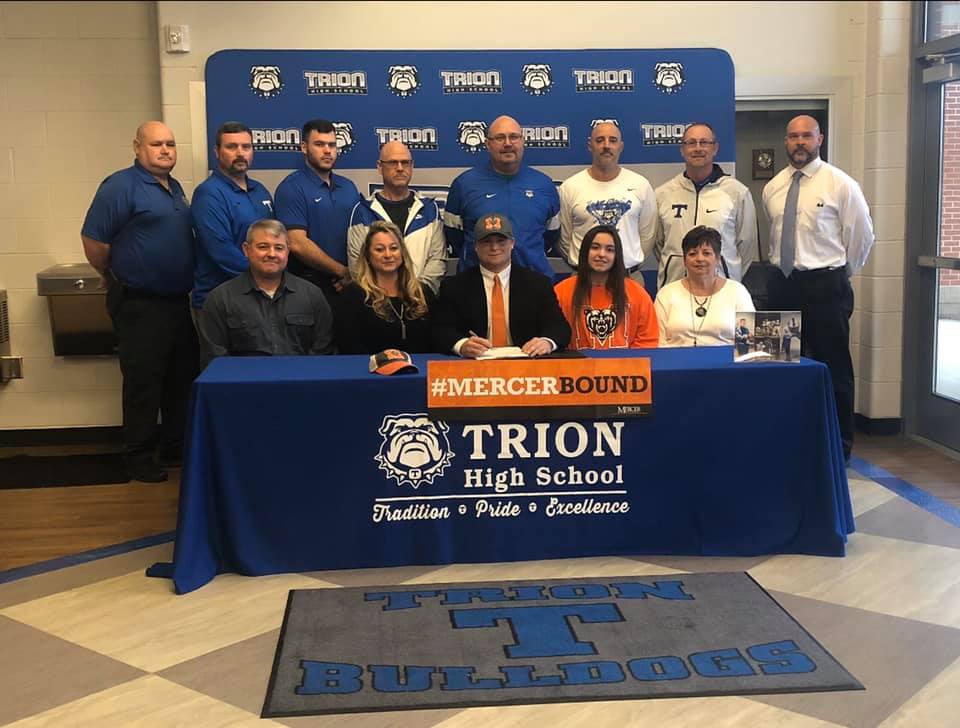 Trion's Clay Baker loves to play football and recently inked with Mercer University to continue his education and football career.
Getting into Mercer University is no easy task, Baker's GPA is a 4.0 and he earned a 26 on the ACT. "It's all kinda surreal that I have been given this opportunity. I can't wait to get to run out into five star stadium on a Saturday night and I also cannot wait to play in one of the games versus one of the SEC teams MU gets to play once a year. Including my family's favorite college team the Alabama Crimson Tide in 2021," Baker said.
When asked why Baker chose Mercer he had this to say, "I chose Mercer because after much recruiting… and prayer, everything fell into place. I was being recruited at Lenoir Rhyne University by the best coaches in the nation. Then Coach Cronic and the rest of the staff moved to Mercer one of the schools that had always been on my list. So after being offered a spot I immediately knew that this was the move. This all happened in a matter many months of recruiting but really I didn't see anything until only a couple of weeks ago."
When asked on his advice to young student athletes who want to play at the next level: "My advice to anyone trying to follow in my footsteps would be trust God's plan, because like me you may be considered undersized or not the right fit for many programs, but all it's takes is one school. Never stop trying to reach for those dreams because they may just come true."
When asked who had influenced him the most, Baker responded, "my mom, she never let me quit reaching for my goals even when they seemed so out of reach. My role models are my Principal Coach Edge and vice principal Coach Madaris, both of them have kept me on the right track in the classroom and have been mentors to me. They also haven't let me give up on my dream."
What will Baker miss about high school at Trion, "I will miss my brothers I played with here at Trion, we have gone through a lot and we pretty much fought an uphill war every Friday night and we have a bond I don't think can be duplicated anywhere else."
Lastly, Baker said he wanted to give a thanks to all his coaches, "especially Coach Barrett and Coach Hollis neither one get much recognition for our wins and what they did for me."
But before Baker settles in in Macon, he has some wrestling left to finish for his senior season, beginning with Sectionals in Bremen this weekend.
Baker will be majoring in sports analytics and marketing, and hopes to take that and become a collegiate level football coach.