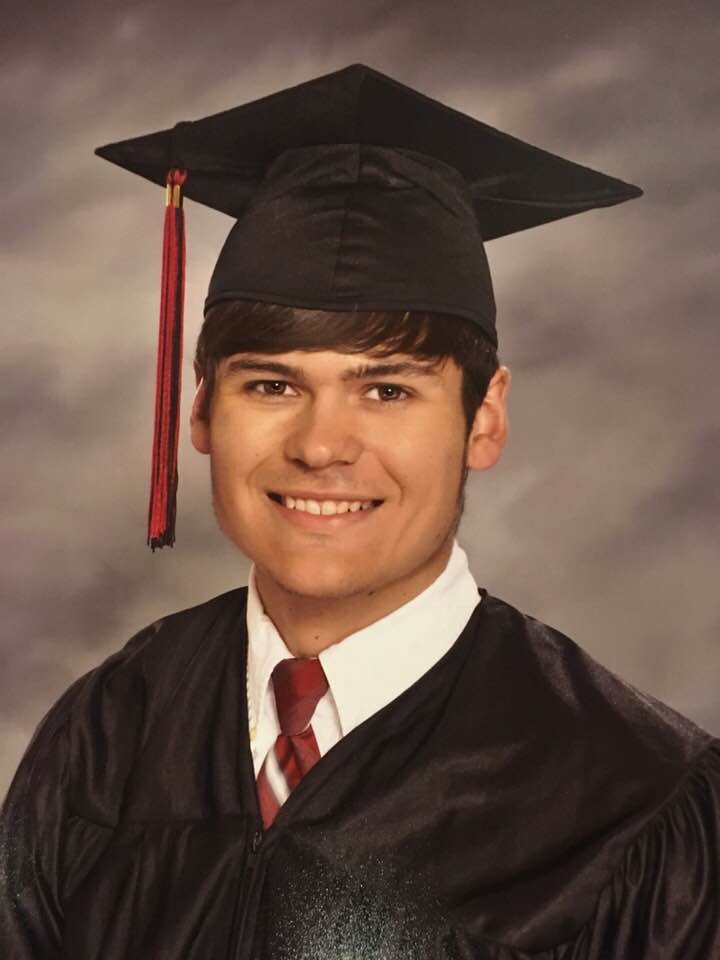 Chattooga High student, Dakota Finster to Receive Associate's Degree Before High School Diploma 

Like most Chattooga High School seniors, Dakota Finster is looking forward to graduation on May 31st. But Dakota has a graduation ceremony on May 9th that no other Chattooga senior will achieve. Dakota Finster will be graduating college… twenty-one days before graduating high school.
Finster, participated in GNTC's dual-enrollment program and will accept his Associate's Degree in Social Work as an honor graduate during commencement ceremonies May 9th at the Forum in Rome.
Dakota Finster is the first student in Chattooga County Schools' history to graduate with an associate's degree before receiving his high school diploma.
While in high school, Finster attended GNTC's Walker County campus, Whitfield-Murray County campus, and took courses that were offered on campus at Chattooga High School. "I decided to do dual enrollment my sophomore year in high school. Initially, my goal wasn't to pursue an Associate's degree but to acquire as many college credits as I could," says Finster. As the credits piled up for the high-school teen, he was surprised when his college advisers pointed out a very achievable goal. "Eventually, my dual enrollment adviser at GNTC told me that since I had so many courses already completed that getting an Associate's degree in social work was very feasible, so I decided to enroll in the program," said Finster. By the end of this semester, Finster will have earned 79 college credit hours in total and have completed a staggering 25 different college classes.
After High School
Finster intends to continue his studies at Faulkner University in Montgomery, Alabama to pursue an undergraduate degree in Clinical Psychology before moving on to law school. "My next step is to complete my Bachelor's degree in Clinical Psychology at Faulkner University. Because of my Associate's degree, I'll only have to go back to school there for two years. From there I plan to study at the Thomas Goode Jones School of Law and attain my Juris Doctorate, and practice with Ken Bruce as a trial attorney and also practice as a legal advocate for the psychologically disadvantaged."
Needless to say, Finster has made a lasting impression on many people during his journey. Chattooga High School counselor Barbara Wallace knew Finster was special right from the start. "Dakota is an outstanding student who has been super focused and dedicated to his education," Mrs. Wallace remembers talking to Dakota when he was a sophomore: "He had a plan in place then and had already spoken with an admissions counselor at Faulkner to determine what dual enrollment courses he should take. Dakota has taken dual enrollment classes every semester and even on his own during the summer. He had all of his high school classes finished before his senior year so he attended Georgia Northwestern Technical College full-time this year."
On top of school, Finster played football from his freshman year to junior year, golf during his sophomore and junior years, and was a four-year letterman in tennis. His free time also includes working about 25 hours a week at Ingles. He started out as a cashier and worked his way up to being a meat cutter.
Finster said his accomplishment has not quite sunk in yet, "but once I cross the stage and physically have my degree in hand, I feel like it will."
Looking Back
"When I think back, getting here certainly was a journey and I've had very memorable moments at both GNTC and Chattooga High School that I'll always cherish," said Finster. Finster's adviser at GNTC, Dr. Pam Turner, said when she first met Dakota, she had no idea he was a high school student, "he is mature beyond his years." Turner continued to remark on the student Finster was in the classroom, "It was refreshing to have him in the class, he brought such energy to the classroom, the discussions were always exciting."
Providing Opportunities For Greatness
Chattooga High School strives to offer students access to valuable educational opportunities. "Chattooga High School has prepared me in several ways for the future. The dual enrollment courses that were offered at Chattooga High School allowed me to complete my core classes that paved the way for me to get my Associate's degree. The administrative staff has been extremely supportive of me and I could not thank them enough for that. Every time I went into the school for whatever matter, the administrators would always stop me and ask me how I was doing and would tell me how proud they are of my accomplishments," said Finster.
Finster is the son Erica Phillips and Randy Finster.