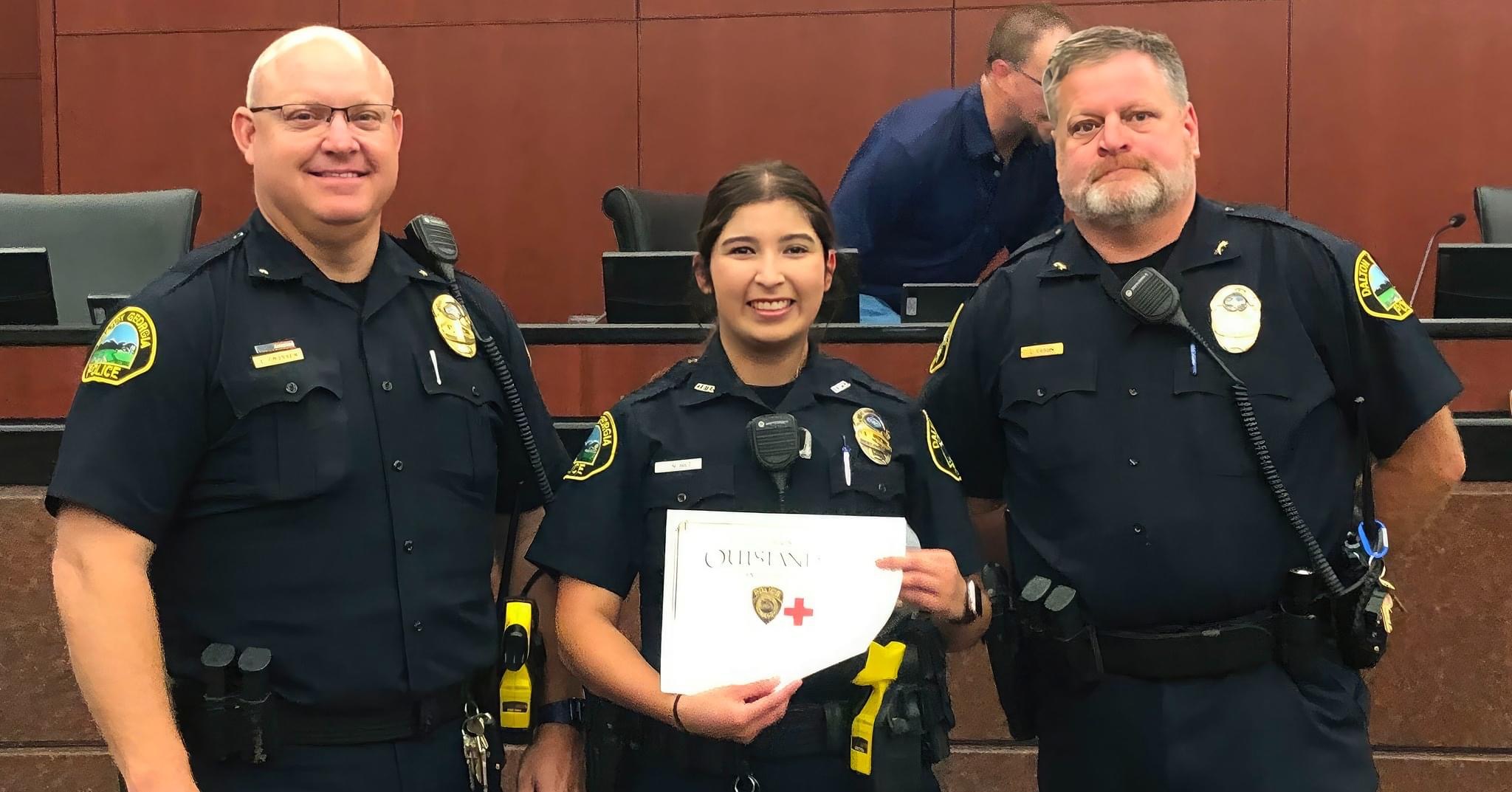 A Georgia Northwestern Technical College (GNTC) Law Enforcement Academy graduate has been recognized for her quick actions that saved a man's life.


Jennifer Nunez, a rookie officer in the Dalton Police Department, and her field training officer were dispatched on July 16 to help a man who was unresponsive in his yard, Nunez said. Nunez graduated from GNTC's Basic Law Enforcement program (now named Basic POST certification) on March 27, started working at the Dalton Police Department on May 1 and was in the final phase of the department's field training program at the time of the incident.
"I was the first responder on the scene," she said. "The man wasn't responsive, conscious or breathing, so I started performing CPR and continued it until EMS arrived and were able to revive him."
Nunez said she received CPR training and certification through the GNTC's Law Enforcement Academy.
"When I saw the man in distress, I feared he was dying," Nunez explained. "I had never seen anyone unconscious before."
"My first thought was to start CPR," she said. "I was pretty scared, because I was still in the training program."
She said she "felt more relieved than anything else" after EMS revived the man.
Two weeks after the emergency, the man thanked her for saving his life; he told her that he had become overheated while working in his yard.
Last month the Dalton Police Department commended her actions by presenting her with its Life Saving Award only a few weeks after she had been sworn in as an officer.
Dalton Police Chief Cliff Cason, in the commendation letter, said her actions "reinforce the values and mission of our department in that we aim every day to provide a safe environment with professional, quality police service."
Nunez thanked Lt. Thomas Petty, Basic Law Enforcement Academy instructor at GNTC, for teaching her the correct way to perform CPR and that it helped her save someone's life.
"This incident reminded me why I am in this job," she said. "Receiving the award was amazing, but it makes it so much better that the patient is able to talk to me."