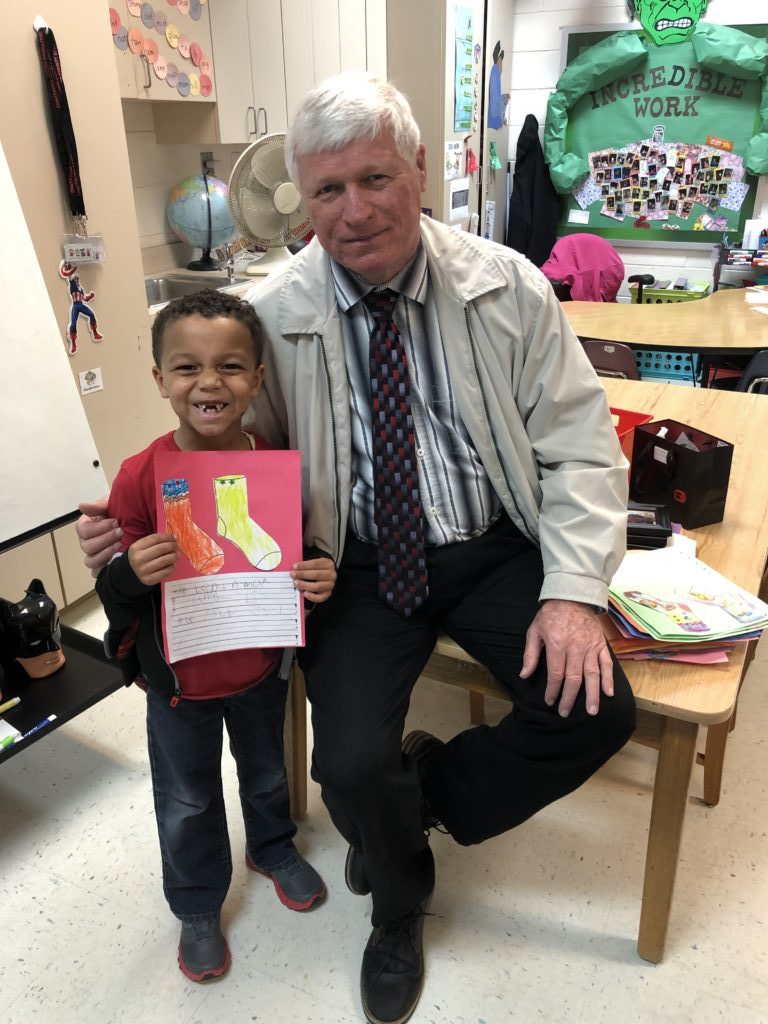 The following article is an opinion piece and reflects only the views of the author and not necessarily those of AllOnGeorgia.

---
As April 2019 comes to an end, so too is the official end of an era for the Chattooga County School System. Jimmy Lenderman walked out of the county office for the final time as Superintendent, forever cementing his name in Indian Lore. Mr. Lenderman announced in March he would be resigning due to "a caustic relationship between the board of education members and the community." In addition, in his resignation letter Lenderman said, "some have come to me and stated that it could be interpreted that they are bullies."
For the past month Mr. Lenderman has been celebrated at many retirement ceremonies. Elementary schools held crazy socks day as a way to honor the Superintendent who visited each classroom once a week and showed the students his mismatched socks, taking the time to build personal relationships with the students and faculty alike.  "The most gratifying part of my job has been visiting the children in our schools. It has been revealed to me through these experiences how unique and loving the people in our community can be," Lenderman said. The 2019 senior class, the first to graduate from the new high school gave Mr. Lenderman a yearbook signed by the students.
Lenderman graduated Chattooga High School in 1970, and still holds many football records including the single game rushing record which came against Trion. He still delights in sharing war stories with Coach Lynn Hunnicutt, including the time that the Indians whooped him in high school when Hunnicutt attended Pepperell.
He attended UTC for one year and recalls strapping on the pads against SEC schools like Tennessee, Ole Miss and Vanderbilt. The following year he transferred to Jacksonville State University where he continued his success on the gridiron and in the classroom. After earning his BA at JSU, the 22 year-old Lenderman traveled to Quantico, VA for Marine Corps officer candidate school.
Jimmy Lenderman's career in the Marine Corps became the stuff that Hollywood made movies about; flying presidents, commanding daring rescue missions, eventually retiring as a Colonel after 27 years of service.  Sometime after hanging up his sword, Lenderman made his way home to Chattooga High School.
My son said it best when he said, "the pride of Chattooga rode in on a Harley, and that pride was Jimmy Lenderman," referring to a story often shared about the day Jim Lenderman returned to his Alma Mater on a Harley and ready for a new mission.
Lenderman followed his calling to lead by serving as a vice principal, principal, and a coach at Chattooga High School before being appointed Superintendent. When he was asked to take the coaching job, then Superintendent Dr. Pullen asked how much more Lenderman wanted in salary to coach the Indians, Mr. Lenderman replied, "I will take a coke." A coke bottle that was proudly displayed in his office. In fact, when Mr. Lenderman was named Superintendent of Schools, he actually took a $60,000 pay cut from the amount Dr. Pullen was receiving.
Lenderman's military background is evident in the way he carries himself, the way he speaks, and in the way it shaped his core belief that each problem should be confronted and solved. That is just what he did when he took over the reigns of the Chattooga County School System.  His vision and optimism drastically impacted the culture of the school system in the decade of his leadership in a profound way.
The legacy and folklore of Jimmy Lenderman at Chattooga will be added to over the next several years. As Superintendent he oversaw the building of the new high school and the expansion and remodeling of other school buildings, and the school system's success on the 4-day calendar.
In their own words: 
Chattooga Football Coach Charles Hammon: My greatest memory is when the head football job at Chattooga High School came open and Mr. Lenderman came to me and stated this was the last time he was ever going to offer me the job. He didn't give me time to think about it and I knew he was serious.
Interim Superintendent Jared Hosmer: At our Christmas lunch a few years back we had barbeque pork and barbeque chicken. Mr. Lenderman just kept raving about how good the (Barbeque Rice) was. No one wanted to ask what he was talking about for a few minutes because there was no barbeque rice on his or anyone else's plate. We let him go on for a little bit, then I finally ask in front of everyone what on his plate did he think was the rice. As you can imagine, everyone had a big laugh and of course Mr. Lenderman just went right along. Now when he talks about how good something taste, we all ask if it is Barbeque Rice.
Alisha Yoder, Administrative Assistant to the Superintendent: Jim loves food, even though when you offer it to him his response is usually, "no thank you, I'm watching my girlish figure," but if there's leftovers, he's always the one cleaning them up!  He LOVES peanut butter cake!  One day someone brought some turkey and dressing to the office and left the  leftovers on the kitchen table.  Jim came in shortly after and next thing we knew he let out quite the bellow of dissatisfaction.  He rounded the corner with his face red as a beet.  We couldn't help but laugh as he was still trying to, obviously swallow, what seemed to be a clump of dirt in this throat.  When he finally swallowed it he asked, "what is that on the table in the kitchen?" (he may not have used those exact words) We told him it was turkey and dressing.  When he finally stopped laughing he was able to tell us that he thought it was peanut butter cake!  Can you imagine biting into turkey and dressing thinking it was peanut butter cake?  We laugh so often at that story and so many others!  We will miss so much about Mr. Lenderman but he laughed with us, and that meant so much.
Larry Weesner, former BOE member: I met Jim Lenderman in August of 1966. We were in the freshman class st the old Summerville High School on Highway 27. We would go all the way through high school together and graduate in 1970. During those four years Jim was totally involved in sports and exhibiting leadership skills at a young age. He was never a bully he never made fun of the underdog, he simply commanded respect. He stood up for those who never quite fit in.  He went to JSU and I went to Berry. I started my career in business and he went into the military. In 1980 he was chosen to participate in the Iranian hostage rescue. Later he became the President's Helicopter pilot. I remember thinking I am not all surprised, that is just Jim Lenderman. I retired and he and I had breakfast together several  mornings a week. Ron Williams had vacated his seat on the school board  and he along with a few others convinced me to throw my hat into the ring. Jim insisted that I go take training in Savannah when that was complete he insisted I spend time in the central office with various people to learn all I could as quick as I could and finally he agreed to let me accompany him one day a week as made his rounds. I never cast a vote in the dark on any topic.  I fully understood the short term and long term effects of all our boards decisions. He always insisted on a team approach everything on top of the table no hidden agenda. It was never important to him as to who got the credit what was important was the job got done. 
Dr. Phil Williams, Superintendent of Trion City Schools: Jimmy and I became friends over the years.  We worked well together, and he was always being a prankster.  There's no doubt that he has the heart of a lion, and he's a very good leader.  He's a full-blooded Chattooga Indian, and the greatest advocate for the students and staff of Chattooga County Schools. He's a visionary, and I believe that his school system will continue to fulfill the vision that he has established as the superintendent.
To Jimmy Lenderman, Chattooga says, "Semper Fi" and thank you.