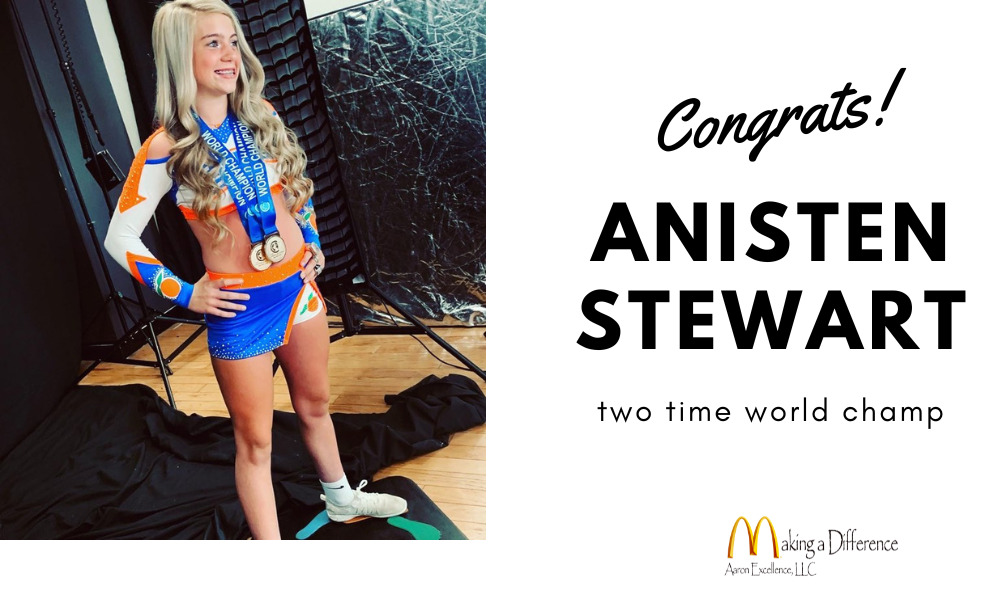 This week's AllOnGeorgia Player of the Week honors brought to you by Jim Aaron's Summerville McDonalds goes to Anisten Stewart.
Anisten Stewart is an upcoming freshman at Trion High School. She recently brought home her 2nd World Champion title in back-to-back seasons with her team The Stingray Allstars Orange.
Cheerleading Worlds is the end of the year event where the best of the best cheer teams from across the world come together to battle it out and claim that top spot in each division. During the regular competition season the teams have to score high enough to earn a bid to attend The Cheerleading Worlds.
About Anisten:
AOG: How many years have you been cheering?
Stewart: I have been cheering for about 10 or 11 years now
AOG: Do you play any other sports?
Stewart: No, allstar cheerleading is a year round sport and I don't have the time but I played softball and ran cross country when I was younger.
AOG: Who is your role model and why?
Stewart: My mom , because she works so hard to make this dream a reality for me. She takes me to every practice, camp, choreography and competition. Even when I don't do my best, and she knows it she still loves me and supports me.
AOG: Finish this sentence "In ten years I will be….."
Stweart: -hopefully graduated from the University of Georgia working as an RN starting my own family.
AOG: Do you have any special talents or hobbies?
Stewart: Outside of cheerleading no but I would love to learn how to ride a horse and do something with horses like barrel race or trick riding.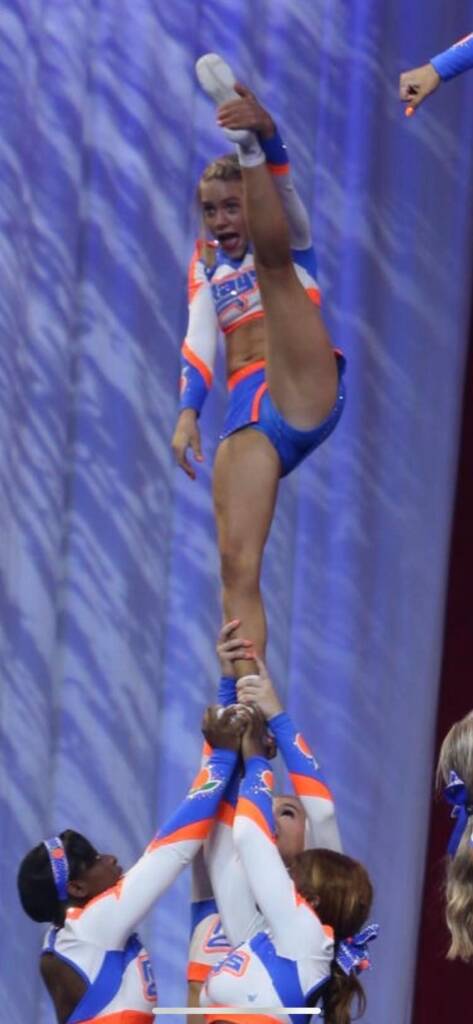 AOG: What is something most people do not know about you?
Stewart: I think most people don't know that I'm actually really shy, even though i perform on a stage in front of hundreds of people.
AOG: What is the most important thing you've learned from your coach?
Stewart: I have three coaches. —Roger: he has taught me that I can only control myself as long as I do my job I've done my part. He always says to us " Do your job!" —Evan: he has taught me to believe in myself. He always pushes me to do my best and be the best I can be. When I don't feel it, he will remind me. He teaches us about bonding and having that faith in each other also. — Brandon: he has taught me to look the part. In order to be taken seriously and seen as a professional, I should always look the part. When performing motions and facials make a difference.
AOG: What's your most memorable moment in cheerleading?
Stewart: Definitely winning Worlds not once but twice so far. But I also would say as a team we do a lot of traveling together. In our down time we all have so much fun together hanging out, and experiencing things in all the different places we go and those are also very fond memories I will cherish forever.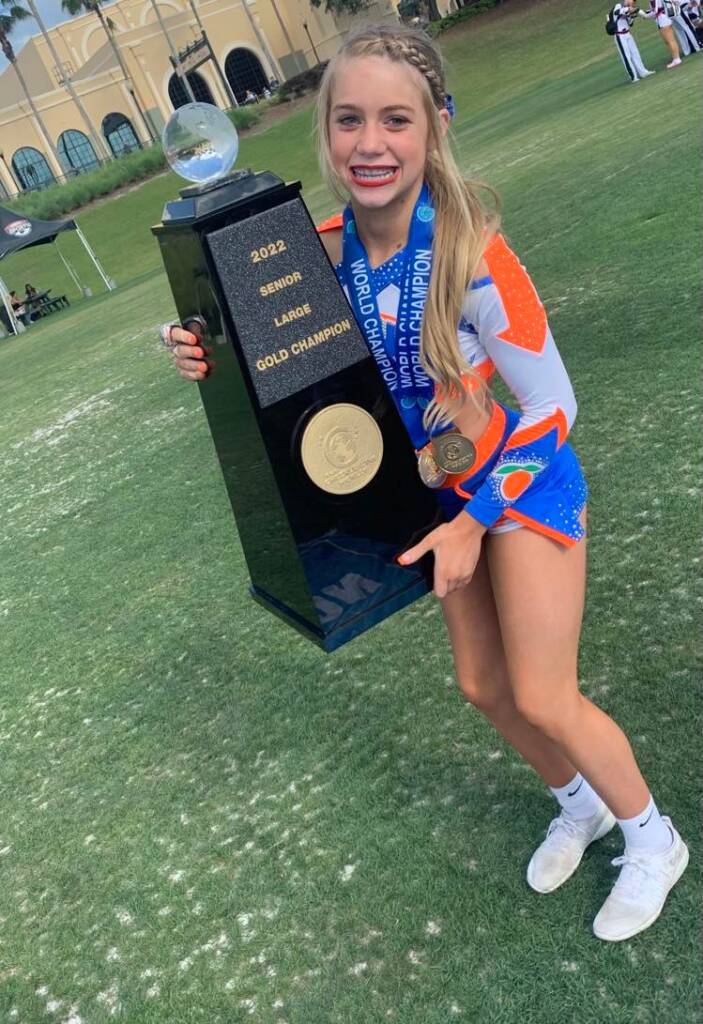 AOG: How do you mentally prep for a competition?
Stewart: I speak positively to myself because Mindset matters! I listen to our music and perform the routine in my head exactly how I want it to go over and over. I also listen to some of my favorite songs while getting ready and anyone who knows a cheerleader knows how superstitious we are LOL so we all have our different superstitions we have to do before each performance.
AOG: Tell me about your team, name— how many years you've been with them— where you practice and how often?
Stewart: the Stingray Allstars Orange in Marietta GA. We practice three-four days a week depending on if we have a comp that weekend or not and at least one day a week of tumble. This is my 3rd season on the team.
AOG: What's the best thing about your teammates?
Stewart: My teammates are encouraging and we all believe in each other and have each others back. When practice is hard ,which it is 99% of the time, We keep going and push ourselves harder because we are also doing it for each other. Orange has been a team for 21 years now it's a legacy. Not just the current members but all the ones before us are our sisters. The alumni often come to practices and comps and send us inspirational messages and gifts.
AOG: Favorite class/favorite teacher?
Stewart: My favorite class is ELA with Mrs. Tashia Knapp and I finished out middle school with A's and B's.
AOG: Parents names?
Stewart: Chang & Nichole Stewart
AOG: How does it feel to be a two-time world champion?
Stewart: I have worked for this my whole life and it feels amazing to have accomplished this twice so far. It's an honor to carry that title and I hope to have many more.