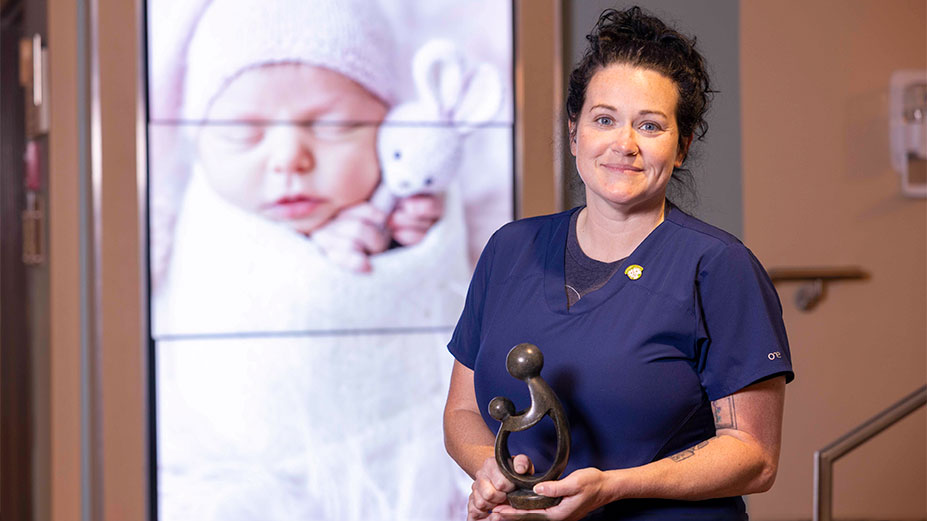 When a mother lost her baby after 10 days in Atrium Health Floyd Medical Center's NICU, she was devastated. Even so, the care and compassion she received from the staff left an impression on the grieving mom.

"All the doctors and nurses in the NICU were amazing to us," she wrote. "They showed care and compassion for not only their jobs but for the precious babies under their care. One nurse in particular stood out above the rest to us, though. The love and compassion she had for my son while caring for him was one of the main things that truly brought comfort to me during the worst period of my life."
Those words were for Kimberly Chandler, a registered nurse in the NICU, who provided care for the little boy during his brief life. As a result, Chander earned a DAISY Award, an international program that recognizes bedside nurses for the exceptional care they provide patients.
"Having a baby in the NICU is heartbreaking and life changing, no matter the outcome," she wrote. "But knowing that this nurse was my son's nurse brought a peace and comfort to my mommy heart that I didn't think would be at all possible while he was here."
Sheila Bennett, senior vice president and chief of patient services at Atrium Health Floyd, congratulated Chandler during a brief ceremony at Floyd Medical Center on Wednesday.
"What is so special about the DAISY is they are nominated by the patient or their family," Bennett said.
Chandler has worked in the NICU for six years. She herself is a mom and her daughter was present for the award ceremony. She said the fact that she has a child played a role in her commitment to take care of the baby and comfort the mom.
"An infant loss is so sad," said Chandler, who lives in Summerville. "I try to treat all the babies like they are my own kids."
The family of Patrick Barnes established the DAISY award after he died from an auto-immune disease while being treated in a Seattle hospital.
Chandler was presented with a DAISY pin and a sculpture entitled "A Healer's Touch." The DAISY sculptures are hand-carved for the DAISY Foundation by members of the Shona Tribe in Zimbabwe.
The nurse and her teammates were given cinnamon buns, a DAISY tradition because it was one of the few things Patrick Barnes could eat while he was hospitalized.