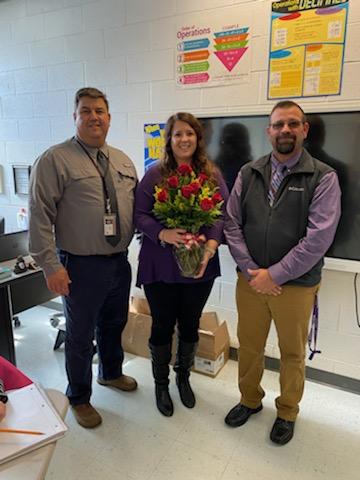 Chattooga County School District has announced their 2020-2021 Teacher of the Year, Mrs. Kari Groce. Mrs. Groce will be recognized at the November 21st Board Meeting at 6 p.m.
Teachers of the Year are selected by their peers at the school level. The school-level winners are then required to submit a Teacher of the Year application, which comes from GaDOE. It contains a biography and information regarding their teaching career, as well as answers to questions the GaDOE asks of them. Then, those school level submissions are entered into the district competition. The applications go before three judges, who read them and score them. The one who scores highest is the District-level Teacher of the Year.
Mrs. Groce will move on to the state level competition to compete against other district-level winners.
Background
Kari Witt Groce received a Bachelor of Science in Education at Shorter University, a Masters in Education at Kennesaw State University, and a Specialist in Curriculum and Instruction at Lincoln Memorial. She will begin her 18th year of teaching in the fall at Lyerly Elementary where she teaches 4th and 5th grade math. Mrs. Groce has also spent time teaching at Pennville Elementary, Calhoun Elementary and Calhoun Middle School. She has been married to her high school sweetheart, Brad, for almost 18 years. The couple are the proud parents of three amazing children who attend Chattooga County Schools; Abby (sophomore), Brady (freshman) and Blaine (4th grade). Mrs. Groce grew up in Chattooga County and graduated from Trion High School.
AllOnGeorgia reached out to Mrs. Groce to take a look behind the lesson plans.
AOG: What led you to teaching?
Mrs. Groce: "Delight yourself in the LORD, and he will give you the desires of your heart." Psalms 37:4
Teaching is definitely a calling that God placed on my heart as a young, teenage girl. I began attending mission trips to Jamaica and different states in the U.S to help share the gospel through puppetry, dressing as a clown and conducting Vacation Bible Schools. Through these trips as a teenager, I gained a heart for ministering and teaching children. I also gained a heart for the children of Chattooga County by starting Backyard Bible Clubs. Johnny Helms, Lana Moseley and I went to locations all over Chattooga County and did Bible School to give children, who didn't have transportation to church, the opportunity to experience the fun of Vacation Bible School. My faith in Christ and these experiences helped me grow a deep desire to become a teacher. I started helping my "adopted mom", Regina Parker, work in her classroom at Pennville Elementary and also worked as a tutor my Senior year of high school in Mrs. Carole Waters 3rd grade class.
AOG: What has kept you in education?
Mrs. Groce: The students are who keep me in education. It's an indescribable joy watching children learn and grow each year, knowing I get to be a small part of that child's life and development. Even though I might only teach them a year, the relationships I build with students and their families stay in my heart for a lifetime.
AOG: What is the greatest reward? What is the most frustrating part of teaching?
Mrs. Groce: The greatest reward is seeing a child become successful or when a child finally gets a tough concept and has "a light bulb" moment.
The most frustrating part is paper work and mandated requirements outside of just teaching my students. It is also challenging to teach a diverse group of students and making sure to meet each child's needs each and every day.
AOG: What impact do you want to make on your students?
Mrs. Groce: In the words of Theodore Roosevelt, "They don't care how much you know, until they know how much you care." I want my students to know that I care more than how much I know. It is imperative to build relationships with my students and their parents before I can teach a list of standards. I must build a level of trust before I can set the high expectations of learning.