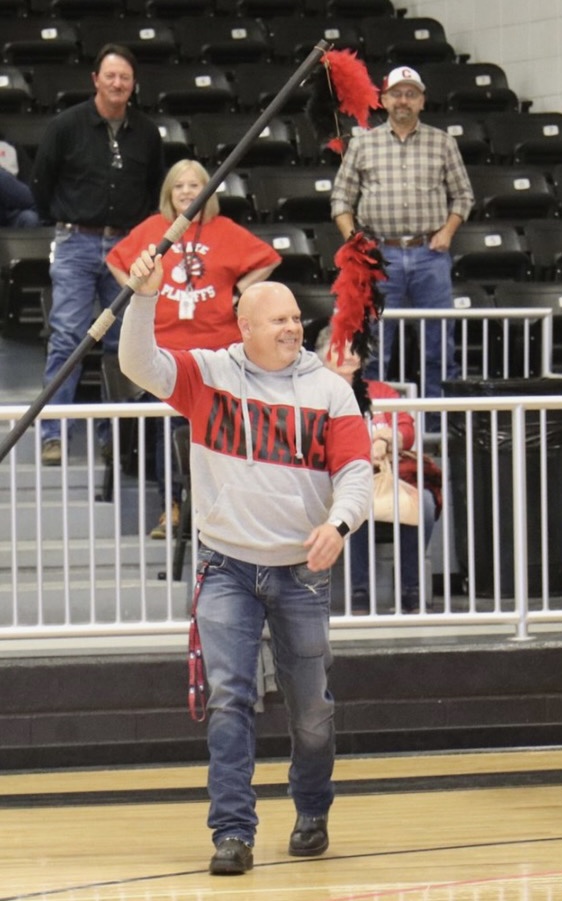 Jeff Martin has announced his retirement from Chattooga County Schools. He's been a part of the Indian Tribe of educators for 30 years.

Martin's career began in the early 1990s as a paraprofessional and finishes as the Assistant Superintendent and the Federal Programs Director.
"I want to first thank God for blessing me with a great career. I am very thankful and blessed! I have made so many wonderful friends and met so many amazing people over the years," Martin said.
Martin was in a classroom teaching for sixteen years. He taught world history, world geography, psychology, and sociology before being his career in administration.
He also coached football, basketball, baseball, girls soccer, and golf.

"Psychology was by far my favorite class to teach. I was also graduation coach for a couple of years," Martin said.  "Mr. Lenderman then gave me a chance to be his assistant principal for two years before I took over as principal."

Martin soared as Principal of Chattooga High School, a title he held for nine years. To say Jeff Martin was dedicated to Chattooga High School  is a vast understatement. In the nine years of his tenure at the helm of CHS, Martin missed only two days of work.  Those two days were when his Daddy passed away. 
"Being Principal was special to me and I took a lot of pride in making sure the students, teachers, and community could be proud of their school and where they came from," Martin said.  "OneTribe was not just a term we used it was a lifestyle for us! It was important to me that every student, staff member, and parent that came through the door felt like they were part of our tribe and had worth."
Martin accredits some of his success to his great mentors such as David Jones, Jimmy Dean, Melvin Mosley, and  Jimmy Lenderman. "I was very fortunate to be around those guys every day. They knew, not only education, they knew how to treat people."
 Martin excelled in his role as principal. "I had some great accomplishments such as finishing 6th in the nation as principal with most school spirit, a proclamation from the House of Representatives for helping students, we had some high graduation rates. I am also very thankful for being able to hand all three of my children their diploma. That is such a blessing." 
Out of all his accomplishments Martin said he was "most proud of the relationships that I developed over the years." 
When asked how education had changed over the last 30 years, "I think technology would be the biggest change in education. During Covid teachers were able to teach kids at home from their classroom.  I can't imagine if this would have happened without technology. Students have information at the  at the click of a button.  When I started we were still using textbooks and encyclopedias." 
When asked what he will miss after his final day on June 30th, "I will miss all the students. My favorite thing was standing at the front door every morning and talking with students as they arrived. Sometimes all it takes is a good morning and a smile to help someone have a good day!"
As far as his  plans for retirement? "I plan on playing some golf, traveling and most of all playing with and spoiling grandkids. I will also be looking for a part time job if anybody is hiring!! Thank you all for your support over the years! May God bless you all!"