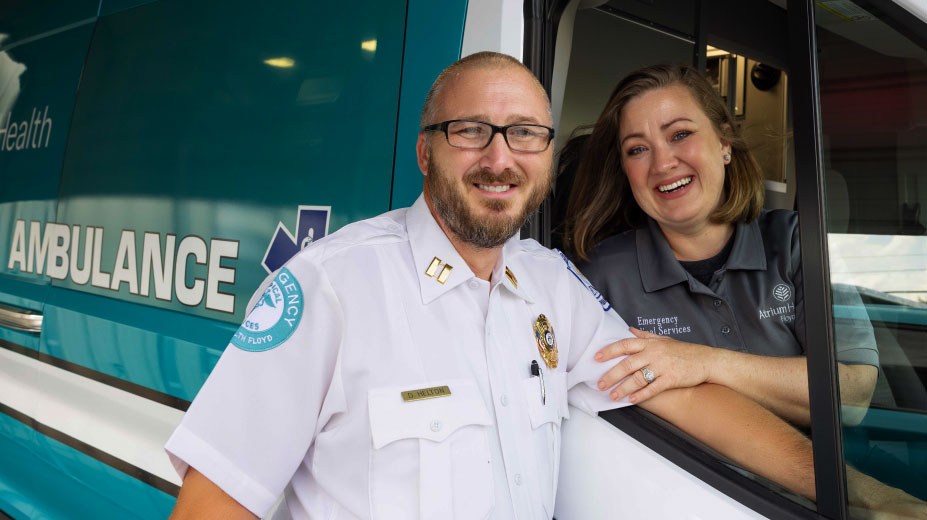 For more than a decade, depending on where you live, Capt. Daniel Helton and Lt. Tiffany Helton might have responded by ambulance if you needed immediate help from Atrium Health Floyd EMS.

While they live in Walker County, Daniel normally works in Chattooga County and Tiffany usually responds in Floyd County. On occasion, the husband and wife do work together. During EMS Week, the couple discussed why their profession works for them.
"I had always been interested in doing this job," said Daniel, who previously worked at Hays State Prison in Chattooga County before coming to Floyd. "My father got killed in a car wreck when I was 9 years old. That kind of put me on the path. It made me stronger and who I am today."
Tiffany's journey to becoming a paramedic was a little different.
She had been a stay-at-home mom and was considering getting a job but had not settled on anything.
"Until one night I had a dream. I had become a paramedic," she said. "I signed up for classes that day. I was an EMT for two years before I began paramedic school. I have always been a nurturer of people, so I thought it was going to be a good fit for me. Now I can't imagine doing anything else."
While paramedics are known to have strange hours, the Heltons usually work the same shift, allowing them to be able to spend some quality time together at home. They said the fact that they both work for EMS strengthens their relationship.
While at home they can problem solve and share their emotions when a day can get rough.
"In my opinion, having her at my side gives me the ability to have someone I can really talk to," Daniel said. "I can talk to her about how I am feeling and she understands. That helps tremendously."
Tiffany echoed that thought. "It definitely helps to know that he understands where I am coming from," she said.
The Heltons like to travel to de-stress. When asked where they like to go, Daniel quickly responded "anywhere." He said spur-of-the-moment trips tend to be the best.
"We just up and go. We will get off work and be tired as all get out and just go somewhere. Who knows where we're going to end up? We have slept at the beach in the back of a truck," he said.
Because they don't have a traditional 8-hour workday, they have lots of options during their days off.
"A few years ago, we got off work – obviously, we worked 24 hours and then were off for 48 – so we got off that morning and drove to Wisconsin and cut down two Christmas trees. We turned around and drove back home and had to be back at work that day," Tiffany said.
Daniel said the ability to help others makes their work gratifying.
"Just being able to go out and make a difference in somebody's life, whether it's holding their hand on the way to the hospital or just carrying on a conversation with them, it may be the last conversation they ever have," he said. "You never know; they never know. I just try to make them have a good smile, even when they are having a bad day."
Tiffany said sometimes it is hard to process situations they witness as first responders.
"Obviously, there are times when things go home with you and there are times when it is hard to process those things," she said. "Although it's nice every now and then to actually work together – I love him dearly –  but I couldn't work with him every day. We work differently. We have different personalities and different ways of doing things."
Atrium Health Floyd Emergency Medical Services provides emergency ambulance and non-emergency transport services to residents of Floyd and Chattooga Counties in Georgia and Cherokee County in Alabama.
EMS also provides event support and health screenings to schools, civic organizations, churches and other groups in the community.