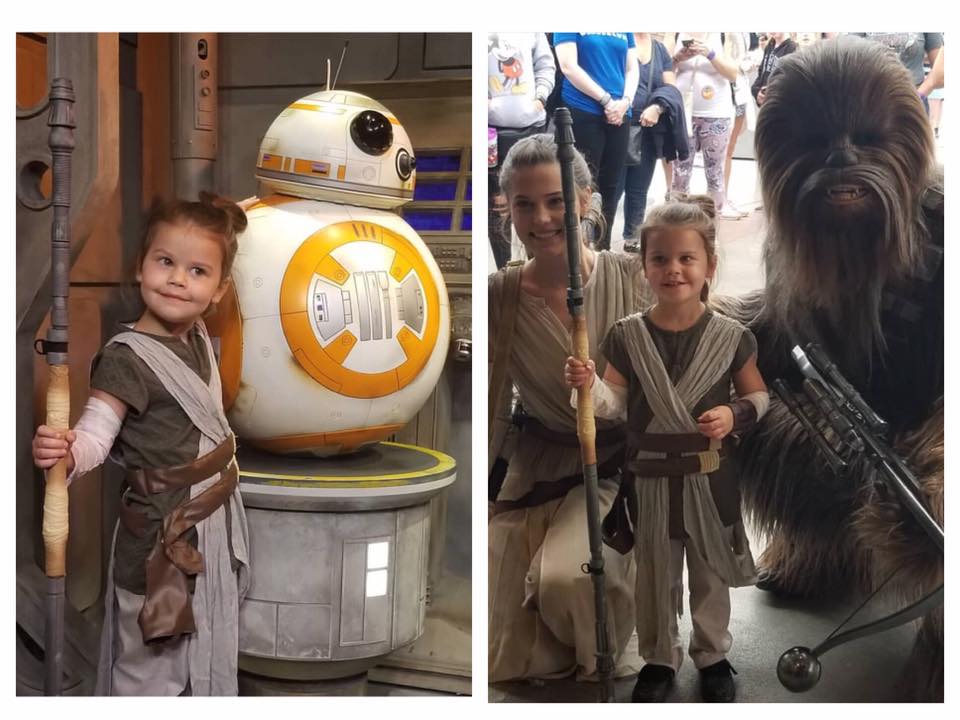 Thanks to George Lucas, the world of Star Wars has been a part of American pop culture for half a century and now that the Force has been consumed by the Empire known as Disney, yet another generation has been captivated by Jedis, distant planets, and lovable droids.

For any young padawan, coming face to face with the heroes and villains of Star Wars would be nothing short of a life-changing experience. For one tiny Jedi-in-training, that dream became a reality on her recent visit to the Magic Kingdom in Orlando, Florida.
Dressed as her favorite Star Wars character, Rey, the long lost daughter of Luke Skywalker, Summerville's Bowie Hicks was selected to defend a cargo hold as the evil Sith Lord, Darth Vader approached. The following video captures the parade of characters as three year old Bowie stands tall in the face of the big screen giants come to life.
So @jesselhicks and I just witnessed one of the top five moments of our life. Bowie got to defend the launch bay and meet her favorite friends! @waltdisneyworld #disneyhollywoodstudios #starwars #rey #reycosplay #jedi #theellenshow #markhamill #daisyridley

Posted by Moe Foster Hicks on Tuesday, February 26, 2019
Whether Bowie was selected based on her fierce defiance of the Dark Side, or just out of shear cuteness, she fulfilled her duties in the face of Vader, the epic bounty hunter Boba Fett, and even when meeting her heroes like Chewbacca and the real Star Wars princess, Rey.
While the video has become a viral sensation with over 70,000 views, few know the back story that make this moment as epic as any movie script. Bowie's father, Jesse Hicks, captured this moment and was as entertained as everyone else. As a life-long Star Wars fan himself, this moment couldn't have been any more special. "My Dad got me into Star Wars when I was five by buying me the VHS tapes so I'm a lifelong fan of the franchise," said Hicks. Jesse went on to add an element of commitment from his family to the franchise. "Bowie was born on May the 4th (May the Fourth be with you) and she's been sitting on my lap and watching them practically since the day she was born."
But wait… there's more.
The Hicks' family affection for all things Star Wars includes Jessie's wife Moe. The proud mother of young Bowie is so enamored with the world of Star Wars that it was Darth Vader himself who walked her down the aisle. Photos from the moment, held at the Summerville Depot in Chattooga County, serve as a reminder to visitors that theirs is a house full of love and the Force. The wedding party couldn't be complete without their own R2D2  droid and a full host of Storm Troopers.
For Jessie, Moe and the incredibly adorable Bowie, Star Wars has been one more way to make life fun and bring joy to the family.
"For us… Star Wars is family and spending time together playing make believe."
photo credit to : Cameron Flaisch Photography