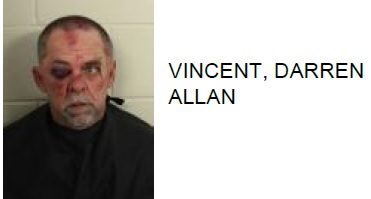 Darren Allan Vincent, 47 of Trion, was arrested after authorities said a police officer was injured when Vincent struck the officer in a Floyd County police car in an effort to avoid arrest. Vincent is charged with child molestation, sexual exploitation of a child, enticing a child for indecent purposes reckless driving on the wrong side of the roadway, speeding, aggressive driving, two counts aggravated assault on a police officer, attempting to elude police, reckless driving, stop sign violation and failure to obey traffic control devices.
Northwest Georgia Scanner reported Vincent "traveled at speeds over 100 mph on the wrong side of Highway 53 with ended with a serious crash on near the Gordon County line just inside Floyd County. According to the Georgia State Patrol, a 2014 Toyota Camry driven by Darren Vincent of Rome was attempting fleeing from Floyd County Police officer on Highway 53. After reports said that Vincent was being taken into custody after he was accused of using a computer in order to arrange a meeting with someone he thought was a 14 year-old child to have sex with him."
Georgia State Patrol along with other agencies responded to the area to assist in the pursuit. At one point Vincent began traveling northbound in the southbound lane. Floyd County Police Officer McCormick used his patrol car to block the southbound lane, when the Camry slammed into the patrol vehicle at a very  high rate of speed. The officer suffered non-life threatening injuries, he was transported to Floyd Medical Center and has since been released.
Vincent's arrest was in connection with Operation Southern Impact in which a total of 76 people were arrested and 13 children were rescued or identified as victims during a mutually coordinated operation between eight (8) southeastern states. The joint, proactive operation, Operation Southern Impact II, was coordinated by nine (9) Internet Crimes Against Children Task Forces in those eight states and focused on persons who possess and distribute child pornography and those who are sexually exploiting children in other ways using technology and the internet.  The planning for Operation Southern Impact II began approximately 4 months ago and culminated in 2 days of investigative actions to include search warrant executions, undercover operations, and arrests in Alabama, Florida, Georgia, Maryland, North Carolina, South Carolina, Virginia, and West Virginia. A total of 222 law enforcement and prosecutorial agencies participated in the operation.
The arrestees, ranged in age from 17 to 72.  Some of their occupations included postal worker, non-profit employee, small business owner, store clerk, mechanic, daycare administrator, pastor, construction worker and magician.   During the operation, 136 search warrants were executed and 100 knock and talks were conducted in those eight (8) states. During those search warrants and knock and talks, 736 digital devices were previewed and 1,255 digital devices were seized.  Of those devices seized, 235 were mobile phones.  These investigative actions resulted from both reactive cases such as cybertips received by each ICAC Task Force from the National Center for Missing and Exploited Children (NCMEC) and proactive cases such as peer-to-peer investigations and proactive, on-line undercover investigations.
In Georgia, 34 people were arrested during Operation Southern Impact II.  Many of those arrests involved the possession and/or distribution of child pornography.  While investigators regularly target the trading of all types of child pornography, in Operation Southern Impact II investigators targeted those seeking out and distributing the most violent child pornography involving infants and toddlers.
The Chattooga County Sheriff's Office and Floyd County Police Department assisted in the investigation.