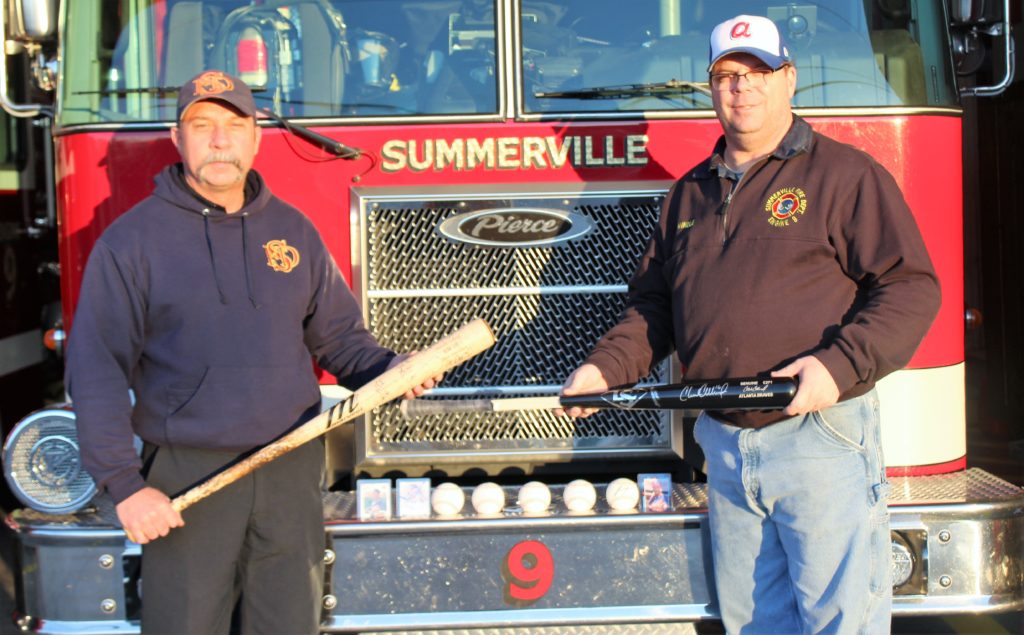 This year, during their annual Baseball/Softball Tournament, the Santa in Uniform organization will be holding a silent auction. This is the first silent auction for Santa in Uniform and donations for the event have already exceeded expectations. Items to be auctioned include Game Bats signed by major league players, baseballs signed by Connor Justus, Ron Gant, Shae Simmons, Rookie cards signed by Ron Gant, and a game-used broken bat signed by Atlanta Brave and hometown favorite Charlie Culberson, just to name a few. Also 11 "bobble heads" of current and former Atlanta Braves.
Summerville Firefighter, Dee Windle, has headed up the silent auction and is excited about the participation. "I've been in contact with each one who's signed. Ron Gant works for Fox 5 and I've invited him and Fox 5 to come to the tournament," Windle said. Windle, a 17-year veteran at the Summerville Fire Department, has been instrumental in the success of Santa in Uniform since Day 1 of the organization's inception.
The tournament starts April 7th and is expected to run through the 14th. Each night individuals will be able to bid on items. If you're not able to be at the ball field, you can submit your bid online through the Santa in Uniform or the Summerville Fire Department Facebook page. The winners will be announced on the final day of the tournament.
The baseball tournament will be bigger this year and will have more games, which will take about seven or eight days to complete. If you'd like to volunteer to umpire any day, you can contact the Summerville Rec Department.
It's easy and simple to participate in the silent auction. Begin with a starting bid. Simply write your name and a contact number on the bid sheet. If the next person wants the same item, they'll bid at least $5 more and write their name down on the same bid sheet. At the end of the tournament, the winner is the individual with the highest bid.
All proceeds of the silent auction go towards  the annual Christmas trip at the local Walmart as an effort to ensure that every kid in Chattooga County has a Christmas.
Santa in Uniform is a non profit organization founded by police and firefighters to provide Christmas for children in Chattooga County.