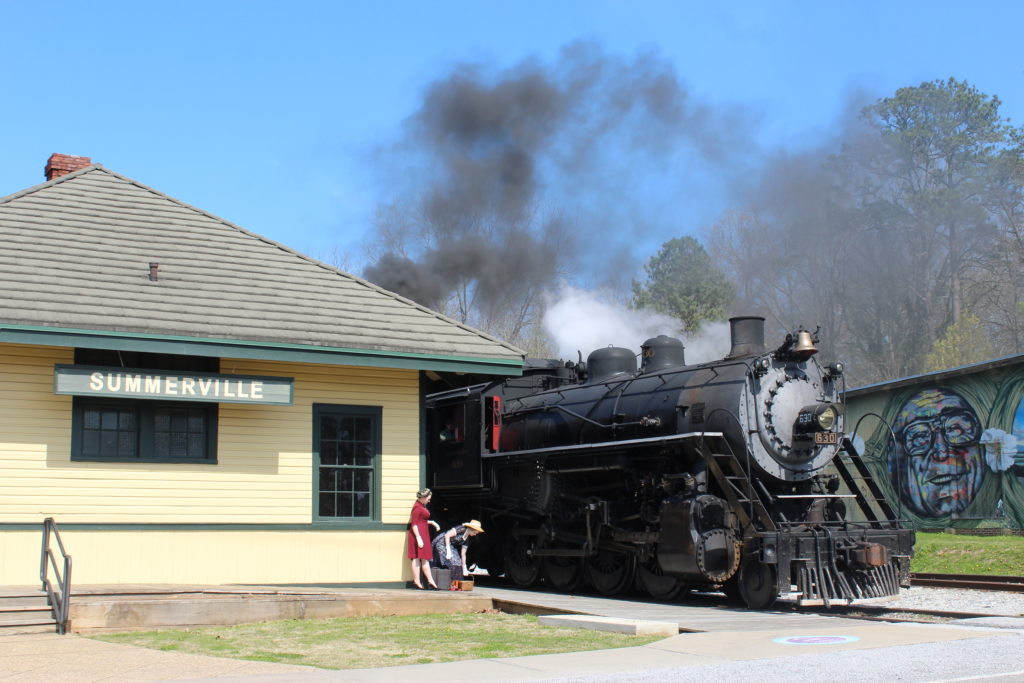 The Summerville Depot was the location for a recent photo shoot for Lerro Productions out of Pennsylvania. Mayor Harvey, Councilman Ford and Susan Locklear were on hand to welcome the 70 professional photographers to the Depot.  The photo group had the unique opportunity to experience and capture the excitement of historic railroading, with actors dressed up in vintage outfits and vintages vehicles at the Historic Summerville Depot.
Susan Locklear passed out wooden nickels commemorating the 100 Year anniversary of the Depot to the photographers as a keepsake from Summerville.
WHAT HAPPENS ON A RAILROAD TOUR
The premise of Lerro photo charters is simple. The production company contacted the Tennessee Valley Railroad, sold tickets at $615 each in order to raise money to run the trip to Summerville. During the trip, participants either ride the train or follow the train in carpool vehicles to designated locations. Once at the Depot, the photographers were put into a photo line where they captured the train backing up and then proceeding forward again to perform a standard runby; recreating normal railroad operations. This happened several times allowing the participants to capture different angles of the scene.
Similar to a Hollywood production, entire scenes were created, complete with historic buildings, vintage automobiles, antique props and period actors to replicate an everyday occurrence from the golden age of railroading.
WHO PARTICIPATES:
There were photographers and videographers from all over the world participating in the shoot in Summerville.
Over the last 10 years, Lerro Photography has organized and helped with over 60 separate railroad photo shoots around the country which have totaled to over 90 days of great railroad photography. "We've worked with mainline railroads as well as small tourist and museum groups. Some of our charters include the Milwaukee Road 261 on the Twin Cities & Western, NKP 765 and PM 1225 on the Great Lakes Central, SP&S 700 on the Oregon Pacific, The Grand Canyon Railway and the N&W 611 at the VMT."
Pete Lerro, owner of Lerro Photography, has been capturing priceless, special and unique moments for his clients for over 15 years. Having experience in photographing different subjects such as countryside weddings, a dynamic diversity of youth and pro sports, corporate and commercial head shots, special and timeless events, portraits and more gives Lerro Photography an upper hand in new and unique creations captured within his pictures. With our creativity, we not only provide authentic and exceptional pictures, but quality ones as well.