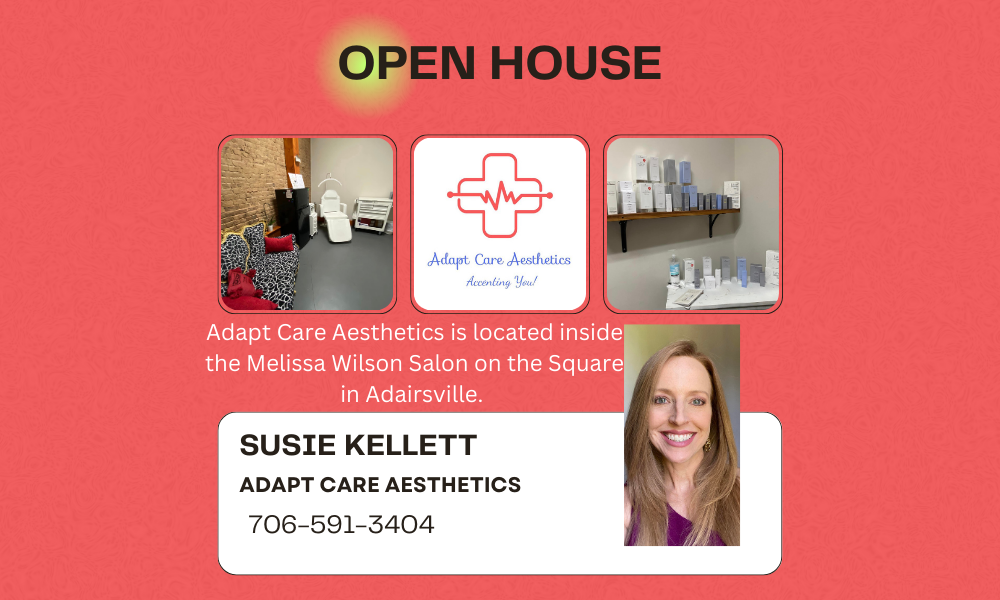 Adairsville's annual Great Locomotive Chase Festival is just around the corner, and this year, there's a special treat in store for festival-goers. Susie Kellett, owner of Adapt Care Aesthetics, will be hosting an Open House at her Adairsville location on Friday, September 29th, and Saturday, September 30th, from 9 am to 9 pm. Adapt Care Aesthetics is located inside the Melissa Wilson Salon on the Square in Adairsville.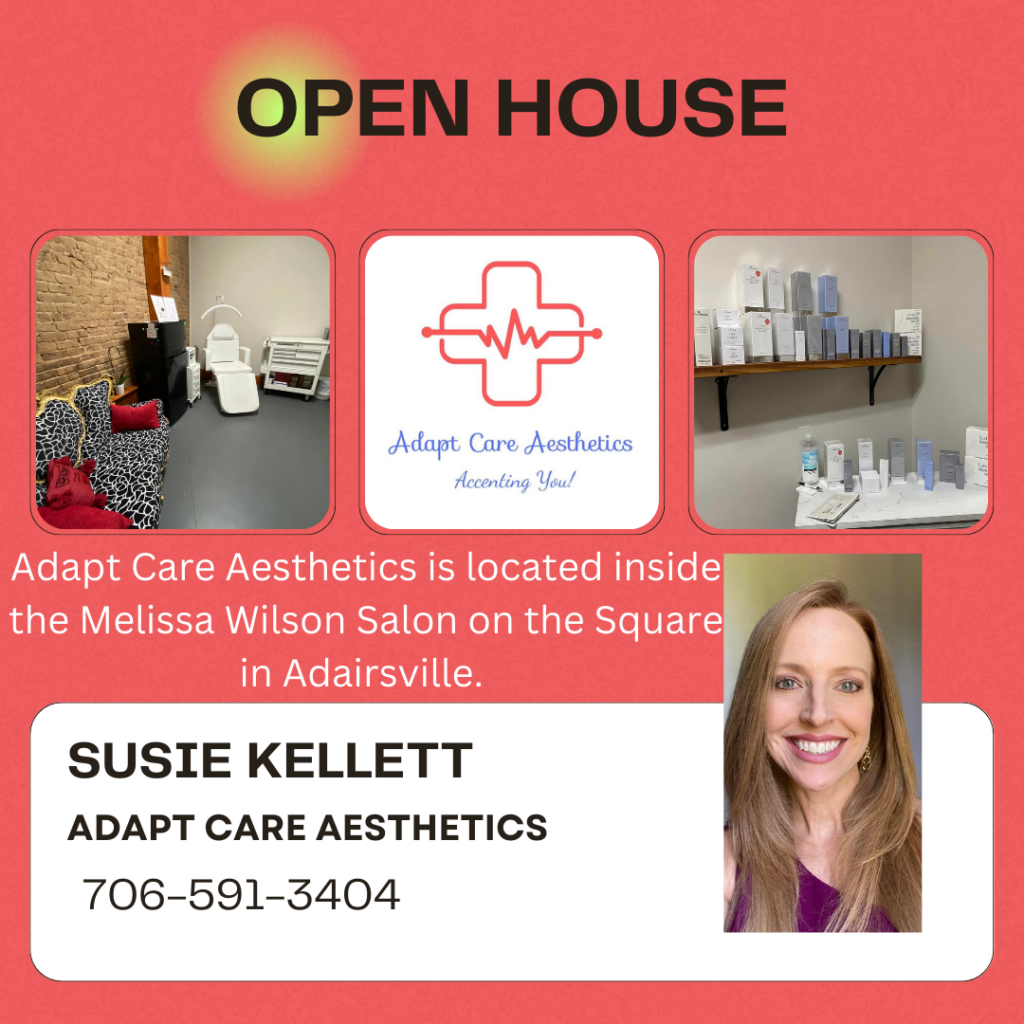 Your Skin Care Goals, Your Comfort Level
Susie Kellett is passionate about helping people achieve their skincare goals. Whether you're interested in Botox treatments, DiamondGlow Facials, chemical peels, or simply seeking guidance on maintaining healthy, radiant skin, Susie is here to assist you. The emphasis is always on making you feel comfortable and confident in your skincare journey. She will take the time to discuss treatment options.
Remember if you want to look your best through the busy holiday season, now is the time to start!
A Chance to Win Fantastic Giveaways
As a special treat for Open House attendees who drop by Adapt Care Aesthetics, there are some exciting giveaways up for grabs:
DiamondGlow Facial with Illumize Chemical Peel ($280 value): Experience the rejuvenating effects of a DiamondGlow facial coupled with the brightening power of an illuminize chemical peel.
Skincare Starter Package ($200 value): Start your skincare journey right with a package that includes a facial cleanser, Even & Correct brightening pads, ultra-sheer moisturizer, and sunscreen.
These prizes offer the perfect opportunity to kickstart or enhance your skincare regimen. Don't miss your chance to win these incredible treats!
Festival Details
While you're in town for the Great Locomotive Chase Festival, make sure to explore all the festivities it has to offer:
Dates and Times:

Friday, September 29 – 10:00 am to 11:00 pm
Saturday, September 30 – 9:00 am to 11:00 pm
Sunday, October 1 – 12:00 pm to 5:00 pm

Activities and Attractions:

Over 90 food, retail, and craft vendors to satisfy your cravings and shopping desires.
Live entertainment to keep you entertained throughout the festival.
Carnival rides and games for the thrill-seekers and fun-lovers.
A grand parade that showcases the community's spirit.
A pageant to celebrate local talent and beauty.
And, to top it all off, a breathtaking fireworks display to light up the night sky.
Important Note on Parking and Admission
Please note that during the festival, parking is available on side streets, not on the Square. Festival admission is $5 per person but grants access to the festival for the entire three-day weekend, ensuring you have ample time to enjoy all the festivities and, of course, visit Susie Kellett's Adapt Care Aesthetics Open House.
Don't miss this unique opportunity to combine the excitement of the Great Locomotive Chase Festival with personalized skincare guidance and the chance to win incredible skincare prizes. Susie looks forward to welcoming you to her Open House and helping you embark on your journey to healthier, more radiant skin.