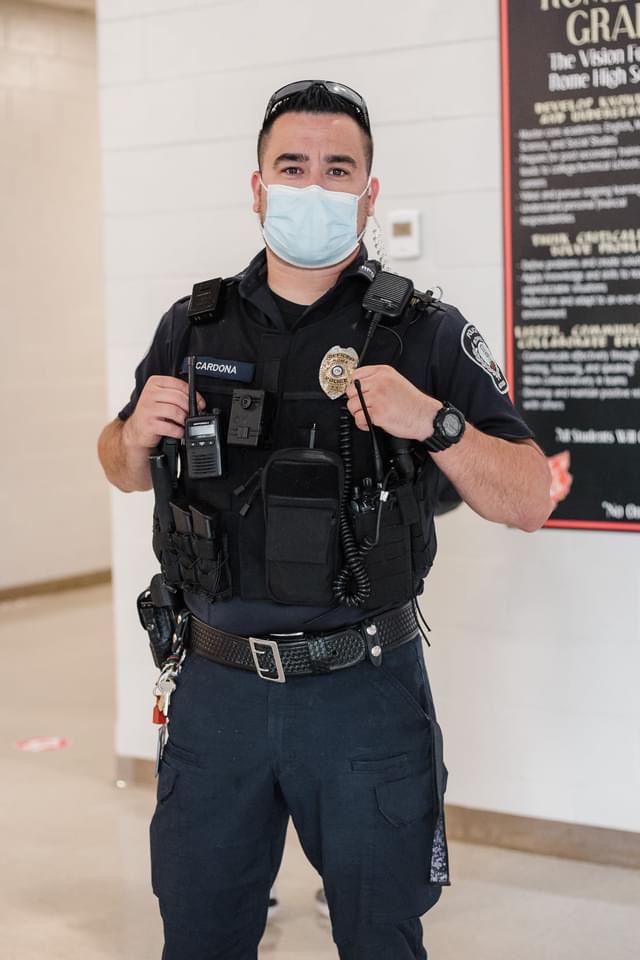 On February 8, Rome Police Department awarded Rome High School's school resource officer (SRO), Joe Cardona, as Officer of the Year for 2020. Cardona was awarded during a police department staff meeting on Monday and recognized virtually by the Rome City Commission that evening.

Jason Self, Director of Safety and Security for Rome City Schools (RCS) expressed his gratitude for Cardona, "He is a phenomenal resource for Rome City Schools. Any accolades he receives are not enough. When we found out he was to be honored as Officer of the Year, we pretty much said, 'of course he is.'"
Given that Self is tasked with the security of all RCS facilities and with the safety of RCS students, employees and visitors, he explained that he could not be more grateful for SROs like Cardona.
"Officer Cardona has rightly earned his recognition as Officer of the Year," Self said. "He is highly professional at all times and he is always dependable. He has a very good reputation amongst the schools and amongst the people he serves, as well as a great relationship with the students he serves."
Self added that Cardona brings certain abilities, as well as extra initiative to the table for RCS; qualities that make him a valuable asset to the school system. Cardona is bilingual, speaking fluent English and Spanish, which helps him better serve the diverse RCS student body. Self said that he also does not hesitate to extend his work past normal school hours, aiding in the coordination of security at larger school events and putting officers in place to ensure safety and organization.
With more than 20 years of experience in law enforcement, Cardona has been with the Rome Police Department since moving to Georgia in March of 2016.
Cardona said receiving the award was a "very humbling experience."
"If I can give a thanks to someone, it has to be to my department's leadership and to the Rome High administrators," he said. "They are the ones who have mentored me and molded me into what I am today. I also want to take the time to thank my kids and my family, the people who support me the most. They all mean the world to me and they are the reason I try to be better, every day."
Cardona has been an SRO with Rome High School since 2018; he is in his third year. All SROs are mandated through Georgia POST (Peace Officer Standards and Training Council) and are sworn Rome City Police officers with extra training to become SROs.
Cardona expressed his gratitude for his current position at Rome High, "I love it. The kids are great, the teachers are awesome, and the administration has been really helpful here, so I absolutely enjoy it."
In recent years, Cardona has also been named the Support Person of the Year at Rome High School.
Rome City Schools would like to congratulate Officer Cardona and thank him for all he does to protect and serve the Pack!