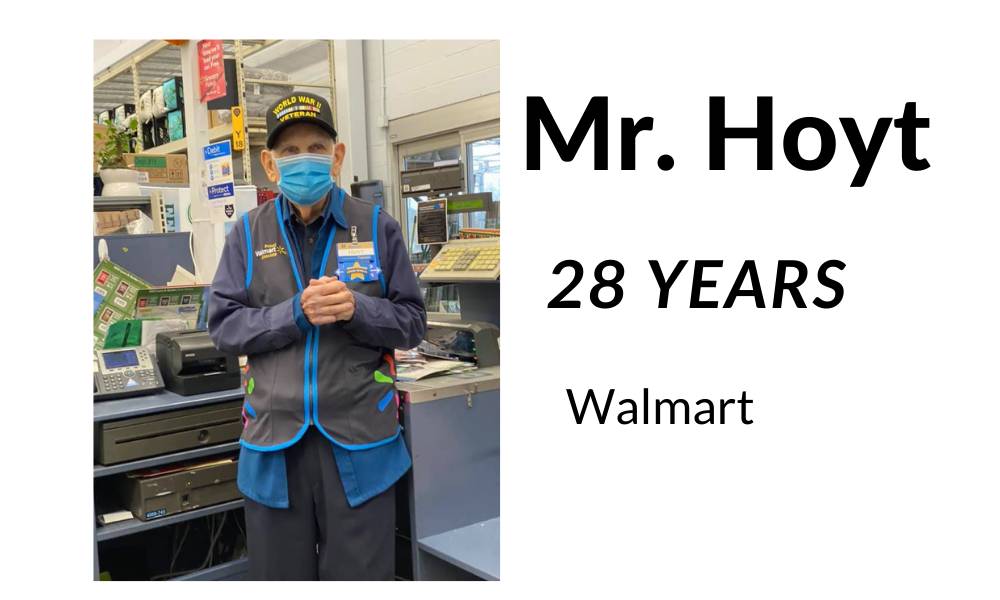 Today is a milestone for Mr. Hoyt Williams. On February 12, 1993, at the young age of 69, Mr. Hoyt began working full-time at Walmart. "Walmart has been a great place to work," Mr. Hoyt said.

At age 97, Mr. Hoyt still works full-time in the garden section. Walmart transitioned away from greeters a few years back. Locals adjusted their entry point of the store so they can still hear the cheerful welcome and "Hello Buddy, Good to See you…" from Mr. Hoyt.
Mr. Hoyt has been battling some health issues, but has returned to work in time to celebrate his work anniversary and Valentine's weekend with the county shoppers who love him.
About Mr. Hoyt Williams
Mr. Hoyt believes the secret to a long life is to work every day. His work ethics are second to none. He has 80+ years of customer service experience and shows respect for all customers and coworkers, a skillset that can't be taught.
While he doesn't recall his exact age at the time he began his first job, he knows as soon as he was able to work he went to work as a paper route boy. From that point on he has always worked. After World War II he took over his father's grocery store, AF Williams and Sons. The original store was built in 1914 by his father.
Mr. Hoyt  ran supermarkets in Trion for the next forty years.
After four decades in the supermarket business he did attempt to retire, but retirement proved to be boring, "I was tired of mowing the lawn… it was time for me go back to work, Walmart said they could put me to work even though I was old and they did."
He has served the community in various roles in his almost 10 decades of life. He was a member of the original water board for the Chattooga County District, helping all of the Chattooga Citizens have access to water.
Mr. Hoyt served on the Trion School Board for two terms as chairman, the Trion City Council for 16 years before being elected Mayor of Trion.
World War II Veteran
Mr. Hoyt is one of the few remaining World War II veterans from Chattooga County and he proudly wears his veteran hat everywhere he goes. He graduated Trion High School in 1942, and joined the Army to serve in World War II, arriving in Normandy D-Day+18.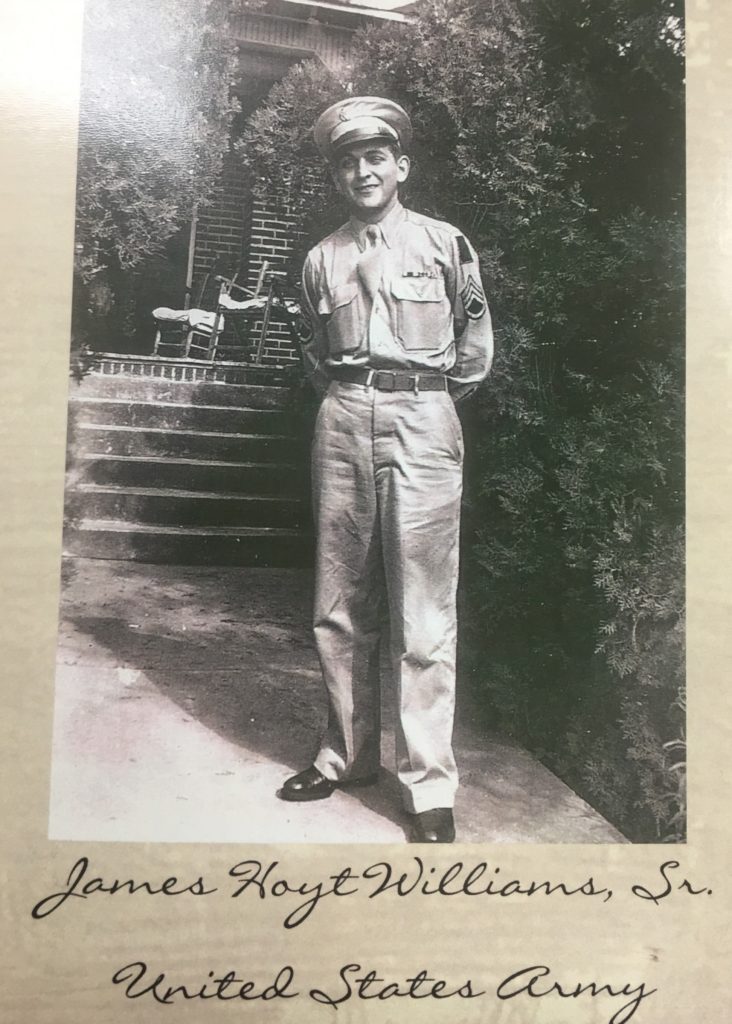 Mr. Hoyt served as an Army engineer in both the European and Pacific Campaigns of World War II, serving in both campaigns is rare. Sgt. Hoyt Williams was awarded the Asiatic Pacific Service Medal and the European African Middle Eastern Service Medal with one White Star for his service in WWII.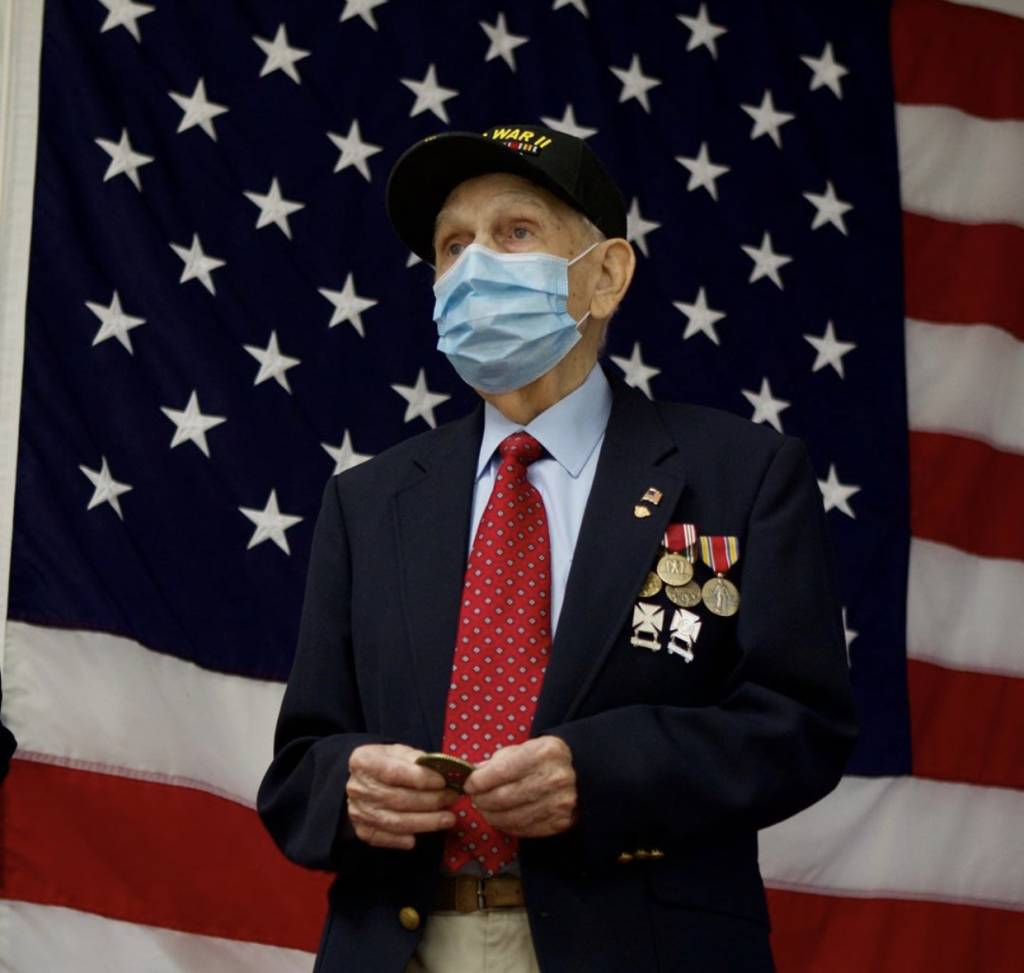 Despite half a century of time to soften the pain, when Mr. Hoyt talks about the Nazis, the passion and emotion are as raw as the days he experienced them. He fought through France, Belgium and finished his European mission in Germany. Mr. Hoyt spent Christmas of 1944 in the Ardennes forest at the Battle of the Bulge, the last major German offensive campaign of the war. The remainder of the War Mr. Hoyt was stationed in the Philippines, where he remained until Japan surrendered. Sgt. Williams arrived back in the United States on October 3, 1945.