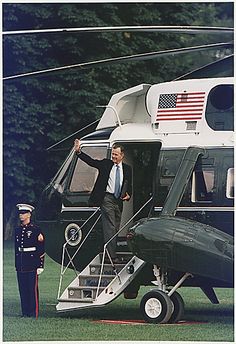 The death of George Herbert Walker Bush was announced in a statement released late Friday.

"Jeb, Neil, Marvin, Doro and I are saddened to announce that after 94 remarkable years, our dear Dad has died," his son, former President George W. Bush. "George H.W. Bush was a man of the highest character and the best dad a son or daughter could ask for. The entire Bush family is deeply grateful for 41's life and love, for the compassion of those who have cared and prayed for Dad, and for the condolences of our friends and fellow citizens."
Bush the elder entered the Oval Office with the longest political resume of any president in modern times which spanned three decades. He served as a congressman, United Nations ambassador, Republican national chairman, U.S. liaison to China and Director of the CIA. When he lost the GOP presidential nomination in 1980 to Ronald Reagan, the former California governor and primary foe offered him the vice presidency, a role he filled for eight years before winning the presidency himself in 1988.
It was during Bush's time as Vice President when now Chattooga County Schools Superintendent Jim Lenderman was the the pilot for Marine One and Marine Two, the Presidential helicopters.
Lenderman recalls, "Bush was Vice President for President Reagan and I flew both of them, but I flew Bush more than Reagan."
"Bush worked all the time and flew more…many, many times he would fly at 6 a.m. and not return until 2 a.m.," Lenderman said.
"I never saw someone work so hard and put in so many hours," Lenderman said of the elder Bush. Lenderman recalled one more distinct characteristic about Bush, "when Presidents fly everything is done for them, when Vice President Bush got on board the helicopter, he always carried his own luggage."
"He was one of the finest men I have ever known, a great Patriot."