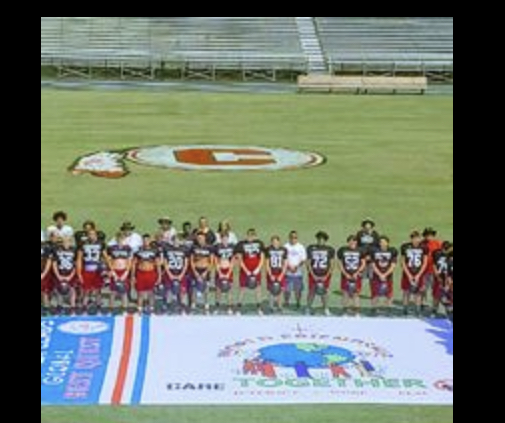 Summerville's designation of Friendship Capital of The World seems to be a fitting title, due to the friendly climate and welcoming environment among the residents of the county.  During the week of July 23-29 local citizens and businesses are encouraged to join together in celebrating friendship and peace. This was acknowledged during the July Summerville City Council Meeting by the reading of a Proclamation of Friendship Week by Mayor Harvey.  Activities and acts of kindness aimed at bringing all people together throughout the week will culminate with a Friendship Festival to be hosted in Dowdy Park.
The week leading up to the festival may be celebrated daily in a wide variety of ways. Summerville Main Street has put together a schedule of suggested activities that could make the Friendship Week a memorable and nice experience for all who choose to participate. A suggested schedule of activities is listed as follows:
Sunday, July 23 – Take A Walk With A Friend  

Monday, July 24– "Buy A Friend A Cup Of Coffee" or Send Them Something Special
Tuesday, July 25 – "Thank You Being A Friend Day" (Writing Thank You Letters to Service Workers or Others) Summerville Main Street will have a booth with cards and pens on the East Washington Streetscape at the archway and also at Trade Dayduring the hours of 8:00 a.m.-12:30 p.m. for those wishing to write Thank You Cards. Main Street will offer limited deliver cards to downtown businesses and local service workers at work.
Wednesday, July 26 – Take a Friend to Lunch Day
Thursday, July 27 – Go Shopping with a Friend Day
Friday, July 28 – International Day of Friendship – Phone A Friend
Saturday, July 29 – Friendship Festival in Dowdy Park 9:00 AM – 3:00 PM
Friendship Medal Awards
Summerville Main Street is celebrating friendship. Do you know someone that goes above and beyond to help others? That offers exceptional customer service? That has made a positive impact in the lives of others?  Here's your chance to nominate this person for our "Friend of The Community" award. Nominations are being accepted July 18-28. To nominate an individual, email slocklear@summervillega.org or text 706-728-0456 with the following information: Name of individual, place of work (if applicable), reasons they should be considered for this award, and your contact information. Recipients will be awarded a medallion, along with a write up and their photo highlighted on the City of Summerville Facebook Page.
World Friendship Pocket Park Reception
Summerville Main Street will host a special invitation reception and Ribbon Cutting to celebrate the World Friendship Pocket Park on Friday evening, leading up to the Friendship Festival. This special reception will honor those who made funding for this park possible by their donations, their purchase of engraved bricks, or their work on the project.
Friendship Festival Highlights
Highlighted during the Friendship Festival will be the raising the World's Largest Flag of Friendship & Peace, food vendors, crafts, children's activities, and demonstrations. Local musician Chip Rowland will be providing live entertainment from 11:00 a.m.-3:00 p.m. Children can enjoy a day of free waterslide play during the event. Feathered Friends Cockatoo and Horse Sanctuary will be on site with a Petting Zoo that will include a wide variety of animals. Pony rides by Jesse Tatum will also be a draw for young horse lovers.  
There will be a "Foot Parade of Friendship" at 1:00 p.m. All communities, cities and towns, church groups, and organizations are invited to join Summerville for this pedestrian parade in the park led by the World Friendship Flag. Line up for this parade begins at 12:45 p.m. at the Veteran's Fountain. Many more activities will be planned for this day of friendship.  
It is with great hope that each individual would make a pledge to present our community to the state, nation, and world with a positive attitude and commitment to make the world a better place through friendship.