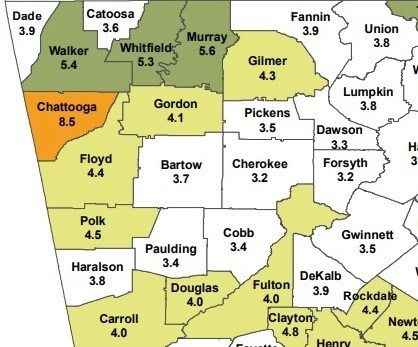 February's unemployment rates have been released for Northwest Georgia. The Chattooga unemployment rate increased sharply from 4.6 percent in January to 8.5 percent in February, almost doubling. Chattooga saw its number of unemployed residents soar from 490 in January to 929 in February according to the Rome News Tribune.

Unemployment rates by county:
Floyd: 4.4 percent
Bartow: 3.7 percent
Gordon: 4.1 percent
Polk: 4.5 percent
Walker: 5.4 percent
Chattooga: 8.5 percent
The entire 15-county Northwest Georgia region registered a 4.3 percent jobless rate in February, down from 4.7 percent in January. The 15-county region includes Dade, Catoosa, Whitfield, Murray, Fannin, Gilmer, Pickens, Gordon, Walker, Chattooga, Floyd, Bartow, Polk, Paulding and Haralson counties.
The jobless rate nationwide for February was 3.8 percent, and 3.9 percent in Georgia.