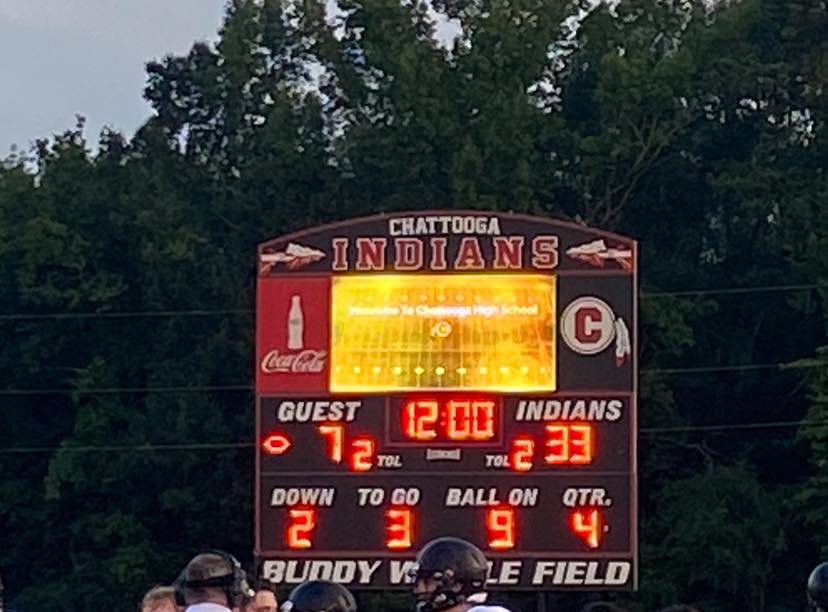 Chattooga Football kicked off its season with a fall scrimmage Tuesday against the Class AAA Warriors of LFO.
LFO scored the first seven points of the game but gave up 33 unanswered to the Class AA Indians going into the fourth quarter.
The varsity teams played the first three quarters, with the junior varsity coming in for the 4th quarter.
LFO's second string was able to find the pay dirt three times for 21 points to pull the Warriors to within five, but the Indians were able to hang on for a 33-28 victory.
At the end of the 3rd quarter the score was 33-7, after giving up the first touchdown, the Indians regrouped and dominated on both sides of the ball.
Although it was a scrimmage the Indian nation and players got its first taste of the new offense with Nic Hester taking the most snaps at quarterback.
Hester went 1-1 in the air for 26 yards and a touchdown; on the ground he was the leading Indian rusher, in seven attempts he rushed for 96 yards and a touchdown.
Brody Mobbs also had some time at quarterback and was the second leading rusher with 76 yards and one touchdown.
Jaylon Johnson was the leading receiver with 26 yards and touchdown. On defense Johnson had a pick-6 which he returned for 88 yards.
Bowden Heathcock also had a pick-6 which he returned for 15 yards.
Caroline Hodges went 3-4 on PATS.
The Indians will open its season at home against Adairsville on Friday, August 20th at 7:30 p.m.