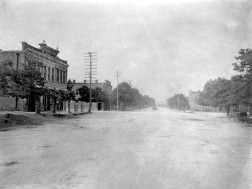 The landscape of Downtown Summerville from 1900 through the 1950s included a feature that has been gone too long for some residents; trees. Until, according to resident Richard Lindsay, Summerville's mayor at the time "thought Summerville would look more like a big city if they cut down all the trees." Lindsay recalls the shock when the mayor took matters into his own hands. "… he started about two o'clock that morning and cut them down. I remember coming through town that Sunday morning and my mother and grandmother were so mad they came down and protested at city hall and just had a big to-do. It pretty much just changed the whole look of our town," Lindsay said.
Since November 2017, Lindsay and other members of the tree board have requested the City Council to bring trees back to the landscape of downtown. There were many details to iron out regarding the trees, the variety, location and how many among other considerations.
The Mayor and City Council discussed planting trees for visual effect in the Downtown area of Summerville, and held meetings asking for the public's input. During the 
Monday
 meeting, the Council unanimously agreed to plant 21 red crepe myrtles as part of this project. Eleven trees will be planted on one side, ten on the Courthouse side of Commerce Street.  The trees and tree guards will cost $2,500.00.
The crepe myrtle is often referred to as the "lilac of the South." Crepe myrtles are known for their colorful and long-lasting flowers which occur in summer. With striking flowers, handsome bark and attractive foliage, this species is a favorite for landscapes.  Crepe myrtles are commonly used as small street trees in urban settings.

"The tree issue has been one of the most requested things I've heard from the citizens the past seven years. Hopefully this will help our town look like it used to, also I want to add a big thanks to Richard Lindsay and Councilman Ford for their passion to make Downtown better," Councilman Joe Money said.
"I'm proud we have someone like Richard Lindsay as a leader in our community who had an idea and moving on it in corporation with the city," Councilman Earl Parris said.
Unfortunately for proponents of the tree project, the vote comes too late for planting this spring. "You don't want to plant anything past March 31st," Richard Lindsay told the council.  The trees will be ready to plant this fall, pending approval by the state DOT.
The crepe myrtles will never grow as large as the mighty oaks of the past, but will be a nice addition and bring a vintage historical look back to Downtown Summerville. Below are several pictures of the early days of downtown Summerville lined with trees.
Photos: Chattooga Historical Society.