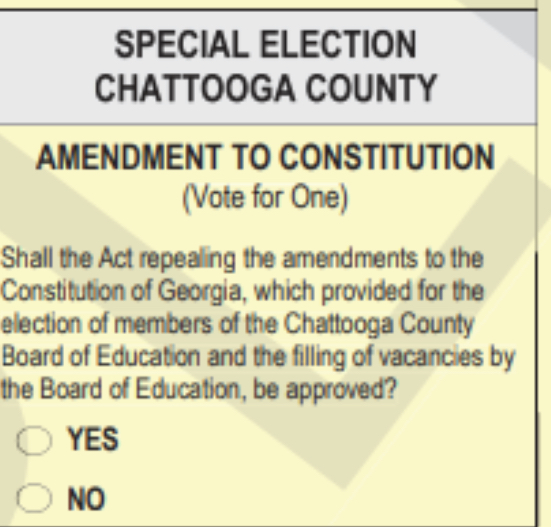 Chattooga County Schools Superintendent Jared Hosmer explains the Special Election Chattooga County Board of Education amendment that is on the November ballot.

Background: 
In 1959 there was an amendment to the Constitution concerning the election of Board members in Chattooga County. In short, the  divided Chattooga County into five(5) school districts and Board members were elected to a four(4) year term. All five members served the same four-year term and elections were held quadrennially. Also, only voters from a particular district could vote on the candidate from that district. In 1968 the Constitution was amended once again, changing the process in which Board members were elected. In 1968 the amendment stated that Board members from District one(1) and District five(5) would be elected to a four(4) year term and members from Districts two(2), three(3) and four(4) would be elected to a two(2) year term and hence forth, all elections would be held biennially. The amendment further stated that all elections would be for a four(4) year term. In 2002, local legislation was enacted revising the 1968 amendment. The local legislation of 2002 updated district boundaries based on the 2000 census data. The local act also made it possible for board members to be voted on at-large instead of by district only.
"The ballot question does not change anything concerning how/when Board members are elected. We currently follow the Local Act of 2002. The question on the ballot is asking voters to repeal the Constitutional Amendments of 1959 and 1968 which we no longer follow. These two amendments should have been repealed in 2002 when the Local Act was passed. To put it in simple terms, we are asking the voters to do some clerical house cleaning and remove two amendments that are no longer followed. All the current processes/procedures will remain the same.
I realize the question is vague and hard to understand and I apologize for that. I did not write the questions in this instance," Superintendent Hosmer said.