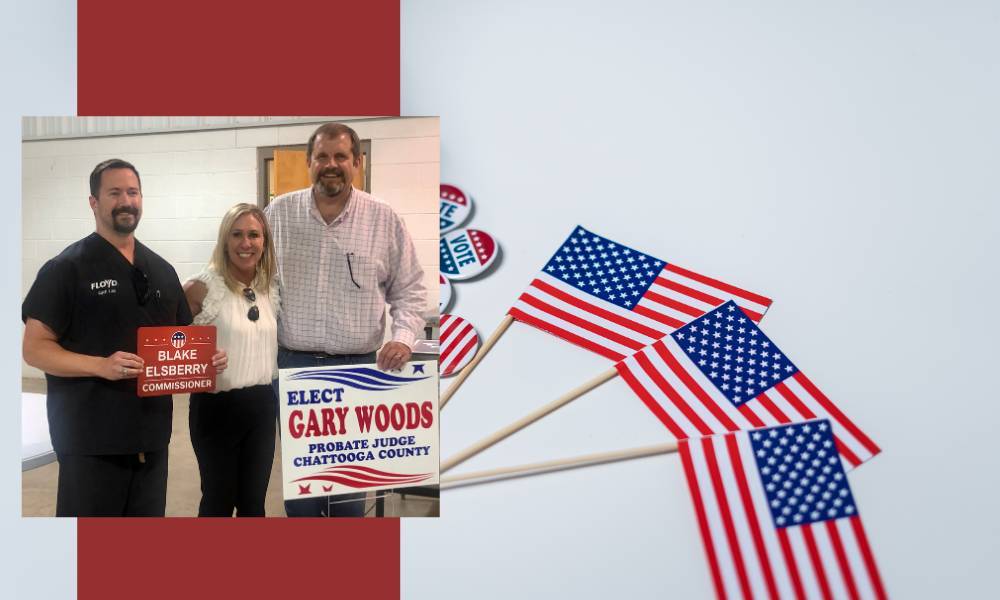 The Republican nominee for Georgia's 14th congressional district, Majorie Greene attended the Chattooga County Republican meeting on Tuesday, October 6th. The meeting was held at the Chattooga County Agricultural Center.
At the meeting Greene announced her endorsement of Chattooga County Republican candidates, Blake Elsberry for Sole Commissioner and Gary Woods for Probate Judge.
Greene said the "the Republican Party needs to hold to its values."
"I am here tonight because I support all of you and am very much looking forward to being your Representative in the United States House of Representatives, the People's House."
"I am here tonight for Blake and Gary, both have my full endorsement," Greene said.
Marjorie Taylor Greene is running for election to the U.S. House to represent Georgia's 14th Congressional District. She is on the ballot in the general election on November 3, 2020. She advanced from the Republican primary runoff on August 11, 2020. Her democratic opponent, Kevin Van Ausdal dropped out of the race.
On the November 3 ballot, Blake Elsberry will face Democrat Jimmy Holbrook. Gary Woods will face Independent Holley Strawn-Gilliland.
Early voting begins October 12th  through the 30th, M – F, 8:30 am – 5 pm. Saturday voting will be, October 24, 9 am – 4 pm. The Registrars office  will have 9 BMDs (ballot marking devices). For comparison, the office used 5 DREs (direct recording equipment) in the 2016 General and 4 DREs in the 2018 General.
Masks are encouraged but not required. While supplies last, the office will provide masks to voters who want one. The office staff will sanitize pens and styluses after each use but voters are welcome to bring their own if they prefer.
Media Release Chattooga County Republican Party