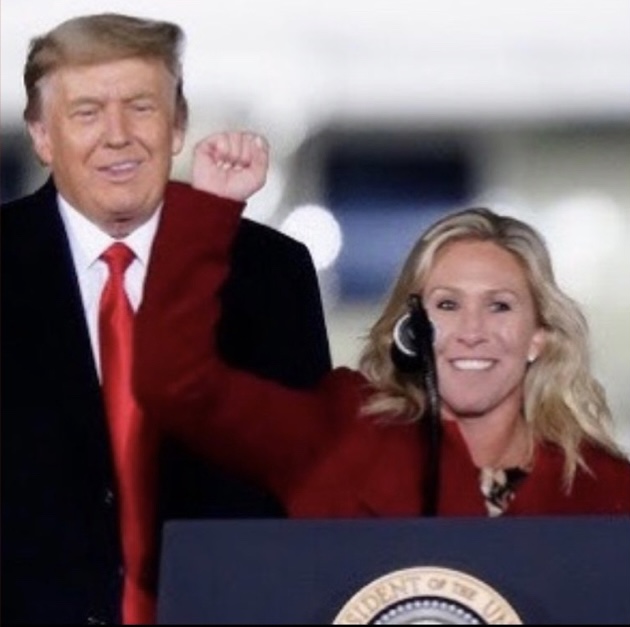 Congresswoman Marjorie Taylor Greene released the following statement on the roll call vote following her motion to adjourn to prevent Congress from passing the Democrats' $1.9 trillion Blue State Bailout:
"For the past year, most of America has been closed. If any place in America needs to close, it is Congress.

Every day that the House of Representatives is open is another day with the Democrats' progressive wish list shoved down our throats:
$1.9 trillion to bail out Andrew Cuomo, Gavin Newsom, and other Democrats
Keeping our kids out of schools
Paying off teacher union bosses
Killing women's rights with the so-called "Equality" Act
Funding Planned Parenthood and murdering God's creation in the womb
Defunding the police and putting them on a national hit list
Federalizing our elections
Taking away our God-given Second Amendment rights
Denying the two genders: Male and Female
Eliminating Right to Work
Protecting Biden's Open Border policies
Funding sanctuary cities
With the woke progressive fire hose spraying on and on and on, my Republican colleagues are constantly saying they want to stop the Democrats. But when the time comes to stop them, it's business as usual for some.
As Republicans, we should use every single tool we have to stop this Hate America Socialist agenda. Every second, every hour, and every day we can stop radical Democrat policies, Republicans should do it.
That's why I called for a motion to adjourn, to SHUT DOWN Congress and put a stop to the Democrats' radical agenda.
Yet some Republicans are so annoyed at the inconvenience of voting, they are putting their personal schedules ahead of the wishes of the People who put them in office.
By voting against my motion to adjourn, some of my Republican colleagues are siding with the Democrats and enabling their policies that will destroy America.
These Republican votes are the 40 white flags of the Surrender Caucus."
Republicans who voted with Democrats to proceed on the $1.9 trillion Blue State Bailout:
Amodei
Bacon
Banks
Bice (OK)
Buchanan
Calvert
Carter (TX)
Crenshaw
Curtis
Fitzpatrick
Fortenberry
Foxx
Gallagher
Gibbs
Gonzalez (OH)
Granger
Herrera Beutler
Higgins (LA)
Hinson
Issa
Johnson (LA)
Joyce (OH)
Katko
Kelly (MS)
Long
Mace
Mast
McKinley
Meijer
Miller-Meeks
Moore (UT)
Murphy (NC)
Pence
Posey
Rice (SC)
Rogers (AL)
Rutherford
Stauber
Walberg
Womack