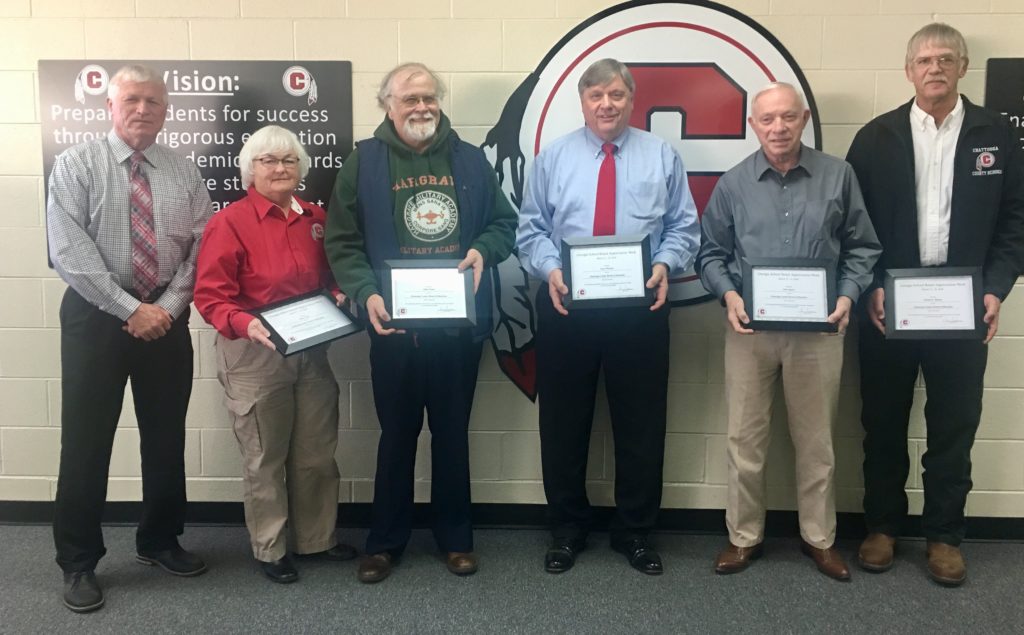 Chattooga County Superintendent Jimmy Lenderman saluted the efforts of local school board members, presenting each board member with a certificate at the March Board Meeting. The week of March 12-16, 2018 has been proclaimed School Board Appreciation Week in Georgia. The week-long observance calls attention to the contributions of local boards of education.

The Chattooga Board of Education members met this morning before 8:00 a.m. and went on tours of all schools in the district. The members then headed straight to the Board room, had a quick dinner, and conducted a 3 1/2 hour long meeting. "Our board spends countless hours fulfilling its responsibilities and working together to continually improve our education system," Lenderman said.
"Citizens elect board members to represent the community's voice on education matters and to set the vision for the school district," Lenderman said. "As the men and women citizens elect to represent them in education matters, school boards represent a continuing commitment to local citizen control and decision-making in education," said Superintendent Lenderman.
The men and women serving the Chattooga County School District and their years of service are:
Mr. Charles (Eddie) Massey (Chairman on the Board)- 14.5 years
Ms.Alma Lewis- 7 years
Mr. Larry Weesner (Vice-chairman of the Board)- 5.5 years
John Turner- 5 years
John Agnew- 1 year