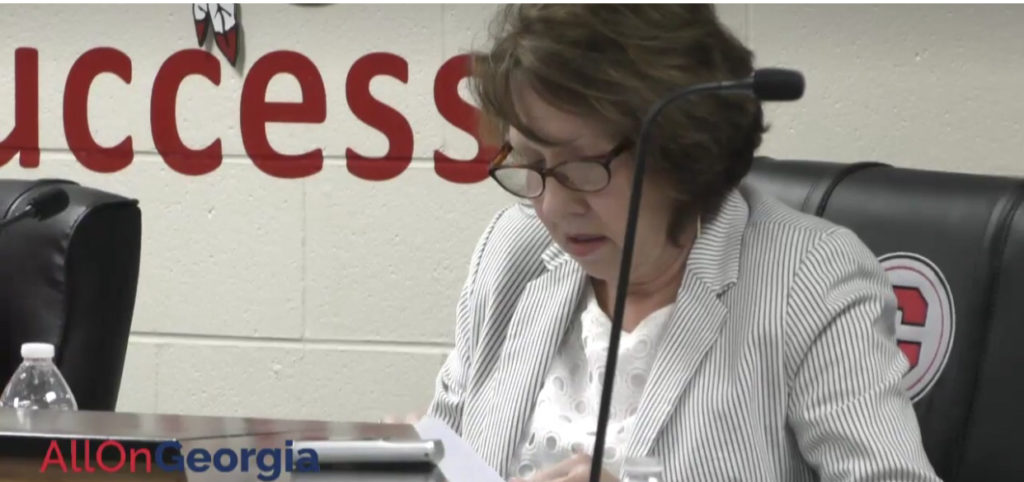 Despite the recent success of the Chattooga Academy on the state and national level, the alternative school program has become a target for some of members of the Chattooga Board of Education in their rush to slash spending in an effort to locate the million dollars in funds required to return the system to a 5-day weekly calendar after nearly a decade of academic and financial success.
During the February Board of Education meeting, Superintendent Lenderman made a recommendation to approve all current school system employees, remarking plainly, "I do not know of any teacher we would be able to cut," Lenderman said.
Board Member Julia Houston was quick to question the need for the Chattooga Academy's Principal position. As Lenderman and Assistant Superintendent Jared Hosmer attempted to explain the role of the Academy within the overall school system for educating students with disciplinary issues or family crisis that prevent regular attendance, the board was initially reluctant to vote on the administrative position responsible for oversight of the Academy.
Chairman John Agnew, after two years serving on the Board of Education, still seemed unclear on the way the Academy operates asking for the total number of students served by the program. Agnew first asked, "What is our total number of students in the Academy?"
Hosmer explained to Agnew that the program has a reach far beyond just the high school halls by giving the board a current enrollment estimate, "…in grades 6-12 grades the Chattooga Academy has 120 students."
Looking at the administrator expenses for the Academy, Chairman Agnew remarked, "It's a pretty great expense for a small amount of students." Lenderman and Hosmer again attempted to clarify that the current principal for the Academy, Barry Peppers also handles multiple other duties including the Athletic Director for Chattooga High School so his salary reflects those duties and positions as well.
While Peppers is the Principal of Chattooga Academy and Athletic Director-CHS, he also serves as an assistant principal in the high school, just not in title. "I help with teacher observations, coordinate field trips, maintenance requests, discipline at times, and assist with general supervision. I set up sound for most events, I am sure that there are many things that I am leaving out. In the Academy I handle registration, grading, instruction, attendance, answering emails, instant messages at all hours," Peppers told AllOnGeorgia.
While Houston continued to request that voting on the Academy Principal position be tabled for a later date because the board may choose to eliminate it, Lenderman pointed out that this position needs to be filled now. Regardless what decisions the board may make in the future regarding an outsourced private company to develop a night school for Chattooga students who currently attend the Academy, the principal position will not be eliminated. Mountain Education Charter School is an accredited program that provides evening, self-paced options to earn regular high school diplomas but they do not address students with behavior or discipline problems. Those students are still the responsibility of the school district. Lenderman again emphasized the importance of keeping the Academy principal position filled with such a highly qualified person.  "It is my request that we hire him for the next year," Superintendent Lenderman said.
Discussion continued and Mrs. Paula Buice intruduced the Success Team instructors along with RESA officials to provide presentations about their duties and goals before the Board ultimately approved the Superintendent's recommendation for the following Certified Administration and Academic Coaches for the 2019-2020 School Year:
Central Office/Education Center Administrators
Jared Hosmer- Assistant Superintendent/Curriculum Director
Beth Hall- Special Education Director
Debbie Garrett- School Psychologist
Mike Martin- Title I Director
Michelle Floyd- Social Worker
Principals
Jeff Martin- Chattooga High School
Barry Peppers- Chattooga Academy/Crossroads
Kevin Muskett- Summerville Middle School
Brian Beasley- Leroy Massey Elementary School
Charles Cooper- Lyerly Elementary School
Assistant Principals
Nancy Edwards- Chattooga High School
Jeremy Heathcock- Chattooga High School
Emily Mobbs- CTAE Director- Chattooga High School
Margaret (Peggy) Hicks- Summerville Middle School
Anna Nichols- Leroy Massey Elementary
Jennifer Reese- Leroy Massey Elementary
Success Team and School-Based Academic Coaches
Paula Buice
Angela Culbert
Lisa Davis
Michelle Helie
Leann Lowry- Leroy Massey Elementary School
Megan Ray- Summerville Middle School
 Vote tabled on 49% teachers 
While the Superintendent and Board managed to find common ground on the above listed positions, Agnew and Houston seemed to dig in their heels on the position of the school system's teachers in roles commonly referred to as "49% positions." These positions are a cost savings measure for the school system because, as "part-time positions," the school system is not obligated to provide retirement, insurance, or other benefits. There are only fourteen 49% faculty members in the entire school system and not all of these are in teaching positions. Despite the savings from the 49% program, these personnel bring in a wealth of experience and value to the school.
Board member Houston expressed some concern with voting on approval for these positions citing a lack of information. "I want to wait to vote on the 50% teachers because, I had asked for that information and did not receive it until yesterday and that did not give enough time to look at what all those positions entailed so I would like to have enough time to look at 50%," stated Houston. The list of the 49% teachers was available on the Agenda which was posted on February 14, two weeks prior to the meeting.
Houston made a motion to table the 49% teacher positions until the next meeting because she was not prepared to vote at the time of the meeting, the vote passed 3-2 with Brad Hayes and John Turner voting against the motion.
The following is a list of the 368 years of teaching experience represented by the 49% teachers with some of their duties and responsibilities:
Jeff Bennett teaches credit recovery (am) and has 41 years teaching experience total–17 years with Chattooga. Bennett is also the Chattooga High School softball coach.
Theresa Canada teaches READ 180 and Special Education at Lyerly School. She has 25 years of teaching experience all in Chattooga County Schools.
Todd Dean is a CRA teacher with 11 years experience, nine in Chattooga Schools.
Carole Hosmer is listed as district level support, SACS Data Interpretation, Testing, Civil Rights with 35 years of teaching experience.
SACS Coordinator (Southern Accrediting)
Support for Georgia Milestones Testing and Data Interpretation
Support for LEA Equity Plan
Support for Federal Title Programs and Plans
Support for System Comprehensive Needs Assessment
Coordinator for Civil Rights Data Collection (CRDC)
Support for Purposity
Other duties and special projects as assigned daily, monthly, and yearly
Lynn Hunnicutt is the ISI teacher at Chattooga High School, he has 30 years teaching experience with six years at CHS. Hunnicut is also on the Chattooga Football Coaching staff.
Kathy Kerce is the TKES/LKES Evaluation Specialist with 31 years teaching experience all in the Chattooga School System.
Teresa Koonce teaches credit recovery in the afternoon she has 20 years teaching experience with 18 at Chattooga.
Missy Lanier is the TKES/LKES coordinator with 31 years of teaching experience all in the Chattooga School System.
Enters all teachers, administrators, paraprofessionals and district personnel into the electronic platform.

Ensures that all certified staff have a professional goal in the electronic platform as required by the PSC for certificate renewal.

Compiles and generates TKES and LKES reports to ensure the district is following state guidelines.

Oversees the Teacher Keys and Leaders Keys Effectiveness System website and ensures that it provides the most current and accurate information.

Attends monthly Evaluation Effectiveness Collaboration (EEC) meetings at RESA with other coordinators to stay up to date on changes from the state and relays necessary information to district personnel.

Manages and leads the training process to ensure all administrators are trained and credentialed on the Effectiveness System prior to the beginning of each school year.

Manages the daily administration of the Evaluation System for the Leader Keys and Teacher Keys Evaluation Instrument.

Develops and updates necessary training materials for the Evaluation System.

Ensures the accuracy of student growth data as it pertains to the Teacher and Leader Effectiveness Measures.

Leads the district in developing policies for TKES and LKES that are now district decisions because of Senate Bill 364.

Provides support to school staff and Administrators to ensure the Teacher and Leader Keys Evaluation deadlines are met in a timely manner.

Serves as a point of contact between the DOE and the district concerning TKES and LKES

Participates and attends necessary trainings and webinars required by the DOE to stay abreast of policies and procedures and relays the information to principals and superintendent.

Manages the district's comprehensive assessment system (Naiku) and enters district level assessments into the system for teacher use in data team meetings.

Provides training and assistance to teachers with Naiku.
Lucy Lee teaches read 180 at Menlo School and has 36 years teaching experience all in the Chattooga School System.
Donna Martin teaches Math at Chattooga High School and has 32 years teaching with 16 at Chattooga.
Melvin Mosley is the graduation coach at Chattooga with his salary coming from Title 1 funding. He has 30 years in education all in the Chattooga County School System.
Duties and Responsibilities
Work with all students
Monitor student progress/attendance
Give encouragement
Develop strategies to aide students who are below proficiency levels
Facilitating career choices and planning
Identifying and resolving barriers to graduation
Communicating with faculty and staff, teachers, students, parents/guardians
Home visits
Implement intervention strategies for students who are likely to drop out of school
Collaborate with feeder middle schools
Talk with students face to face
Robert Robinson is a new addition to the staff this year. He teaches the CTAE criminal justice pathway at CHS.
Avis Snow teaches art at Lyerly School, she has 34 years teaching experience, with 16 in the Chattooga School School System.
Cynthia Wilson teaches art at Menlo School, she has taught art for five years in the Chattooga School System.
Next Up for the BOE
The Board of Education will be meeting again on Thursday March 14th and March 21st. The March 14th meeting will include officials from Mountain Education Charter who will be on hand to provide a presentation of their services and answer questions about logistics and implementation along with potential costs and timeline.
In addition, the Board is scheduled to tour the schools on Thursday March 21st during school hours.
Emails for Board Members:
bhayes@chattooga.k12.ga.us
jagnew@chattooga.k12.ga.us
sballard@chattooga.k12.ga.us
jhouston@chattooga.k12.ga.us
jturner@chattooga.k12.ga.us