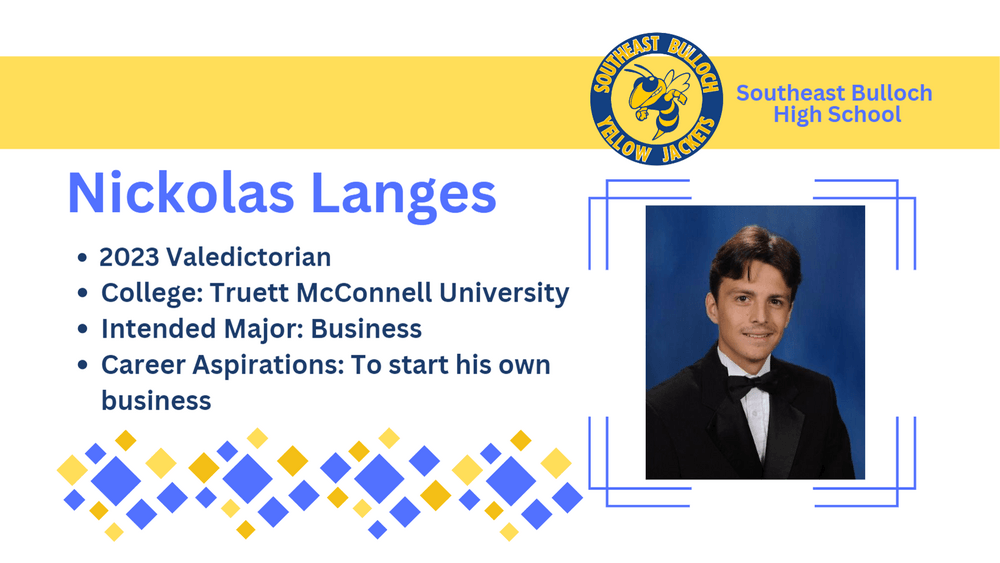 Congratulations to Southeast Bulloch High School's valedictorian, Nickolas Langes!


Nickolas Langes, 18, son of Aaron and Amanda Langes of Brooklet, is the valedictorian of Southeast Bulloch High School's Class of 2023. He's the eldest of the Langes' three children, which include Madeline (15) and Elliot (10).
"My family thinks it's cool; They are proud of me," Nickolas said of his top academic honor. "It has been my goal since the start of high school. When I got highest average in eleventh grade after taking a lot of AP's (Advanced Placement courses), all of the hard work paid off."
He has come up through the Southeast Bulloch district schools of Stilson Elementary and Southeast Bulloch Middle School, with the exception of a few years at Bryan County Elementary School.
His favorite class in high school was History because he likes learning about cultures and places. He added that his favorite teachers were Corey Green, one of his high school English teachers, and Mary Jones, his math teacher throughout middle school.
"Nick is a great kid," said Green. "Though I'm sure like all valedictorians he was grade-conscious, he is sincere in learning. I always enjoyed having him in class. And I anticipate he'll make worthwhile contributions to his chosen field and, more importantly, to the company he keeps."
Running track and cross country have been his favorite memories of high school. During his time on the school's teams, Cross Country won a region championship, and he was on the Track & Field's 1600 relay team and the 4×800 meter relay team that won region.
"Nickolas has a blue-collar, roll-up-his sleeves, and get-to -work mentality," said Jason Anthony, his Track & Field head coach. "Nick's level of maturity along with his drive and desire to perform to the best of his ability allowed for coaching him to be structured in the realm of having a seasoned veteran who always knew how to approach practice."
Running helped point Nickolas' way to his post-secondary education choice with scholarship offers from Truett McConnell University (TMU). It is a private Baptist university in Cleveland, Georgia, that is operated by the Southern Baptist Convention.
"I was accepted to Georgia Tech and the University of Georgia, but I will attend Truett McConnell to continue my track and cross country career," Nickolas said.
TMU has provided him with a $7,000 athletic scholarship and a $6,000 academic scholarship. He has also received the HOPE Scholarship and the Brooklet Community Development Authority's scholarship.
"His work ethic got him these scholarships," Anthony added.
Nickolas plans to major in business. "I love learning about money, and I want to learn how to successfully start a business of my own," he said.
He says that his mother has been the most influential person in his life.
"We are really proud of him, and how hard he works," said Amanda Langes. "He is a dedicated, well rounded, and caring person who wants to see everyone succeed. We are honored to be his parents."
---
Bulloch Co Schools