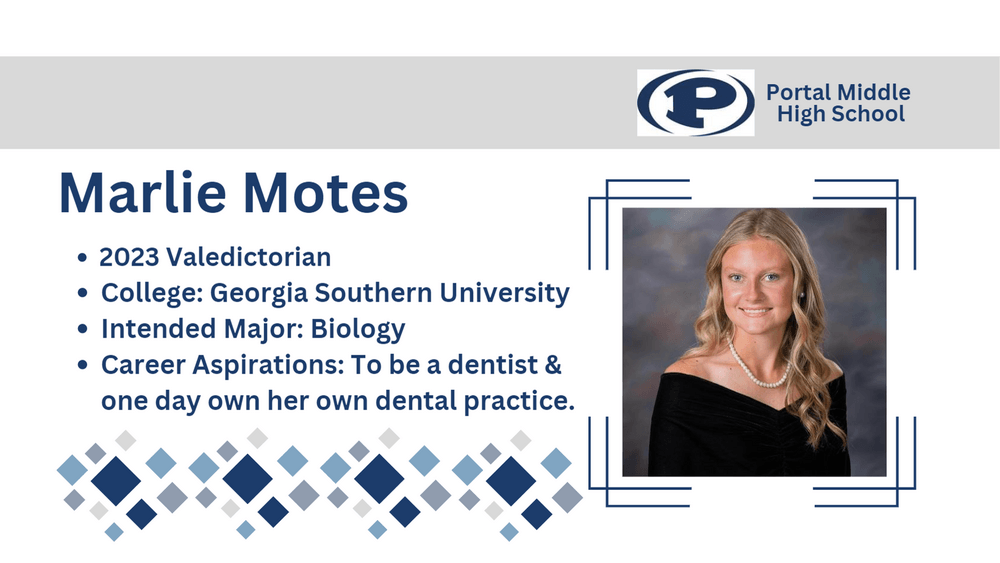 Congratulations to Marlie Motes, Portal Middle High School valedictorian!


Marlie Motes, 17, is the valedictorian of Portal Middle High School for 2023. She is the daughter of Travis and Mandy Motes of Portal, who are both employed by Bulloch County Schools.
"Marlie is an inspiration to me," her father said.  "She has such a determination to do things right and to finish a task.  She does not like the spotlight, but to see her up on stage giving her valedictory speech just confirms that she can do anything that she puts her mind to. She is growing up but she will always be my sweetpea!"
Her mother describes her as being the atypical middle child in their family, which includes Marlie's elder sister, Kolbie (20), and younger brother, Brodie (16).
"Her intrinsic motivation and ability to plan far exceed our expectations," her mother said. "To say we are proud of her is an understatement. We are proud of her work ethic, athletic and academic accomplishments, but most importantly her faith and love for helping others."
Marlie has worked toward this academic goal for two years after achieving the highest grade point average of her class in tenth grade.
"Once I actually realized I had the chance to be valedictorian, I started putting in the extra time and work to make sure I accomplished just that," she said.
It was a tight race between her class' top four graduates, one of whom is her second cousin, Chandler Grooms, who was named salutatorian.
"This has been a very special time for the both of us and our family."
The heart of Portal, a city of less than 700 people, is its two schools, an elementary and a combined middle/high. Most children grow up going to pre-kindergarten through twelfth-grade with the same classmates, some of whom are family, and their teachers can also be alumni of the schools. As a result, there is a strong sense of family and community. This is certainly true for Marlie, who besides Chandler, also has her first cousin, Jozie Motes, in her 67-member senior class.
"Being from Portal, we are all very close," Marlie said. "I can't help but think that my Maw Maw, Paw Paw, and Grandma Motes are watching over us and thinking just how proud they are of Josie, Chandler, and me," she said during her graduation speech.
The family bond between Portal's top-two graduates was evident during graduation when Chandler joked in his salutatorian speech that he'd made it short in order to give Marlie more time to speak. He knows that public speaking is not her favorite thing to do.
"George Jessel said that the human brain starts working the moment you are born and never stops until you stand up to speak in public," Marlie quipped back later during her valedictory address.
Public speaking may not be among her favorite things, but writing is, which one could note from her graduation speech.
"My favorite subject in school was English. I enjoy writing papers, and I love the challenge of coming up with ideas for different topics."
She shared an inspirational speech with her fellow graduates. She noted how failure can be a positive instead of a negative. She encouraged them to think and plan about how to fare during life's challenges.
"It isn't the failure we go through that define us," she said. "It's how we overcome that battle and make the adjustments needed to prevail."
One of Marlie's favorite teachers, was Dennis Moore, who's been her math teacher all four years of high school.
"He creates a relationship with each of his students to help them strive to perform to the best of their ability," Marlie said.
Moore shared that Marlie drives herself to succeed not just in academics but in her extracurricular interests as well.
"She is one of the hardest working and determined students that I have had in the classroom," Moore said.  "She is always engaged in the lesson and will ask questions until she has mastered what we're doing.  She is also one of the best students at volunteering to teach to her peers if they need help."
Marlie has been involved in 10 different clubs and three sports during her time in high school, including Beta Club, the National Future Farmers of America chapter, student council, National Technical Honor Society, her school's Chick-fil-A Leader Academy, the Family, Career and Community Leaders of America (FCCLA) chapter, Youth Leadership Bulloch, and vice-president of her senior class.
She was a member of the Panthers' Varsity Softball Team, where she was awarded the Defensive Award her junior and senior year, and she was named to the Second Team All-Region. Her senior year the team made it to the Georgia High School Association's State Softball Playoffs, and they made it to the playoff's Sweet 16 her freshman and sophomore years.  She was also part of the school's flag football team during its inaugural year when they made it to the championship game and were named state runner-up. She was also a varsity cheerleader.
"My favorite memory from school is when our varsity softball team hosted the first round of state playoffs," Marlie said. "There were so many people that came to support us all dressed in white for the white out. It was truly the best atmosphere, and I am so thankful I got to be a part of it."
Marlie also finds time to give back to her community of Portal and to Bulloch County. She's volunteered for 12 organizations while in high school including four related to fighting food insecurity.
When thinking about her future career, she also chose a field that will serve others.
"I have been accepted to the University of Georgia, Georgia Southern University, and East Georgia State College, but I plan to attend Georgia Southern University and major in Biology," she said. "I hope to become a dentist and open my own practice in the future."
In addition to the HOPE Scholarship, she has received more than $8,100 in local scholarships from the Rotary Club, the Kiwanis Club, the Bulloch County Historical Society, Planters EMC, and the Marion C. Hulsey & Terri Bell Hulsey Scholarship Fund.
Marlie encourages her fellow graduates and Portal students to never be afraid to try new things and venture outside of their comfort zone.
"There are going to be times when you fail, but you have to be willing to make mistakes and learn."
---
Bulloch County Schools