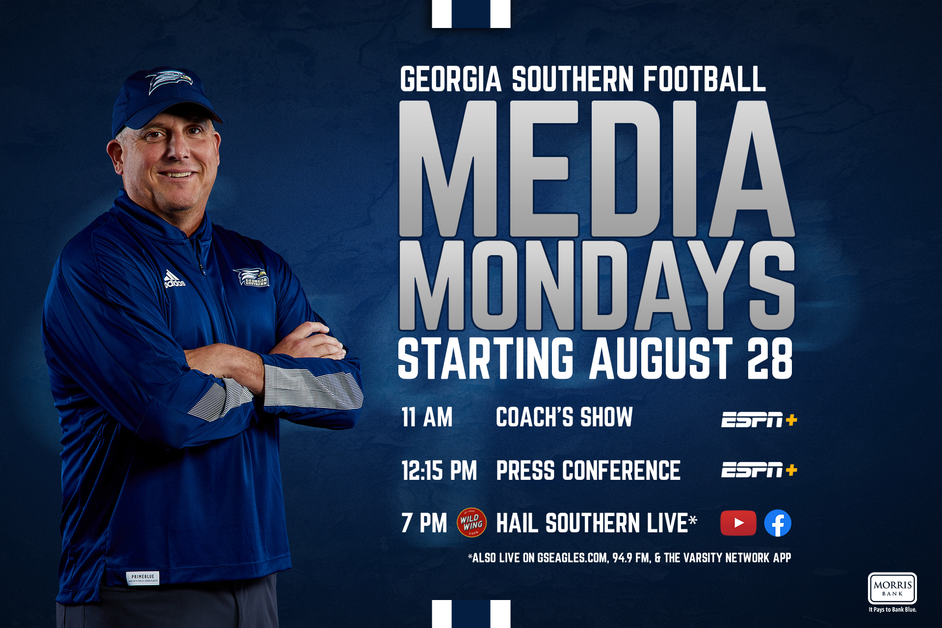 Georgia Southern Athletics announced fans of Georgia Southern football will have three opportunities each Monday during the season to get the latest on the program thanks to new initiatives led by GATA Productions.


Starting on Monday, Aug. 28, Inside Georgia Southern Football with Clay Helton will be broadcast live on ESPN+ from 11-11:30 a.m. (ET). It will also be shown locally on WJCL in Savannah on Saturdays at 11:30 a.m. (ET). The 30-minute show, hosted by "Voice of the Eagles" Danny Reed, will feature segments with Coach Helton reviewing the previous week and previewing the upcoming matchup. Whitney Haworth will also be on site for a special guest interview each week giving fans of Eagle Nation a look into members of the football team and coaching staff.
This new endeavor replaces the previous show on Bally Sports and the live format will allow for the latest updates and information to be given to Eagle Nation.
At 12:15 p.m. (ET), Coach Helton and two players will talk to the media for their weekly press conference. This too, will be aired live on ESPN+ and should last approximately 30 minutes.
Finally, Hail Southern Live returns to Wild Wing Cafe in Statesboro and also debuts on Aug. 28 at 7 p.m. (ET). The one-hour show will be carried on the Georgia Southern Sports Network, Georgia Southern Athletics Facebook Live, YouTube Live and GSEagles.com. Each Monday throughout the season, Coach Helton will join the show along with an Eagle football standout and a spotlight on Georgia Southern's Olympic sports. Fans can tweet @GSSportsNetwork with their questions for the show or submit on the Facebook Live feed. Hail Southern Live also airs on 94.9 FM, the flagship radio station of GS Athelics, as well as the Varsity Network.
Located off Highway 67 on the corner of Fair Road and Aspen Heights Drive, Wild Wing Cafe originally opened in Statesboro in 2014.
---