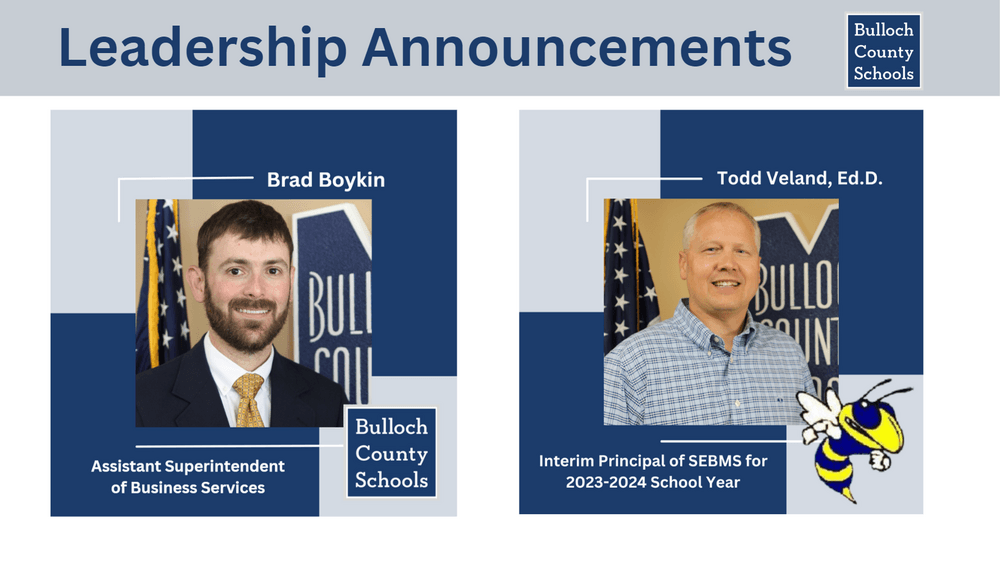 Brad Boykin has been promoted to assistant superintendent of business services at Bulloch County Schools, and Todd Veland has been appointed as interim principal of Southeast Bulloch Middle School.


Brad Boykin, a principal in the Bulloch County School System, has been promoted to assistant superintendent of business services, as part of personnel recommendations approved unanimously by the Board of Education during its called session on May 23.
"I am appreciative to Superintendent Charles Wilson and the Board of Education for giving me the opportunity to carry on amazing work at the district level," Boykin said.
Boykin, who has been an administrator at Southeast Bulloch Middle School (SEBMS) for six years, was selected from a pool of well qualified applicants from inside and outside the district. Todd Veland, Ed.D., a veteran administrator and a current school improvement director for the district, will serve as SEBMS's interim principal for the 2023-2024 school year until a new administrator is hired.
Boykin will assume his new role on June 1, following the retirement of his predecessor, Troy Brown, who served the district for 29 years. The Office of Business Services oversees the district's transportation, school nutrition, accounting, procurement, payroll, facilities maintenance, information technology, school safety, and human resources departments.
"Through partnerships with schools, departments, and community stakeholders, it is my goal to continue to build on the tradition of excellence that has already been established in Bulloch County," Boykin said.
Boykin, a 15-year educator, has served Bulloch County Schools since 2014, when he first came to the district to teach fourth-grade math at Sallie Zetterower Elementary School after teaching six years in Screven County.  This summer he will defend his dissertation in order to complete his doctorate in education leadership from Georgia Southern University. This will make him a quadruple Eagle, as he also obtained a bachelor's degree in early childhood education, a master's degree in instructional technology, and a specialist degree in educational leadership from the University.
During his time as a classroom teacher, Boykin served as a grade-level chairman and was active in school improvement teams, school councils and school safety committees. He was accepted to Bulloch County Schools' Aspiring Leaders program in its second cohort, which met from April 2016 to February 2017. He completed the program which is designed to prepare and support employees who aspire to future leadership roles within the school district.
As a school-level administrator, Boykin successfully managed the business and education operations of the district's third largest school, with a student enrollment of nearly 800 and a staff of 80. He led data analysis training for teachers to help them identify and better address the academic needs of students. He also dealt with student discipline, building and grounds, school safety and helped work toward school improvement goals. Throughout his tenure at Southeast Bulloch Middle, the school experienced academic gains in mathematics, English language arts, science, and social studies. He is an experienced  supervisor that has recruited new and veteran teachers to support the fastest growing area of our community.
"I am excited for the opportunity to continue to grow as a leader in this district," Boykin said. "I'm also looking forward to collaborating with other leaders to make decisions about the best way to address upcoming challenges district-wide."
Todd Veland, Ed.D. – Interim Principal of Southeast Bulloch Middle School
Boykin had the opportunity to personally introduce Dr. Veland to the SEBMS faculty and staff on May 26, during a faculty meeting at the school. Veland, who has 11 years of experience as a school principal and district school improvement director, came to Bulloch County in 2019, to lead the district's multi-tiered system of supports after serving 18 years in Evans County as a teacher and administrator. He served as principal of Claxton Elementary School for four years, Claxton High School for two years, and the interim principal for Langston Chapel Middle School during the 2020-2021 school year.
Other Leadership Announcements
Three of the district's four middle schools will have new principals for the 2023-2024 school year. At its April 13 meeting the Board of Education approved the hiring of Willie Robinson, Ed.D., to be LCMS's principal and John McAfee, Ed.D., to be William James Middle School's principal beginning July 1.
Other personnel recommendations which were also approved unanimously by the Board of Education during its called session on May 23, included Desiree Yaeger as school nutrition director and Joshua Mattos as technology director. At the Board's April 27 work session, Dawn Tysinger, Ph.D. was approved to fill the newly created position of executive director of student wellness and support, along with Jeff Tysinger, Ph.D., NCSP, to replace Leslie Schlierf, the retiring executive director of special education, in a retitled role as the executive director of compliance and program evaluation.
---
Bulloch Co Schools