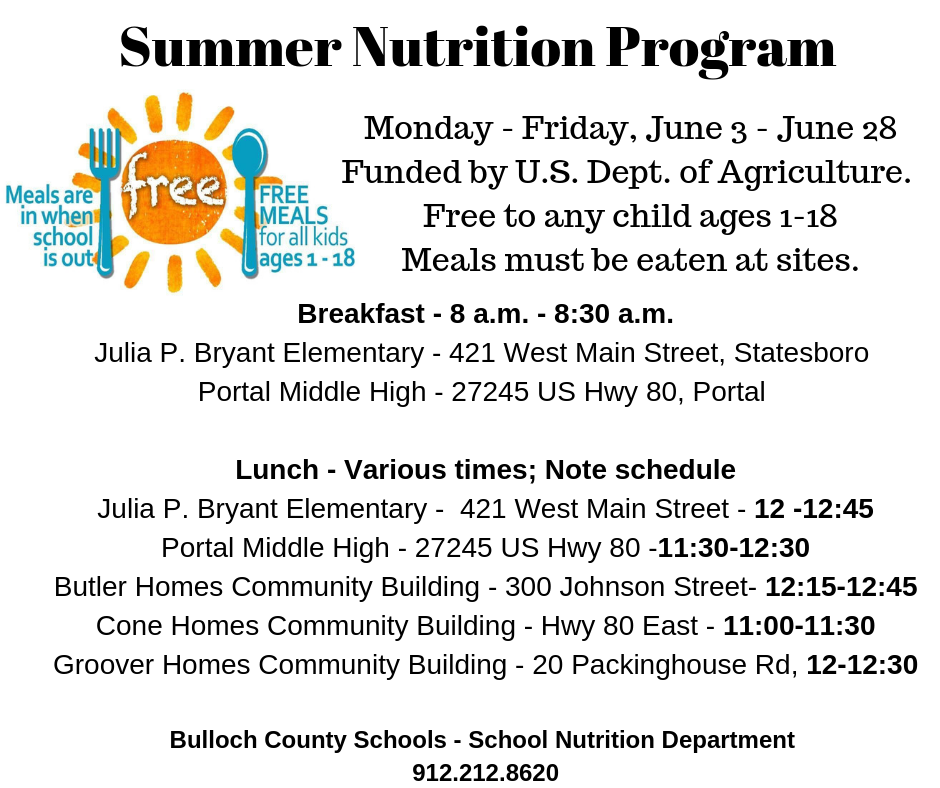 Bulloch County Schools' School Nutrition Department will operate a Seamless Summer Nutrition Program weekdays, Mon. – Fri., June 3 – June 28, at multiple school and residential locations. Please see the schedule below for exact times and locations.


The program is funded by the United States Department of Agriculture.
Children do not need to be a registered student of Bulloch County Schools.
All meals are provided to any and all children ages 1-18 at no charge.
Please note that all meals must be eaten at the sites.
Please contact the School Nutrition Department for more information at 912-212-8620.
Breakfast – 8 a.m. – 8:30 a.m.
Julia P. Bryant Elementary – 421 West Main Street, Statesboro
Portal Middle High – 27245 US Hwy 80, Portal
Lunch – Various times; Note schedule
Julia P. Bryant Elementary –  421 West Main Street, Statesboro – 12:00-12:45
Portal Middle High – 27245 US Hwy 80, Portal -11:30-12:30
Butler Homes Community Building – 300 Johnson Street, Statesboro – 12:15-12:45
Cone Homes Community Building – Hwy 80 East, 33 Cone Homes, Statesboro – 11:00-11:30
Groover Homes Community Building – 20 Packinghouse Road, Statesboro – 12:00-12:30