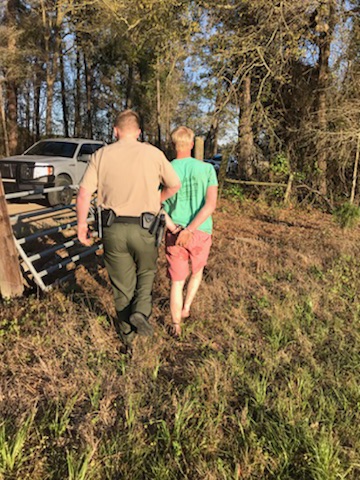 On Wednesday, March 13, the Bulloch County Sheriff's Office made an arrest in Brooklet after being notified of a wanted person out of North Carolina.

An officer from the Department of Probation & Parole in North Carolina contacted BCSO and
advised that she was actively seeking 26 year-old Dillon Clint Collins, who had several active felony warrants for his arrest including Breaking and Entering and
Absconding from Custody.
Deputies responded to the address where Collins was believed to be currently residing, 5985 Brooklet Denmark Road in Brooklet. Upon making contact with Collins and attempting to take him into custody, he fled into a nearby wooded area.
K-9 handler Corp. Norton deployed his K-9 Dutch, who tracked Collins through a
wooded swampy area over a mile where he was eventually taken into custody on Bell road.
Collins was charged in Bulloch County with 2 counts of Obstruction of an Officer for
fleeing from the deputies who made initial contact with him. After he is
adjudicated on local charges, he will face extradition to North Carolina to
face criminal charges there.
From BCSO: Sheriff Brown would like to commend the deputies for the quick apprehension of the "WANTED FELON" and as always, "The safety of the Bulloch County citizens is first and foremost and anyone with information of criminal activity to include "wanted persons" is asked to report to the Sheriff's Office at (912) 764-8888.