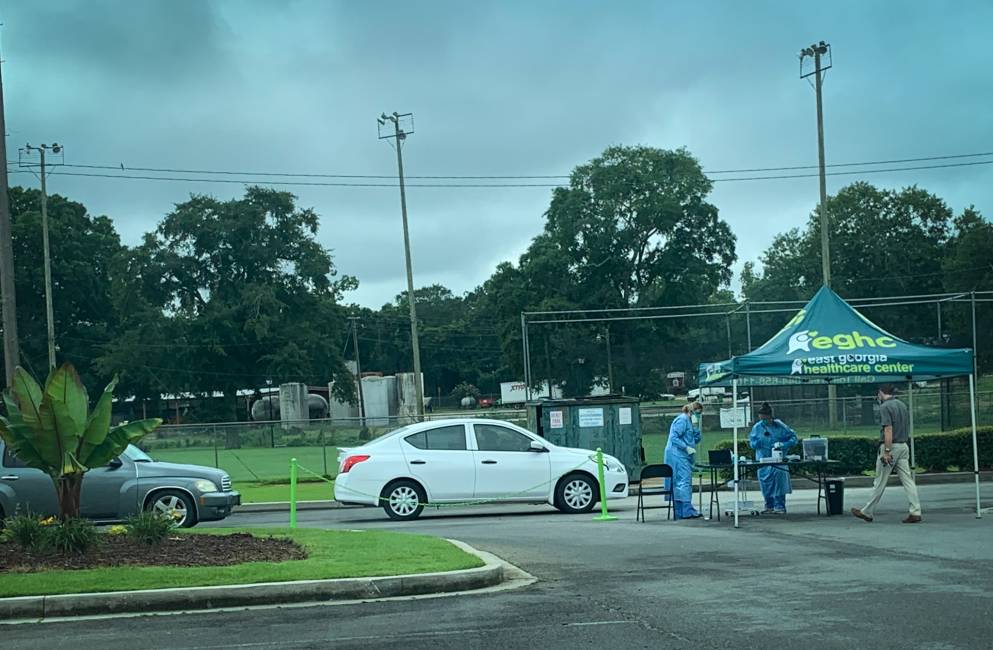 The City of Statesboro and Bulloch County have partnered with East Georgia Healthcare Center (EGHC) to provide free COVID-19 testing. The partnership is part of an ongoing effort to increase testing capacity in Bulloch County.

Testing will take place on Tuesdays and Thursdays starting on Tuesday, September 15 from 8:30 a.m. until 11:30 a.m. at Luetta Moore Park located at 121 Martin Luther King Jr. Drive, Statesboro, GA 30458. Currently, the Bulloch County Health Department does not offer testing on Tuesdays and Thursdays. However, through this strategic partnership, Bulloch County residents and residents from surrounding counties will now have access to COVID-19 testing 6 days a week.
The COVID-19 tests are free to all patients. If the patient is insured, their health insurance will be filed, but EGHC has chosen to waive copayments. Patients should bring a government ID and insurance card if insured. Funding for the free COVID-19 testing will be provided through filed insurance claims for insured patients and uninsured patients' tests will be covered by federal COVID-19 relief funding.
Patients don't need to schedule an appointment but can call EGHC's Statesboro office at (912) 764-9196 with questions. Patients do not have to reside in Bulloch County to receive a test. There are no requirements to receive a test such as proof of potential exposure or symptoms.
When patients arrive at the park, there will be two lines for patients: one for drive-ups and one for walk-ins. Patients should follow the directional signs and those directing traffic. Patients arriving by car should stay in their car and await instruction. If a patient is parked next to another car, they will need to keep their car running and keep the windows up. If a patient is standing in the walk-up line, they will need to remain with their family and maintain a space of 6 feet between themselves and other families.
All drive-thru workers are EGHC employees and are trained extensively to work with COVID-19 testing. Patients can expect a problem-focused visit that will be conducted by a fully licensed nurse practitioner, physician assistant or medical doctor with medical assistants or nurses collecting specimens. As part of the visit, EGHC will collect patient vitals, a simple medical history, have a problem-focused exam, and then administer a swab test for COVID-19.
EGHC held a "soft-launch" on Thursday, September 10 to prepare the site for a full public launch the next week.